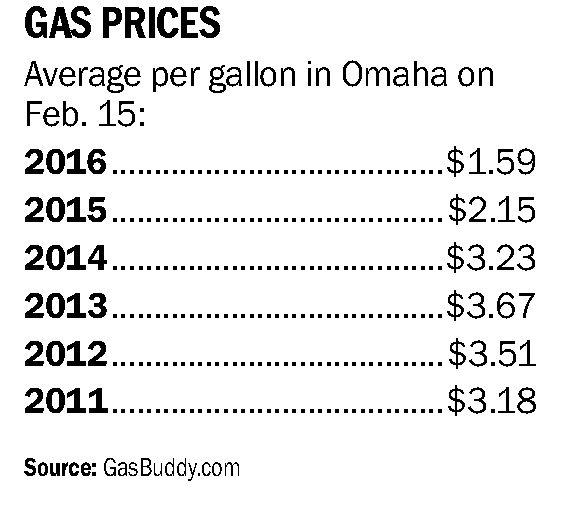 Spiraling gasoline prices have dropped 56 cents a gallon over the past year in the Omaha area, but the bottom may be near, according to an online monitoring and retail price website.
"We are in mid-February, and 45 out of 50 states have a gas average below $2" per gallon, said Jeff Pelton, a GasBuddy.com petroleum analyst. "Sadly, these incredibly low gas prices won't be here forever, as refineries talk of production cuts ...''
Prices averaged $1.59 per gallon in the Omaha area Monday, down 10 cents per gallon from a week ago and 23 cents from a month ago, said GasBuddy.com. Regular unleaded was selling for as low as $1.35 a gallon Monday at one Omaha location and for $1.49 at several other stations.
Another Gas Buddy.com analyst, Will Speer, said a gasoline glut has driven down the prices, with inventories in the Midwest reaching their highest level in 23 years. Also, a mixture of cheap crude and high output from refineries has allowed the region to amass big inventories, he said.
Prices should rise in the spring or early summer, Speer said.
"While crude prices have run out of room to fall much further, gasoline prices have continued to slide, cutting into Midwest refiners' economics enough that some refineries are starting to reduce production rates,'' he said.
"Looming production cuts have spooked gasoline wholesalers enough that Nebraska is now likely seeing the lowest gas prices before an uptick in prices that will last into the summer-blend gasoline transition," Speer said.
Motorists should not be surprised if gas prices are closer to $2 a gallon by May or June, he said.
"The healthy inventories and low crude prices are going to cap how high prices can get,'' he said.
Nationwide, the average price for regular unleaded Monday was $1.69, down 4 cents from a week ago and 23 cents from a month ago.
The Nebraska average for a gallon of regular unleaded was $1.62. In Iowa, the statewide average was $1.66.
Be the first to know
Get local news delivered to your inbox!