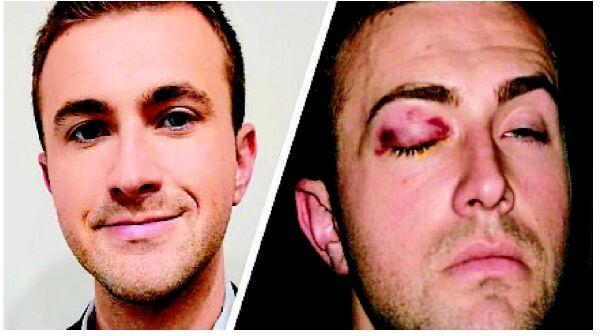 Thursday was the 139th day since Adam Keup was shot with pepper balls while observing a protest in Omaha. The 24-year-old still feels the physical and mental repercussions of that night.
Keup now has very limited vision in his right eye and is still coping with the financial and emotional impact of his injury.
In early August, Keup filed a tort claim against Sarpy County; a Sarpy County sheriff's deputy who was assisting with the law enforcement response to the protest had fired pepper balls at him. Filing the claim, Keup said, "was a good signifier that someone was paying attention, and something was hopefully going to be done from it."
Brian Fahey, Keup's attorney, said Sarpy County has six months to investigate the claim. If no action is taken within that time, Keup will be able to file a civil lawsuit.
Chief Deputy Sarpy County Attorney Bonnie Moore said the county received formal notice of the claim Aug. 10.
"The matter is currently under review, and Sarpy County has not taken any formal action in response to the claim," Moore said.
Keup also filed a complaint with the Sarpy County Sheriff's Office, which launched an internal investigation through the office's professional standards unit.
In the meantime, Keup, who lives in Council Bluffs, continues to deal with the fallout of that night.
The May 29 protest was sparked by the death of George Floyd, who was held down by Minneapolis police as he pleaded that he could not breathe.
It was nearly midnight May 29 when Keup stood near the intersection of 72nd and Cass Streets during the protest. His partner wanted to go to the protests to take photos, and Keup came along to see what was happening.
That's important to note, Keup said. "This wasn't when there was a curfew, this wasn't when people were messing with businesses. … By the time we got there, the protest was fairly peaceful and there weren't really people around anymore."
Hours before, officers from the Omaha area had used tear gas and pepper balls to clear one of Omaha's busiest intersections of thousands of protesters.
Sarpy County sheriff's deputies in riot gear and holding pepper ball guns crossed from the Walgreens parking lot to where he was standing along Cass Street.
Within 10 to 15 minutes after their 11:30 p.m. arrival, Keup said, a deputy shot two pepper balls at him. One hit him in his right eye, the other hit his shoulder. The deputies had not given any order or command, he said.
Keup and his spouse, Grady Brodigan, headed to the hospital, resulting in a $1,600 emergency room bill.
The blunt trauma from the projectile caused blood to pool in front of his pupil, blocking his vision. As that dissipates, his doctors told him, the eye forms scar tissue, which can damage parts within the eye. His eye still has a bit of peripheral vision, but not much else. He's "functionally" blind in that eye, he said.
"I'm still running into things, my depth perception is still really poor," Keup said. "For the most part, I've learned to drive with the decreased depth perception, but parking still requires a lot of extra effort."
The emergency room bill and the costs of doctor visits have added up.
Insurance has helped some, Keup said, but a trip to his eye doctor is still about $50 per visit for him.
"I don't even know how many visits to the eye doctor (I'vemade). I'd say 15, 20 maybe," Keup said. "There were quite a few visits right off the bat, then some prescriptions, eye drops, things like that."