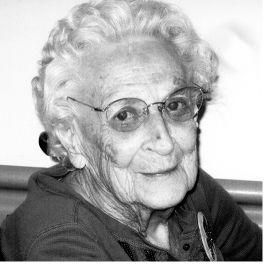 Wilma Milligan will celebrate her 100th birthday on May 4, 2015. Her family is hosting a celebration from 2-4 p.m. on May 3rd, at Immanuel Fontenelle Home, 6809 N. 68th Plaza, in Omaha. All friends and family are welcome to attend, "please join us!"
Wilma was born in Minden, Nebraska. She is the mother of her daughter, Linda; her grandson, Scott; and her greatgrandson, Hunter. Wilma retired from the Omaha Public Schools.
Birthday greetings for Wilma may be sent to 6908 N. 68th Plaza, Rm 258, Omaha, NE 68134.
>"Happy Birthday! We love you"