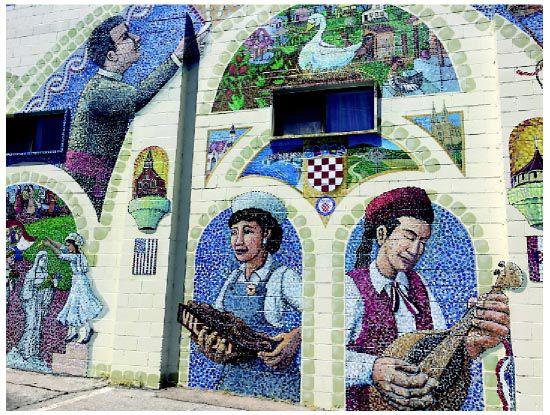 With colorful squares painted to look like mosaic tiles and archways, the side of a building in South Omaha now honors the Croatian immigrants who settled and lived in the community.
A Wilson Packing Plant worker holds a box of sausages — a South High School pin attached to her apron.
A tamburica ensemble plays music on one corner of the building, and there's a map of Croatia and a list of notable Croatians on the other side. There's even a depiction of Omaha native Cardinal Blase Cupich, archbishop of Chicago.
The mural on the side of Bere's Hall at 36th and W Streets was celebrated on Sunday. Its dedication coincides with the 100th anniversary of Sts. Peter and Paul Catholic parish. Father John Zaplotnik was given permission to build the church at the corner of 36th and X Streets in 1917.
Zaplotnik is depicted writing a blessing in chalk above a door at the very top of the mural.
The new mural is the fifth installment in the South Omaha Mural Project. The public artwork celebrates the culture, history and ethnic heritage of groups that settled in South Omaha neighborhoods.
There are already murals honoring Polish, Lithuanian and Mexican immigrants and one mural titled "Magic City" celebrating all of South Omaha.
Richard Harrison, one of the project's artists, said the murals help people reflect and look ahead.
"They help communities say who are we, what do we stand for and where are we going?" he said.
Creating the Croatian mural took several months of planning and prepping. The actual painting took about a month.
Initially, the group planned to do 10 murals, but Harrison said people keep calling asking that additional heritages be represented.
The next mural that has been planned will celebrate the entire state and the annual pilgrimage Nebraskans would make to South Omaha to trade livestock, shop for furniture, get haircuts or drink beer.