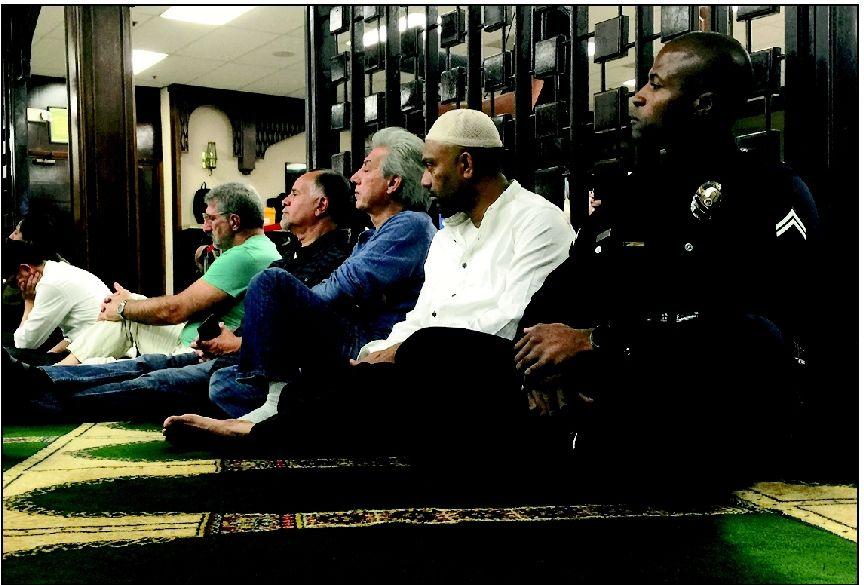 LOS ANGELES — Los Angeles police officer Shawn Alexander combats violent extremism with two tools not often associated with counterterrorism tactics: a smile and prayer.
After wrapping up a meeting at a popular downtown mosque one recent Friday, Alexander strode into the lobby and stood grinning amid a stream of curious worshippers. He then removed his shoes, found a spot on the crowded carpet and knelt.
Alexander, a 36-year-old African-American with the build of a college football tight end, is no typical law enforcement officer. He's on the front lines of the fight against extremists, working to strengthen ties with a wary Muslim population on a community relations team in the LAPD's counterterrorism bureau. He's also a convert to Islam — one of only several dozen Muslims on the 9,000-member police force.
"Some Muslims are suspicious of me," said Alexander, whose partner — a Jewish cop — keeps careful watch on him while he prays to ensure that nobody grabs his gun. "I mean, I pray in uniform, and I can tell they look at me and wonder if I'm being sincere or not. They wonder if I'm really a Muslim."
His work has taken on new urgency since the February arrests of three Brooklyn men accused of plotting to aid the Islamic State and last month's indictments of a former Air Force officer and a National Guard specialist on charges that they sought to join the terrorist group. On April 2, authorities charged three people with terrorism-related crimes — two New York women who allegedly discussed making bombs and a Texas man accused of trying to train alongside Muslim militants.
The success of Los Angeles' drive to build relationships with the Muslim community is difficult to measure. But mosque leaders say Alexander and other officers have made them less cautious about approaching authorities with problems or to provide crime-fighting tips.
A month or so ago, a woman entered the King Fahad Mosque in Culver City and reported that her son had fled the United States to join the Islamic State, which has taken over large swaths of Syria and Iraq.
Rauf Patel, the director of the mosque that is one of Alexander's most frequent stops, immediately reported the matter to the FBI and a top counterterrorism official with the L.A. police.
"A few years back, my worshippers would say, 'They are coming to spy on us,' if they saw a police officer in the mosque. Now it has changed," said Patel. "We felt much more comfortable in calling authorities, thanks to the efforts of officers like Alexander. We love it when he comes to pray with us."
Alexander's job is nothing like that of a TV cop or even the real-life police patrolling the rough streets around some of the mosques, schools and Islamic centers he visits.
He sits down for coffee with imams and breaks bread with mosque directors; he attends forums and parades, passing out fliers and addressing community concerns. For more than a year, he has tackled traffic woes, problems with panhandlers and even rowdy congregants.
Though he has yet to receive a tip that might be related to terrorism, his goal is to break down barriers between Muslims and police that will help solve and prevent crimes.
Short of that, it's already paying some dividends. A half-dozen mosque directors say their relationship with the LAPD is known in the Muslim community and might ward off those seeking to cause trouble.
"Somebody who is a bad guy who is trying to recruit people into whatever cause they have, whether it's (the Islamic State) or whatever, they know they are going to be in for a tough time," said Omar Ricci, 47, the chairman of the Islamic Center of Southern California and a volunteer reserve L.A. police officer.
The mission of officers such as Alexander has been endorsed at the highest levels. At a White House forum in February on combating violent extremism, President Barack Obama and others agreed that law enforcement plays a pivotal role in building ties.
In Los Angeles, that job falls on the shoulders of officers like Alexander.
The youngest of six children, he grew up in Alabama, though he lost his Southern accent long ago. He attended a high school in which he was one of the few black students and was a self-described "good old Southern Baptist," rarely missing a Sunday sermon or weekly Bible study.
After graduating in 1998, he joined the U.S. Army and became a medic. While stationed in Germany, the former Yugoslavia, Kuwait and Iraq, he began researching religions. Islam spoke to him.
"I kind of stumbled upon it while searching for a path that allows me to be more spiritual," he said.
After leaving the military, he joined the LAPD, which serves a population of almost 4 million.
He began patrolling the streets in 2004 and did a three-year stint on the city's Skid Row. He had never thought about combining his work and religious passion until late 2013, when he was off-duty and praying at his local mosque. That's when he spotted two uniformed officers strolling among the worshippers. He approached them and asked if anything was wrong.
No, the officers said, they were part of a unit seeking to build better relations with religious communities. They recruited him to join the squad.
"I look to bring Muslims into the unit, but also those of other faiths," said Deputy Chief Michael Downing, head of the LAPD's Counter-Terrorism Bureau, who started the effort. "My ultimate goal is integration and building trust and building resilience in these religious communities, and it can help for them to see their own in uniform."
Alexander's squad is involved in pure outreach. It doesn't conduct investigations or gather intelligence.
Over two recent days, he and his partner, Guy Golan, 30, drove more than 35 miles, visiting mosques and a school and breaking bread with directors of two mosques. Their mission was to gather information for an upcoming community forum.
Several of the directors had world events on their mind, urging Alexander to make sure that police officials addressed the Islamic State's recruiting efforts.
"Lots of parents are nervous about their children being on the Internet and coming across messages from" the Islamic State, said Mohammed Akbar Khan, the director of interfaith outreach and the forum's co-chairman.
After wrapping up the meeting in Khan's office, the two officers headed into the mosque for afternoon prayers. Alexander approaches such moments carefully. His presence is obvious because he is in full LAPD uniform. Yet, he doesn't want to feel imposing, so he generally keeps to himself and shakes the hands of those who first offer theirs.
He joined a group of Saudi exchange students in prayer. They were curious and asked him a few questions and even requested a group photo with him.
Meanwhile, as his partner usually does, Golan stood back and kept watch to make certain nobody attacked Alexander while he was lost in prayer.
Ten minutes later, Alexander was back in the lobby, where a young woman in traditional Muslim garb pulled him aside. Speaking softly, she asked about a domestic situation involving a friend.
"If it's an emergency, call 911. Or you can have your friend call me and I can help guide her to the right resources," Alexander said, handing her his business card and watching as she smiled and exited the mosque into the bright sunshine.