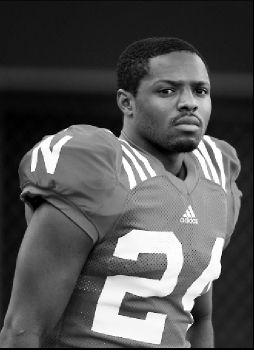 LINCOLN — Tommy Armstrong was only part of the injury report Thursday as Nebraska coach Mike Riley went over who would and wouldn't be available for Saturday's game at Purdue.
In addition to Armstrong, the Huskers also will be without starting safety and leading tackler Byerson Cockrell and third-leading receiver Alonzo Moore for the 11 a.m. game at Ross-Ade Stadium.
Riley said Cockrell would miss the game because of a funeral after a death in his family. Moore is still bothered by a shoulder stinger suffered against Northwestern last Saturday.
Cockrell was at 51 tackles through eight games, with at least seven in each of the last five games. The senior also leads the team with six pass breakups.
Moore has 17 receptions for 256 yards and a team-high five touchdowns.
Players set to return from injuries are linebacker Chris Weber, offensive tackle Nick Gates, defensive tackle Kevin Maurice and cornerback Boaz Joseph. Weber and Gates, who have combined for 10 starts this season, were somewhat limited and protected in practice this week and will not start.
Riley said it's possible that Gates (ankle) could rotate with Zach Sterup at right tackle, where the redshirt freshman was the starter until getting injured in the Wisconsin game.
Not yet ready to return are linebackers Michael Rose-Ivey and Luke Gifford, defensive tackle Kevin Williams and offensive tackle David Knevel.
Williams to start at safety
True freshman Aaron Williams will be making his second career start but first at safety alongside Nate Gerry. Williams started in a nickel package against BYU.
Williams has 12 tackles on the season, two of them on special teams.
"Like our freshmen that are playing in general, he's been mature beyond his age," Riley said. "He's a good football player. He's an intelligent player, he's an aware player. And I think as he grows in age playing, he will make a lot of plays because he'll get more comfortable with everything, especially with what we're doing and how we do it."
Williams and Dedrick Young will give the Huskers two true freshmen starting defensively Saturday.
Getting back Weber helps at linebacker, where the Huskers basically were down to Young, Josh Banderas and Marcus Newby last week. Riley said Weber, who had 42 tackles before missing the last two games, would probably share some of the load with Banderas at middle linebacker.
"It's great to have him back," Riley said. "We are woefully thin there."
Riley wants efficient game
Combining the injuries with last week's 30-28 loss to Northwestern — the Huskers' fifth by five points or fewer — Riley offered one word when asked what he would wanted NU to be on Saturday: efficient.
"I'd be real pleased with an efficient game, smart game, and all those things that go with that word," he said.
Riley also said the Huskers might need to be on guard for some adjustments or potential trickery from Purdue with the Boilermakers coming off a bye week before playing NU — same as a year ago.
Riley mentioned potential things such as gimmicks in the kicking game or defensive looks such as a new blitz or coverage.
"It's just a matter then of you prepare for what you know they've done, but then in your system you have to be sound against what else might come," he said.
"I think we've had a great week of practice. I've really appreciated this team, and more so this week with all they've been through. And I think with the investment that they've made, we'll be physical. We'll play hard."
Be the first to know
Get local news delivered to your inbox!