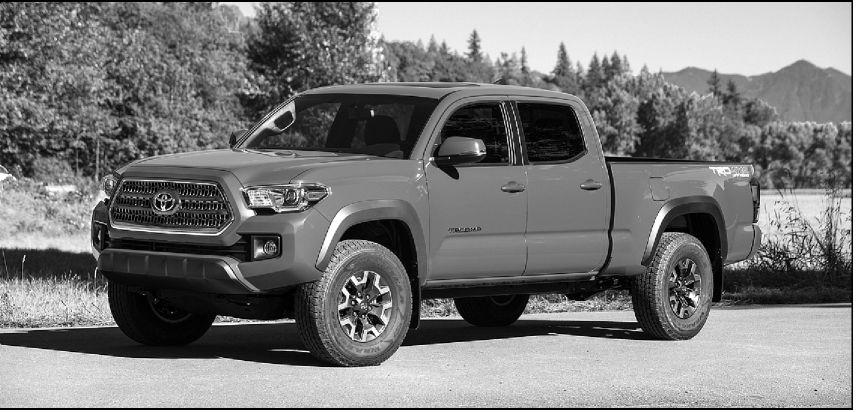 There's that moment when driving when you realize you've pushed things too far. We all have done it, although it's more likely occurred behind the wheel of a pickup truck or a rugged little off-roader than in a Corolla.
So it may not surprise you that I have, like many, found myself and the vehicle I'm driving buried up to the axles in quagmire. Maybe it was on the beaches of the Outer Banks, or maybe during a particularly furious snowstorm somewhere in the hills of Pennsyltucky. In both cases, I was skilled enough — or lucky enough, depending on how you look at it — to extricate myself, albeit not without a heavy dose of panic, sweat and mental images of having to call for a rescue party.
Oh, if I had only had Crawl Control, which takes over a vehicle's acceleration and braking; all you do is select the speed you want to travel, anywhere from 1-5 mph, and steer. The truck does the rest, gently descending a rock-encrusted slope or digging its way out of the sand or snow. It's quite remarkable and a testament to the power of a microchip, not to mention the engineers at Toyota.
Remarkably, Crawl Control can be found on the 2016 Toyota Tacoma pickup truck. Aside from Toyota, the only other brand with it is Range Rover, which costs quite a bit more.
The Toyota's the better deal, and not just because of its affordable price. Let's face it, you'd never be able to dump a load of mulch in the back of a Range Rover. Oh, you could, I guess, but try explaining why a freight car of Febreze might be a good idea.
So not only does the new Tacoma allow you to take that shortcut your friends told you never to take, it will also haul a lot of stuff. Either way, it saves your carcass and a lot of explanations. In other words, it makes life easier.
And there's plenty of other technology the truck offers that adds to the ease.
If you're heading to the local shopping center, you'll be able to keep all the mindless drivers at bay, both on the way and in the parking lot, thanks to the blind-spot monitor with rear cross-traffic alert. Also, you can recharge your smartphone wirelessly or start the truck at the touch of a button. There's dual-zone automatic climate control to keep you comfy and a touchscreen audio system with audio jack, USB port and Bluetooth to keep you entertained during the daily commute. There's even a standard Go Pro mount located near the rearview mirror to catch egregious drivers on camera or record your rollicking, off-road weekend.
Of course, when you want to entertain yourself by heading some place less civilized, the Tacoma is ready to handle it.
The 2016 Tacoma is offered in base SR, SR5, TRD Sport, TRD Off-Road and top-of-the line Limited trim. There are two cab styles, extended Access Cab and four-door Double Cab, with either rear-wheel drive or all-wheel drive. Access Cabs have a 127.4-inch wheelbase and a 73.7-inch bed. Double Cabs are offered with a 127.4-inch wheelbase with a shorter 60.5-inch bed or a 141-inch wheelbase with the longer 73.7-inch bed.
The platform has been strengthened to make it safer, while the suspension has been revised so that your vertebrae no longer shatter when traversing troublesome terrain. It's much improved.
When it comes to powering your truck, there are two options. If you're really not in a hurry, you might be able to put up with the wheezy 2.7-liter double-overhead-cam four-cylinder engine that generates 159 horsepower and 180 pound-feet of torque. But why would you? The Environmental Protection Agency rates this driveline at 19 mpg city and 21 mpg highway with all-wheel drive and a 5-speed manual. Opting for the automatic increases the highway mileage to 22 mpg. And while you could opt for rear-wheel drive and an automatic, it's still only 19 city, 23 highway.
You want Toyota's new 3.5-liter V-6, rated at 278 horsepower and 265 pound-feet of torque mated to a 6-speed manual or automatic transmission. With rear-wheel drive and the automatic, mileage comes in at 19 city and 24 highway, better than any four-cylinder powerplant. Opting for four-wheel drive takes the ratings down to 17 city, 21 highway with the manual, and 18 city, 23 highway with the automatic. Equip this baby right and you can yank 6,800 pounds of trailer and 1,620 pounds of junk.
And being a new model, you'll also get all of those electronic driveline gewgaws that come in handy when you least expect it, such as Multi-Terrain Select, which adjusts the trucks systems to suit the terrain you're traversing. There's also a locking rear differential, hill start assist, stability control, traction control, anti-lock brakes, electronic brake force distribution and brake assist. There's even a rear backup camera.
Finally, need I say that Toyota expertly facelifted the Tacoma while maintaining its classic personality? And given that the Tacoma starts at $25,385, it's hard to resist.
I mean, look at it. It's one tough truck that's easy to adore.
Make mine a Double Cab 4x4 TRD Off-Road, please.
Engine: 2.7-liter, I-4 (159 hp); 3.5-liter, V-6 (278 hp)
EPA rating (city/highway): 19/23 mpg (I-4, automatic)