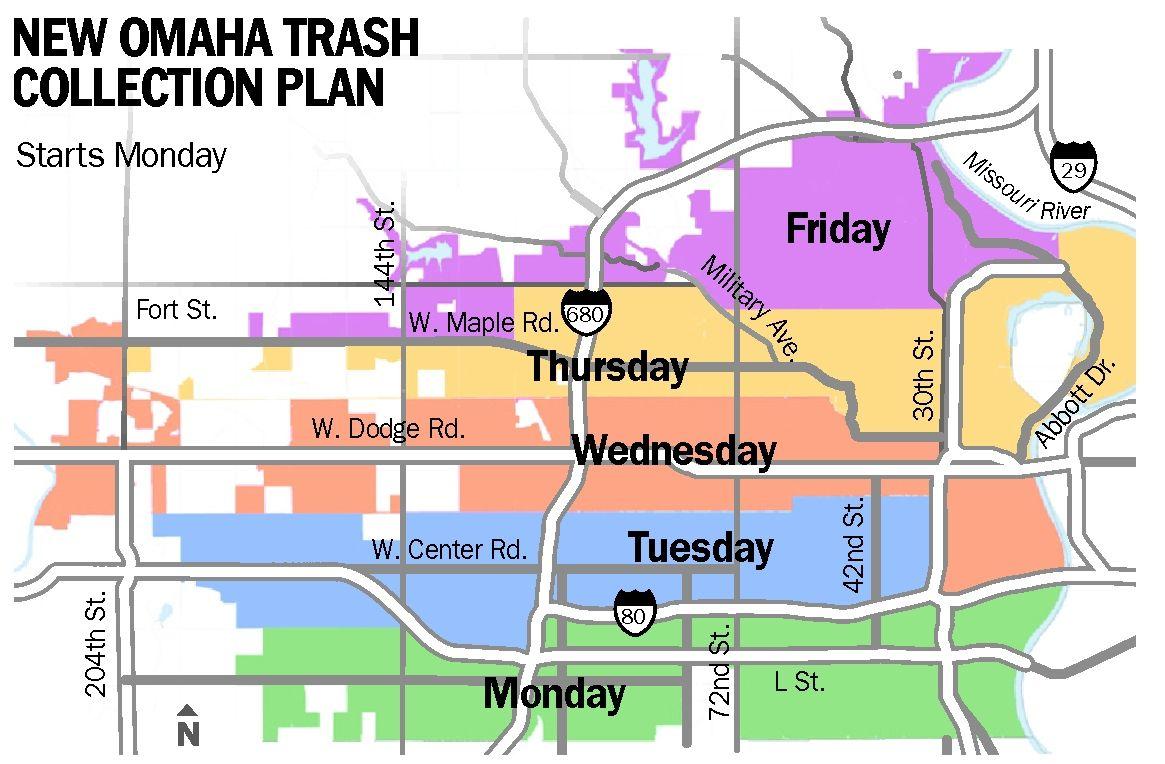 The new year will bring new trash and recycling pickup days for most City of Omaha residents.
New routes and schedules start Monday. That will mean a new pickup day for about three-fourths of the Omaha residents whose garbage is handled by Deffenbaugh, the city's trash hauler.
Mayor Jean Stothert had announced the changes in November. They were made for the sake of efficiency.
She said Tuesday on The World-Herald's "10 Minutes With the Mayor" that residents can put out an unlimited number of trash containers for the first week or two because of the change.
Stothert said Hiesday that reminder postcards were being sent this week to affected residents and that word also went out to them twice in mailed copies of the newsletter "Waste-line."
The city has a website where residents can type in their address and see what their new day will be. The site is newday. wasteline.org.
City and Deffenbaugh officials redrew a map and changed the schedule to make it simpler and more efficient. City officials expect the changes to improve service to customers, save fuel and make it easier for Deffenbaugh to employ enough drivers.
The changes, the first in about 30 years, have been in the works for two years.
The hauler's routes had become an inefficient jumble as the city grew west.
The new schedule divides Omaha into five sectors, stretching east to west, one for each weekday. Collections will begin on Mondays in the southernmost band. Each day of the week through Friday, collections will move farther north.
Haulers will start each day near the Missouri River and progress west.
"Once it's established, people will like it," Stothert said.
She also said on "10 Minutes With the Mayor" that she will await word on the cause of the "very tragic" South Omaha fire last week that killed two people before she determines the possible role of housing code violations.
And she said her No. 1 wish for Omaha in 2015 is "a safer city," and specifically another decrease in the number of homicides.
For more of Mayor Jean Stothert's comments on the new garbage collection plan, check out the latest segment of The World-Herald's bimonthly video series "10 Minutes With the Mayor."
Be the first to know
Get local news delivered to your inbox!