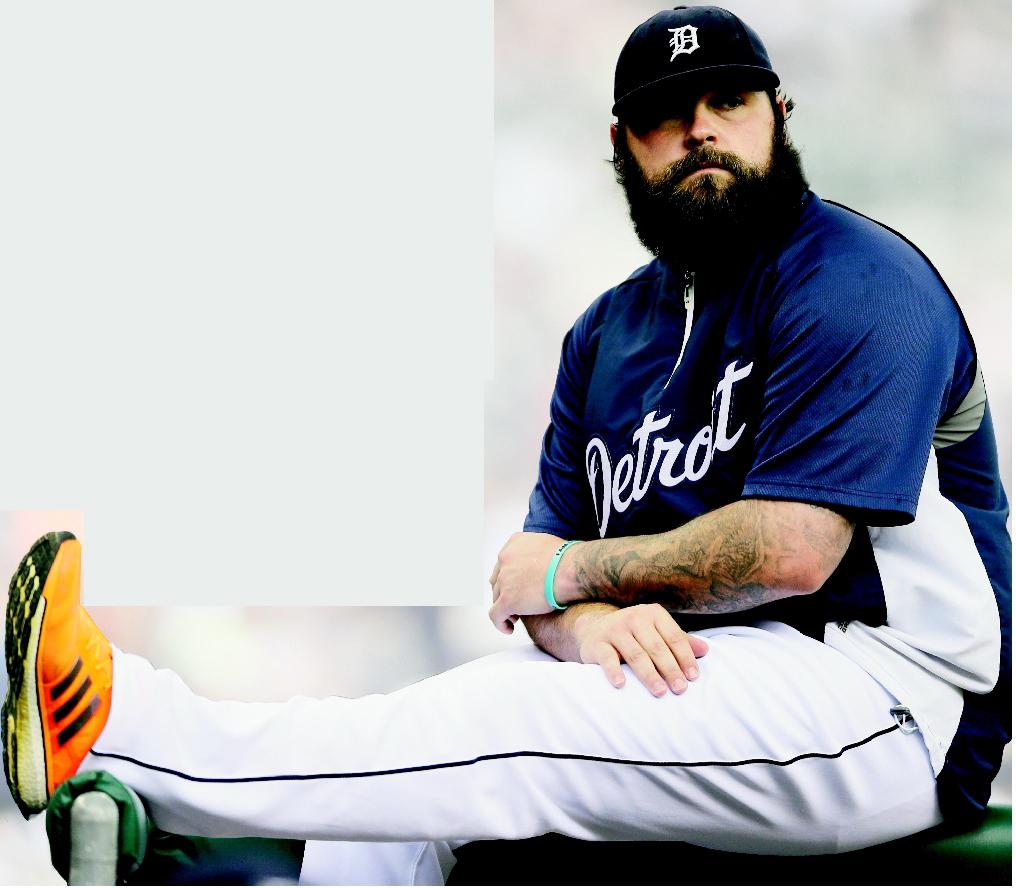 T he thicket on Joba Chamberlain's face could shelter a small varmint. Squirrel, maybe. Mouse, for sure.
If his baseball career goes south, he can find work in Civil War reenactments — unless "Duck Dynasty" grabs him first.
"I don't even know what my face looks like anymore," he says.
This is the new Joba, whose epic beard is the perfect symbol for his post-New York state of mind.
Chamberlain spent seven tumultuous seasons with the Yankees, where team rules prohibit any facial hair beyond a mustache. Well, that was a nuisance for Joba - "I look like I'm 12 with no facial hair" - so when he signed with Detroit in December, he started dreaming of Grizzly Adams.
He trimmed the beard a couple times in spring training. Since then, his only maintenance is a comb and conditioner "to make sure it doesn't get too knotty."
"I definitely save money on razors, that's for sure. Those things get expensive."
Joba has earned his $2.5 million this year from the Tigers, recording a 2.63 ERA in 41 appearances. In New York the past few years, Chamberlain arrived at the ballpark and had little clue if or when he would pitch. In Detroit, he's nailed down the crucial eighth-inning set-up spot, gaining confidence from the stability. Since June 8, he's allowed just one run in 10 1/3 innings.
Said Tigers closer Joe Nathan: "He doesn't have to come here worrying 'Am I starting, am I setting up, am I closing, am I long-relief guy, am I seventh-inning guy, am I just gonna be bouncing all over?' Having that set role definitely allows you to prepare."
Nathan, the six-time All-Star, was pitching in the big leagues when Chamberlain was still at Lincoln Northeast High School. He'd seen enough to know the Tigers made a smart move.
Nathan said. "Anytime you've got somebody with a reason and motivation in the offseason to get in shape and do whatever you need, that usually will bode well, at least health-wise, coming into a year. From there, mentally it gives you confidence. And then it's just about performing."
Chamberlain didn't break in to the major leagues in August 2007, he burst across the sky. He struck out 34 batters in 24 innings, allowing only one run, becoming a New York fan favorite. His slider looked like something out of a video game.
Trouble was, Joba wanted to be a starter. The Yankees wanted it, too. The front office worried about Chamberlain's workload and limited his innings. "The Joba rules" became a hot topic on a team stuffed with stars.
He spent part of 2008 in the rotation, then became a full-starter in '09. Yankee fans expected the same Joba who dominated in the bullpen. Instead, his results were average. Then the injuries came.
After starting strong in the bullpen in 2011, seizing his old eighth-inning role in front of Mariano Rivera, Chamberlain tore the ulnar collateral ligament in his pitching elbow. He missed the rest of the season.
Then in March 2012, his career nearly ended in a trampoline accident. Accompanied by his 5-year-old son, Karter, he suffered an open dislocation of his right ankle. He lost so much blood that his life was momentarily in danger. Doctors questioned if he'd ever pitch again.
Chamberlain returned four months later and performed well. But by 2013, he'd fallen out of favor with Joe Girardi. He made just 45 appearances, struggling to find a role and record outs.
That's the negative side of Chamberlain's Yankee days. But he says there's plenty of positives, including his World Series ring in 2009. Playing in New York, where your life is "an open book," taught him how to handle good times and bad, he said. They taught him patience — "I'm not a very patient person."
At 28 years old, he's still a young man. But his edge now is experience. He's pitched in critical playoff games with Derek Jeter and Alex Rodriguez counting on him. He's heard the chants echo through Yankee Stadium — "Joba! Joba!" He's heard those same fans boo him. He's seen the New York tabloids blast him.
The game is never easy, but Joba's stress is lighter.
In Detroit, he bought a house not far from Ndamukong Suh's. He quickly felt comfortable in the Tigers clubhouse, where the talent is just as rich as New York and the players know how to kick back.
"Playing against them for so long and now being on the same side, you kinda see why they're successful," Chamberlain said. "There's never a panic."
Including in June, when the Tigers briefly fell out of first place.
Joba seized on good-old baseball superstition to craft a new role with the team. Rather than manager Brad Ausmus toting Detroit's lineup card to the umpires before the game, Joba volunteered. The Tigers won, so Joba did it again the next day. And the next. Detroit won seven straight.
He can crack up the umpires, but it's Chamberlain's arm that makes him a linchpin in the traditionally wobbly Detroit bullpen. His strikeout rate is the same as last year, but he's cut his walk rate in half. And he's done so without relying on his fastball.
In his heyday, he threw the heater 60-70 percent of his pitches. This year his fastball percentage is just 43.
What's replaced it? A curve-ball. According to FanGraphs, Chamberlain is throwing the curve 22 percent of his pitches, twice as often as in New York.
Nathan remembers seeing Joba blowing batters away at 20 years old — "his stuff was incredible." He'd seen it before from young guys. He's seen it since. The real test is what happens after a young pitcher gets "beat up for a while."
"Then it's about what you're made of after you've taken some lumps," Nathan said. "Obviously to see him bounce back after having some failure, that's the true sign of a big-league ballplayer."
Joba Chamberlain has found his second wind in the big leagues. Now if he could just find a hedge clippers for his face.