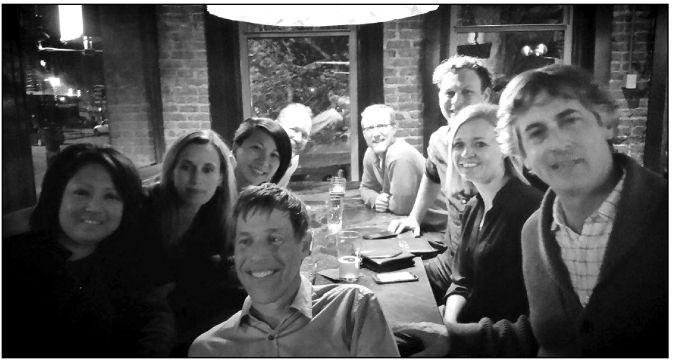 You could say Omahans Sharon Auw and Marian Fey are high school buddies with actors Matt Damon and Kristen Wiig.
Sorta. That's the scene they acted out in front of cameras Wednesday afternoon for Alexander Payne's latest movie, "Downsizing."
The filming took place outside Creighton Prep near 74th Street and Western Avenue.
Auw, 37, and Fey, 47, were just two of about 20 extras filming a high school reunion scene with Damon and Wiig.
"We were told to act as if we were seeing friends we haven't seen in a long time," said Fey, the executive director of the Nebraska Cultural Endowment and an Omaha Public Schools board member. "We also couldn't talk out loud because they had sensitive mikes."
The extras were encouraged to wear clothing they would wear to a high school reunion, but Fey said most were dressed by the wardrobe staff because they didn't have the look the film crew wanted.
Payne has been filming his sci-fi movie in Omaha since Monday. Other filming locations have included Regency Court, La Casa Pizzaria, an Omaha Steaks distribution center, and a neighborhood near 46th and Douglas Streets.
Fey said that when she heard Payne wanted Omahans to work as "background performers" last month, she jumped on the opportunity.
"I just thought, 'Why not?' " she said. "It's something to check off my bucket list."
Auw, a nurse recruiter, felt the same way. "I knew this would be a once-in-a-lifetime opportunity and experience," she said. "I loved all of it, but I do wish we were able to get closer to the actors."
Auw, Fey and all of the background performers selected were paid $10 per hour. Auw received an extra $20 because her Honda CRV was filmed.
After wrapping at Creighton Prep, the crews headed downtown to the Old Market to film outside Jams, near 11th and Harney Streets.
Auw and Fey were background performers in those shots as well. This time, they were just walking around the Old Market.
That was also the role played by Chet Fortune, a 33-year-old Bellevue resident.
"It was incredible to see how much work, production, planning, adjusting and executing have to happen for a few seconds of film," said the owner of Warrior Fitness in Omaha. "Production is a huge team sport, and it takes a lot of individuals to make it all happen."
It was a long day for the extras, but they said they didn't mind. Auw said she arrived on set at Creighton Prep at 2:30 p.m. and didn't get home until 1 a.m.
The three extras agreed that one of the best parts was having drinks and dinner with Payne at Jams after the filming wrapped up Wednesday night. Several snapped photos with him.
"Even though he had been working all day, he was so generous with his time — answering questions, taking pictures and talking to people," Fey said. "Everybody involved was so friendly."
Auw said it was extra meaningful that Payne individually thanked her for her time.
"Mr. Payne was super nice," she said. "He seriously said to everyone, 'Thank you for being a part of this. It means a lot to me.'"