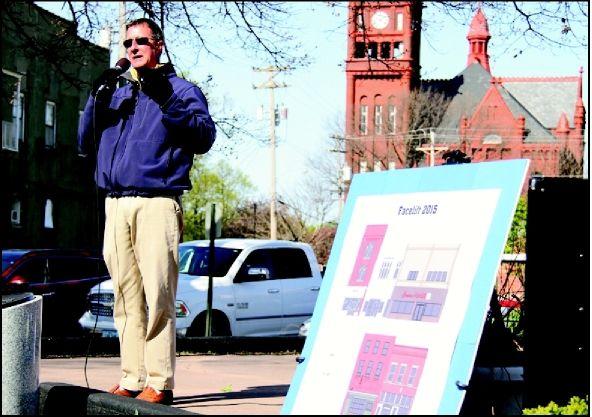 RED OAK, Iowa — Paul Griffen eagerly took the stage in Fountain Square Park on Wednesday morning at the groundbreaking for the city's facade project.
Griffen, the Red Oak Chamber and Industry Association's executive director, told a gathering of residents it was a celebration of improvements being made to the downtown's aesthetics. There was even cake.
In the first phase, the project will give new frontage — such as awnings and paint — to 19 buildings that face the downtown square, Griffen said.
The second phase will extend to 11 buildings south of Coolbaugh Street. Both phases are to be completed by the end of the year.
"This project will go north of $900,000 by the time it's done," Griffen said. "It's a very big deal and, needless to say, we're very excited."
Phase one's cost is estimated at $718,500. The city received a $500,000 Community Development Block Grant, $142,000 in building owner contributions and $76,500 from Downtown Urban Renewal funds.
Phase two has an estimated cost of $240,335, most of which is to be funded by Downtown Urban Renewal and city contributions.
The project will encompass about 1,000 feet of storefronts altogether. Phase one's contract was awarded to McKee Contracting Co. of Emerson, Iowa. Bids have not yet been sought for phase two.
Griffen thanked the crowd for support and showed off his lime-green 2015 Red Oak face-lift shirt.
City Administrator Brad Wright and Jan Norris, chairman of the Red Oak Urban Renewal Board, said the project was a collaboration of the city, state and various organizations.
"It's going to take some time, but work has already started on the U.S. Bank building," Norris said. "We're very proud."
Mayor Bill Billings thanked all involved.
"This is the fruition of many meetings, drawings, redrawings," he said.
"We've gotten such a positive response and can't wait to see how things look by June."