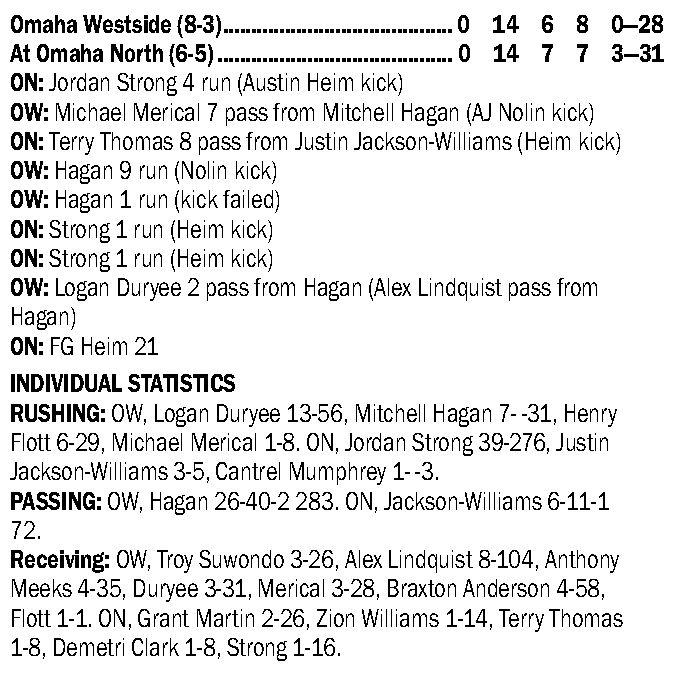 TOP 10 NO. 9 OMAHA NORTH 31, NO. 5 OM. WESTSIDE 28, OT
Two-time defending state champion Omaha North is not going down without a fight, as Omaha Westside found out Friday night.
The Vikings avenged an earlier loss against the Warriors by posting a 31-28 overtime win in a Class A playoff quarterfinal at Omaha Northwest. North advances to play top-ranked Millard West, while Westside finishes the season 8-3.
"When we were struggling during the season, we stayed together," North coach Larry Martin said. "It's a big trust thing between the coaches and the players, and right now we've got it going."
The Vikings, coming off a first-round upset win over Grand Island, got another monster performance from junior running back Jordan Strong. He followed up his 341-yard, five-touchdown effort from last week by rushing for 276 yards and three TDs.
But the game was decided by Vikings place-kicker Austin Heim, who booted a 21-yard field goal in overtime to end it. That play came shortly after Westside had been stopped in OT when North linebacker Raymond Gipson intercepted a pass that bounced out of the hands of wide receiver Alex Lindquist.
"(Assistant coach) Dan Carruthers works with Austin all the time," Martin said. "He's put in the time, and everything went right on that last play. The snap, the hold and the kick."
Strong, who carried the ball on 39 of the Vikings' 43 rushing plays, gave credit to Heim for ending the wild game.
"I love my kicker," he said. "There was just no doubt in my mind that we were going to win this game."
It was a crushing loss for the Warriors, who fought back after Strong's 1-yard TD run with 3:54 left put the Vikings on top 28-20. Westside was able to regroup behind senior quarterback Mitchell Hagan, who finished the night with 26 completions and 283 passing yards.
Starting at their own 29, the Warriors gained 29 yards on three rushing plays and 34 more on three passing plays to reach the Vikings' 8-yard line. A holding penalty pushed Westside back 10 yards, and Hagan then lost 9 more when he was sacked by Devron Rush and Justin Jemison.
Facing second-and-goal from the 27, Hagan scrambled around long enough to connect with Logan Duryee on a 23yard completion to the Vikings' 4-yard line. After an offside penalty on North, Hagan hit Duryee with a 2-yard scoring toss in the final minute.
The Warriors still needed a two-point conversion to tie it, and Hagan once again created something out of what appeared to be nothing. He hit Lindquist for the conversion to tie the game and send the Westside fans into a frenzy.
North won the toss in overtime and elected to play defense first. Starting at the 10-yard line, Hagan threw an incomplete pass on first down before Gipson picked off his second overtime attempt.
That meant the Vikings, who also started at the 10-yard line, needed just a field goal to win. That's just what Heim provided after three runs by Strong moved the ball to the 3.
"This is a great win for us," Strong said. "Westside has a great team, but we wanted to get back at them for that earlier game when they beat us."
Hagan did his best for the Warriors, rushing for two touchdowns and throwing for two more.
The Vikings will seek additional pay back next week against Millard West, which defeated the Vikings 21-19 in the season opener.
"We'll have a little fun and celebrate this one," Martin said. "Then it's time to go back to work."