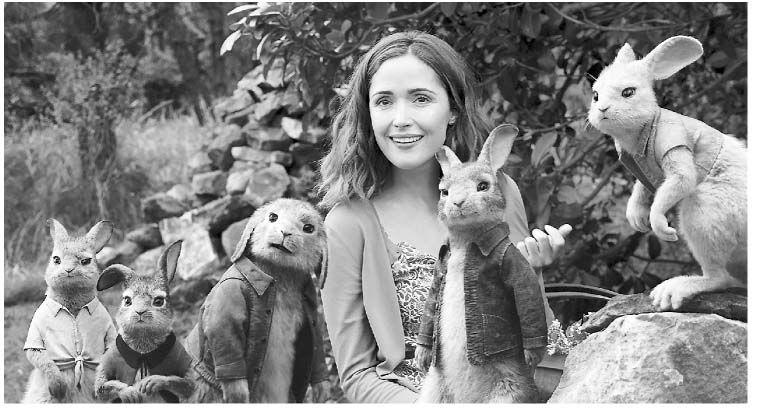 LOS ANGELES (AP) — Rose Byrne has done nearly every type of film — physical comedy ("Bridesmaids," "Neighbors"), horror ("Insidious"), sci-fi ("Sunshine"), period ("Marie Antoinette"), action ("Troy"), musical ("Annie") and superhero ("X-Men: First Class") — so it might come as a surprise that she met her technical match on "Peter Rabbit."
"I've never done anything this technical!" Byrne said of the film, now playing in theaters. "It's such a production with the CGI. It's just like a guy in a blue suit. It's kind of surreal and strange. You have to dig deep in your imagination."
Byrne plays Bea in this modern-day spin on author and illustrator Beatrix Potter's mischievous rabbit and Mr. McGregor's garden from writer-director Will Gluck ("Easy A," "Annie"). In the film, Bea is an artist who illustrates the rabbits (voiced by the likes of James Corden, Margot Robbie, Daisy Ridley and Elizabeth Debicki) in her backyard and often saves them from the cranky Mr. McGregor (Sam Neill). Things take a turn, however, when old Mr. McGregor dies and his nephew (Domnhall Gleeson) comes to town. Although he's none too happy about the destructive bunnies, he and Bea also start to fall for each other.
"Rose has a very hard part in this movie," Gluck said. "She has to be very funny, she has to be very emotional, she has to be very doting on the rabbits, yet I was very conscious, as I am in all my movies, not to make her just a prop. She can't just be there in support of the rabbits or in support of Mr. McGregor. She had to have her own thing, and Rose is just a force of nature. You believe everything she does, whether it's funny, emotional, sad, goofy or pathetic. And she can't be perfect either."
While the process of capturing the rabbit and human interaction was slow and sometimes tedious in the filming, the result is a seamless blend of technology and reality, with physical comedy and cuteness for the kids and a pretty decent romcom for the parents. Plus, Gluck shot the film in Australia, which meant work was only 10 minutes from Byrne's home and her parents, who could help watch her young son Rocco while she was on set.
Byrne, 38, and her partner actor Bobby Cannavale, 47, just recently welcomed another son, Rafa, in November — and as any working parent of two children under 2 would be, she's pretty tired and she's not slowing down her output. She recently stopped over at the Sundance Film Festival to debut her new indie "Juliet, Naked" a rom-com based on the Nick Hornby novel in which she stars in alongside Ethan Hawke and Chris O'Dowd and soon will be gearing up to start production on the adoption comedy "Instant Family" with Mark Wahlberg.
She's also started a production company with some of her female friends in Australia. They're currently working on a project about a Dolly Parton impersonator who fulfills her dream and then has an identity crisis and wants to be taken seriously.
"There is a whole kind of movement in general in the business with female empowerment and female bravery," Byrne said. "It feels like the walls are coming down finally. And I hope we see results in terms of actual films being made and people being removed from power who shouldn't be there."
One of the casualties of the #MeToo moment involved a film that Byrne costarred in — Louis C.K.'s "I Love You Daddy" which was pulled from release after the comedian and director was accused of sexual misconduct last fall.
Byrne does see hope for change, though, and points to the set of "Neighbors" and its sequel for a film that had a primarily male cast and crew, andwas a raunchy comedy at that, as a good example of how to create a safe and inviting and even fun atmosphere for women on set. She credits Seth Rogen (who starred and produced) and director Nick Stoller for setting a "normal" tone.
"The answer is it comes from the top: Who's directing and who's producing, they are steering the ship. They set the tone at the workplace," she said. "They have to be held accountable."