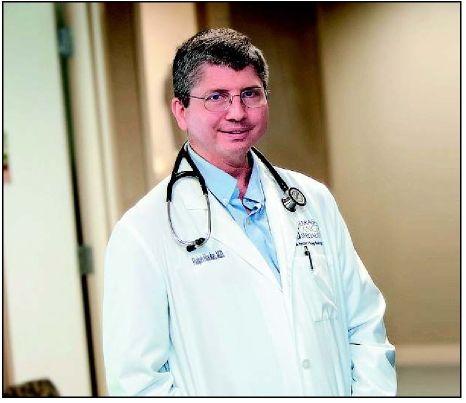 Prostate cancer. Next to skin cancer, it's the most common cancer among men. According to the American Cancer Society, one in seven men will be diagnosed with prostate cancer, and it's the second leading cause of cancer death, ranking only behind lung cancer.
For as scary as these statistics might seem, the majority of men diagnosed with prostate cancer don't die from it. Indeed, close to 3 million men nationwide have been diagnosed and are living with the disease today.
Factors such as age and genetics play important roles in predicting the disease, but the key is early detection. "One of the few issues you can control is screening," said Dr. Ralph J. Hauke, an oncologist specializing in prostate cancer with Methodist Health System. "As men get older, this is an important discussion they should have with their physicians."
Screening involves a rectal exam during which a physician can feel the size of the prostate gland and a Prostate-Specific Antigen (PSA) test, which measures protein levels produced by cells of the prostate gland. Normal levels vary, but generally doctors consider a PSA of 4.0 or lower to be within an acceptable range.
When should men consider getting their first PSA screening? "PSA levels change with age," Hauke said. "As we get older, the prostate gets larger. The PSA level goes up as we get older. Men who have no risk factors should start at age 50. If you have a first-degree relative (with prostate cancer), you should start earlier. Some guidelines recommend age 40."
Jerry Tobias, 69, a retired pilot living in Omaha, was first diagnosed with prostate cancer in 2003 at age 57. "I had no symptoms," he said. "I was always totally asymptomatic." Fortunately, his routine flight physicals began detecting raised PSA levels in 1998. My PSA level was barely elevated — just 4.2."
High PSA levels don't automatically indicate the presence of cancer. "Prostate cancer is very heterogeneous," Hauke said. "It doesn't always behave the same way. Some are not very aggressive and do not require treatment — just monitoring; others should be treated if the cancer has an aggressive profile."
This was the case with Tobias. While his PSA levels didn't necessitate immediate surgery, his physicians aggressively monitored them and also conducted regular biopsies. When one biopsy came back positive, he immediately began considering treatment options.
"I was blindsided," he said. "I had to go from a diagnosis to a decision. There's a lot to process emotionally. I went through shock, disbelief and frustration. My whole goal was to get to a positive frame of mind and make a positive decision."
Patients have a wealth of options depending on the stage. They can have surgery or receive radiation therapy — or undergo a combination of both. Additional options include hormone therapy, vaccine treatment, cryotherapy, chemotherapy and bone-directed treatment for more advanced stages.
"The choice of direction should depend on the patient and tumor characteristics," said Hauke. "You want to diagnose it early when it's localized to the prostate. In general, if you catch someone with a good risk profile, there is as high as between a 70 to 90 percent chance for it to go into remission."
Tobias elected to go with a multifaceted approach. In addition to hormone therapy and surgery, he also underwent chemotherapy and radiation therapy with Hauke.
Today, almost 13 years after his diagnosis, the retired pilot is in remission. "I'm so grateful," he said. "Early screening makes such a difference. Get in and get screened. Take this seriously."