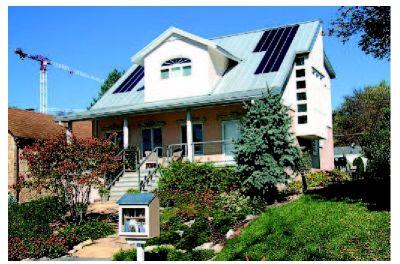 With Avery Schwer's knowledge of structural and architectural engineering, it should come as no surprise to anyone visiting his home at 6454 Woolworth Ave. that he practices what he teaches. Literally. An associate professor of sustainable construction engineering at the University of Nebraska-Lincoln, Schwer's residence is Nebraska's first LEED platinum home, a top honor awarded by the U.S. Green Building Council, which created the rating to indicate a structure's energy conservation and its use of sustainable products.
Covering 3,000 square feet of living space on three floors, Schwer's home, built in 2011, mostly blends in with nearby residences. Several architectural elements, though, make it stand out from the others.
A variety of drought-resistant plants takes up the space usually occupied by a traditional front lawn. They're nourished by rainwater that's collected, stored in two 300-gallon reservoirs and then released slowly by a system that's designed to use water coming off the roof.
The driveway is made of pervious concrete, which allows rainwater to soak into the ground instead of running into the street.
On the roof are strips of photovoltaic laminate, used to supply the home with 1,000 watts of electricity.
What looks like stucco on the exterior walls is the Energy Insulation Finishing System (EIFS), a synthetic coating with a high insulation value. Behind the EIFS, the home's walls are made of blocks with 6-inch-thick concrete cores flanked by 2 1/2 inches of Styrofoam.
The windows have low U values, so they don't transmit much solar heat into the home, and the front and rear entries have double doors, which act like airlocks to minimize the exchange of inside and outside air. The front porch railings are made of recycled steel.
Instead of using regular paint, Schwer painted the interior with Low VOC paint, which is low in volatile organic compounds.
Though much of the odor from regular paint made using organic compounds typically disappears in the first year, the smell can linger for years and bother those who are sensitive to it.
"Low VOC paints don't smell," Schwer said. Bamboo flooring comprises the main floor.
A type of grass, bamboo can be grown in about three years, instead of the many years that trees need to reach maturity.
Energy-saving appliances are used in the kitchen. A convection oven saves energy, and the induction stove top cooks quickly.
"I can fill a pan with water, and a minute later it's boiling," Schwer said. "All this puts less waste heat into the kitchen."
The main bathroom has a low-flow, dualaction toilet and porcelain tiles obtained from Habitat for Humanity's ReStore on South 24th Street.
"The porcelain is better than ceramic tiles, and the money goes to Habitat for Humanity, which I like," he said.
In the upstairs bathroom, the cast-iron tub is coated with porcelain. The tub holds heat for a long time — something Schwer's wife loves.
Downstairs, the flooring is cork. No trees are cut down to make the flooring. Instead, sheets of cork are peeled from the trees, which continue to grow and can be peeled again.
Closets downstairs are made of durable Fox Blocks and can be used as storm shelters.
Geothermal wells outside the home help with cooling and heating.
Building a home like Schwer's used to cost as much as 20 percent more than a similar-size conventionally built home. Schwer said that premium is currently about 10 percent, adding that the difference is more than made up by energy savings.