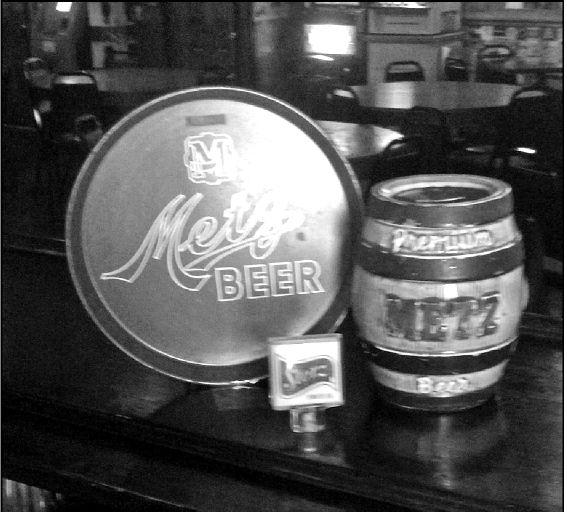 When the PBS TV program "Antiques Roadshow" came to Omaha to tape episodes late last month, it made a pit stop at The Homy Inn.
Appraiser Timothy Gordon was on the prowl for old beer memorabilia. What he found often had more sentimental value than resale value, but in the telling of Omaha's antiques story, it was a valuable trip.
The Montana-based appraiser and a small production crew brought lights and cameras into the bar on June 26 to tape a segment for Roadshow's website and YouTube channel. Gordon met with owner Terry Finkle, who showed off memorabilia from local breweries Metz, Storz, Krug and Falstaff, among countless other breweriana and post-Prohibition collectibles that line the walls and ceiling.
The Homy Inn "is almost its own environment," Gordon said. "You can be in 1960 or 1970 and just be in a time and place of your own choice with all the artifacts and history in there."
Gordon knew about The Homy Inn but had never visited. Inside, he noted century-old newspapers, Beatles and Elvis memorabilia, ceramic liquor bottles, Bud Man beer steins, beer trays, swizzle sticks and a restaurant menu collection donated to the bar by a former Miss Omaha in exchange for five years of free Champagne.
A keg-shaped ceramic Metz bank from the 1960s is worth about $300, Gordon said. A few serving trays are worth about $100 each.
"There's nothing super valuable — nothing I could retire on — but he saw a few pieces he had never seen," Finkle said.
Ten minutes into the three hour session, Gordon spotted a trapdoor on the floor, and he couldn't resist.
"We're always on a bit of a treasure hunt," he said. "When I see a trapdoor going down to a basement in a bar, I always try to get an invitation."
Down in the basement, he dug through a small portion of the spare items stored beneath the bar.
After scoping out the bar's artifacts, Gordon and his crew shared a few glasses of the bar's staple Champagne on tap and packed up.
The next day, Gordon and a few dozen other experts appraised items for about 5,000 people at the Century Link Center. Episodes from the taping will air on PBS in 2016. The Homy Inn segment will run online at pbs.org/antiques and on the Antiques Roadshow YouTube channel around the same time.
Be the first to know
Get local news delivered to your inbox!