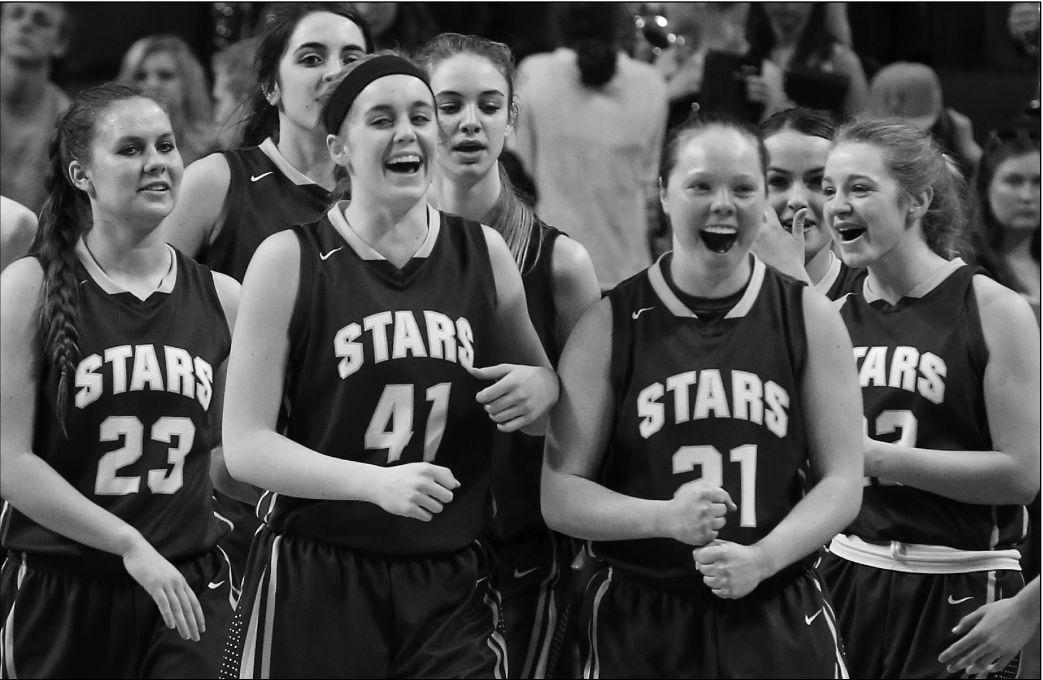 Everybody wants to be a hero at the state tournament, Kearney Catholic girls basketball coach Rick Petri said.
He'd rather see the Clark Kenttype when the second-seeded Stars (25-1) make their fourth straight appearance Thursday. They open against seventh-seeded Wahoo Neumann (19-5) at 2 p.m. at the Devaney Center.
Sometimes players get too hyped up and try to do too much at state, Petri said, and it backfires.
"They just need to continue to do what they normally do and play the way they do all year," Petri said. "We kind of set our hat on our defense. So as long as we continue to play great defense, we'll be in each and every game."
The Stars have held opponents to an average of 29 points a game by switching between man-to-man and a variety of zones. Seniors Michelle Messbarger, with 77 steals, and Maddie Squiers, with 78, make it tough to move the ball up the floor.
"We like to mix things up," Messbarger said. "We're always thinking, and we try to keep the other team thinking, too."
The Stars, meanwhile, are averaging 61 a game. They don't have a big scorer but instead share the ball and score by committee.
Junior guard Kylie Thiele leads the way averaging 13 points, followed by Squiers with 8.4 and Messbarger with 7.2. Squiers' younger sister Anna, a junior forward, averages 7.2 points and 5.6 rebounds. Fifth starter Katelyn Long, a 6-1 post, averages 6.2 points and 5.3 rebounds.
"I think that's a big key," Petri said. "We don't allow teams to just focus on one player."
The Stars' depth, as well as their previous visits, will be other pluses at state. Kearney Catholic was the runner-up in 2013 and 2015 and finished third in 2014. Petri is hoping that experience will help his team keep its composure in the big games.
Last year, the Stars got off to a rough start in the final before settling down and making a game of it. They lost 38-35 to Pierce, close enough that Messbarger said it showed the Stars they were capable of winning it all.
Top seed Lincoln Christian (23-1) has to be the favorite, Petri said, but he thinks the field is wide open. His team, with its only loss to Class C-2 qualifier Hastings St. Cecilia, is ready.
"Our seniors, this will be their fourth year, our juniors their third year," he said. "They know what to expect. They are a little bit more comfortable playing in those venues because they've done that before. That's something you can't overlook."
Messbarger, who also plays volleyball and tennis, said the Stars want to win a little more each season, especially for all the girls who left without a title while building the program, but they aren't putting extra pressure on themselves to claim the crown.
Messbarger said she plays better if she doesn't think too much about what she's doing and instead just goes out and performs.
"Maddie and I are focusing on this is our last tournament with this team, so we're going to make it memorable," she said. "We play best when we're relaxed. So we're going to play relaxed and have fun and play as a team because this is where memories are made."
Be the first to know
Get local news delivered to your inbox!