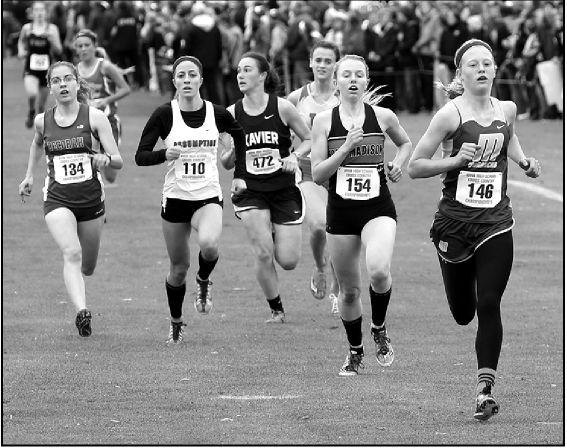 FORT DODGE, Iowa — Ellie Mendlik had already run nearly the entire 3.1 miles. But for the last few yards, the Denison-Schleswig sophomore gave it everything she had.
Among a flurry of bodies crossing the finish line, Mendlik edged three other girls by less than a second to claim eighth out of 139 participants in the Class 3-A portion of the Iowa state cross country meet Saturday afternoon at Lakeside Municipal Golf Course.
"I was kind of tired," said Mendlik, who took 18th a year ago. "But I knew I had to do this for my team so we could get up there around the top 10 teams."
Teammate Raegan Andersen just missed a top-15 medal — ending 17th — but the Monarchs still celebrated a 12th-place overall showing in the program's first state appearance since 2003.
The varsity lineup is made up of five freshmen and two sophomores. Other scorers Saturday were Dayana Lora (78th), Morgan Goslar (102nd) and Gabby Parr (114th). Lora and sophomore Morgan Gierstorf (129th) never had run cross country before this season.
"Top to bottom, all seven runners had probably one of their best races of the year," Denison-Schleswig coach Bryant Rasmussen said. "You can't complain when they save their best race to be the state meet. It's a bright future for those girls. They want to outwork anybody in practice. They're constantly racing each other and racing the coaches and wanting to win."
Be the first to know
Get local news delivered to your inbox!