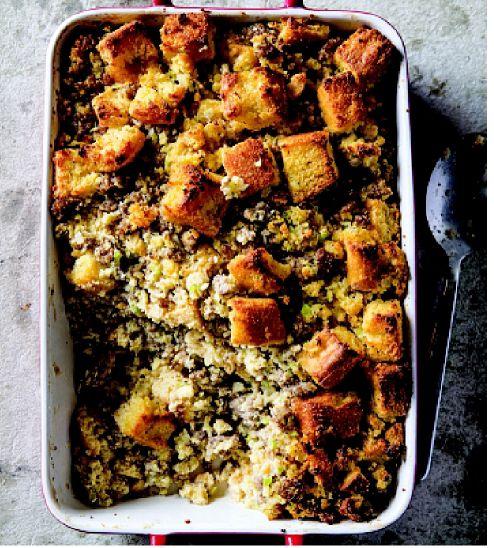 Cornbread and sausage stuffing is a compelling alternative to the usual breadbased dish. But the recipes we tried all called for storebought cornbread, which had a fluffy texture that resulted in mushy stuffing. We'd have to make the cornbread from scratch.
We began with our favorite cornbread recipe: combine cornmeal with flour, leavener, salt and sugar (which we omitted) before whisking in eggs, buttermilk, milk and melted butter.
Because our dressing would offer tons of flavor, we decided to eliminate the buttermilk and replace the butter with vegetable oil; tasters couldn't tell the difference. We cubed the cornbread and, while it worked fine to let it stale overnight, we found we could achieve the same results more quickly by drying it out in a low oven.
We tried assembling the dressing and storing the whole casserole in the fridge overnight, but unfortunately the cornbread became too mushy. We opted instead to wait until just before baking to combine the cornbread with chicken broth, eggs, browned sausage and aromatics.
To increase richness, we added extra sausage, doubled the eggs to four and replaced 1 cup of the chicken broth with half-and-half. We also drizzled melted butter over the dressing before baking it, which helped crisp the top. Instead of oven-drying in step 3, you can let the cut cornbread stale overnight at room temperature.
HOMEMADE CORNBREAD DRESSING
Start to finish: 3 hours (active time: 55 minutes, plus 2 hours to cool)
2 cups(10 ounces) cornmeal
2 cups(10 ounces) allpurpose flour
4 teaspoons baking powder
1½ pounds bulk pork sausage
3 celery ribs, chopped fine
6 tablespoons unsalted butter
1⁄8 teaspoon cayenne pepper
For the cornbread: Adjust oven racks to upper-middle and lower-middle positions and heat oven to 375 degrees. Grease and flour a 13-by-9-inch baking pan. Whisk milk, oil and eggs together in bowl.
In large bowl, combine cornmeal, flour, baking powder and salt. Whisk in milk mixture until smooth. Pour batter into prepared pan and bake on lower rack until golden and toothpick inserted in center comes out clean, about 30 minutes. Let cool in pan on wire rack, about 2 hours.
Reduce oven to 250 degrees. Cut cornbread into 1-inch squares. Divide cornbread between 2 rimmed baking sheets and bake, stirring occasionally, until dry, 50 minutes to 1 hour. Let cornbread cool completely on sheets, about 30 minutes.
For the dressing: Cook sausage in 12-inch nonstick skillet over medium-high heat until no longer pink, about 5 minutes; transfer to paper towel-lined plate. Pour off all but 2 tablespoons fat left in pan. Add onions, celery and 2 tablespoons butter to fat in pan and cook over medium-high heat until vegetables soften, about 5 minutes. Stir in garlic, sage and thyme and cook until fragrant, about 30 seconds. Stir in broth, remove from heat and let cool for 5 minutes.
In large bowl, whisk halfand-half, eggs, salt and cayenne together. Slowly whisk in warm broth mixture until incorporated. Gently fold in dried cornbread and sausage. Let mixture sit, tossing occasionally, until cornbread is saturated, about 20 minutes.
Heat oven to 375 degrees. Grease 13-by-9-inch baking pan. Transfer cornbread mixture to prepared pan. Melt remaining 4 tablespoons butter and drizzle evenly over top. Bake on upper rack until top is golden-brown and crisp, 30 to 40 minutes. Let cool for 15minutes and serve.