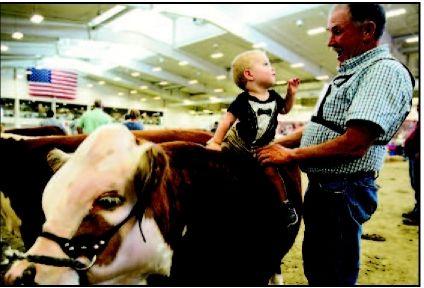 GRAND ISLAND, Neb. — The Nebraska State Fair has always been a gathering of grand champions from across the state.
The fair's 2016 theme reflects that, and, as Shaun Schleif said, "It pays tribute to all competitors who bring their 'A game' to the fair each year."
This year's theme, announced Friday, is "Grand Champions. Made in Nebraska."
"When the Nebraska State Fair moved to Grand Island, the board of directors pledged to refocus the fair on agriculture," said Schleif, the State Fair's marketing and sponsorship director. "It has been a resounding success, and this year's theme is a tip of the hat to those who are involved in agricultural, livestock and equine events."
He said the theme also honors "those young people that work so hard on their domestic and competitive exhibits and those that are grand champions of the many competitions we have during the 11 days of the fair."
Schleif said the Nebraska State Fair features many different competitions, among them the Galaxy of Stars talent contest, the Firefighter Combat Challenge, Country Showdown and Nebraska State Fair Marathon, to name a few.
"We've long considered the Nebraska State Fair as the 'state tournament' for our state's young people," Schleif said, "each working so hard at the county level to reach the State Fair. It's a showcase of everything that's great about Nebraska."
The 2016 Nebraska State Fair will run from Aug. 26 to Sept. 5 in Grand Island. The announcement of the 2016 theme coincided with the February meeting of the State Fair board on Friday in Grand Island.
Doug Lukassen of Kimball, representing District 6, and Jeff Kliment of Valparaiso, representing District 2, were welcomed to their first meeting after being elected to the fair board at the Nebraska Association of Fair Managers convention last month in Kearney.
New board officers elected were Chris Kircher, chairman; Chuck Rolf, vice chairman; Marvin Rousey, secretary; and Lowell Minert, treasurer.
Be the first to know
Get local news delivered to your inbox!