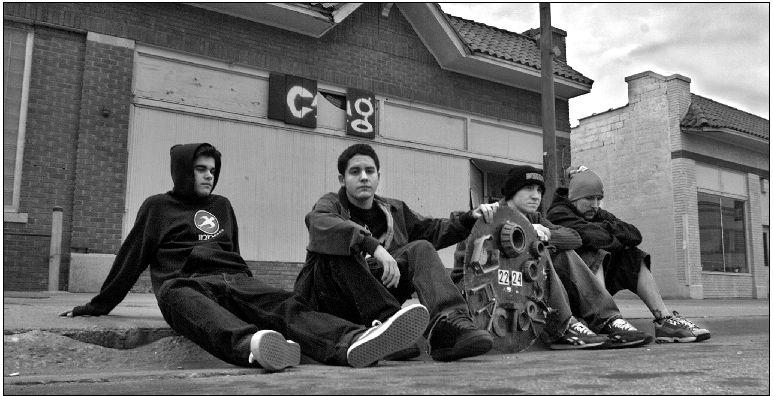 The Cog Factoiy lives on in the memories of the hundreds (if not thousands) of people who worked, performed and hung out there. We spoke to those veiy people, including those who ran the venue.
Robb Rathe opened The Cog Factory in 1994. His art projects were outgrowing his basement, and he wanted somewhere to showcase his art and let his friends' punk bands perform, as he told The World-Herald when the venue closed in 2002.
Rathe: "My art got taller than my ceiling would allow, and my friends' band got louder than my neighbo rs would allow. It wasn't intended to be a commercial business operation, I kind of wanted to prove that money didn't have to exist in order to justify something like that operating.
"I tried to use that place to prove the underground sense of the music scene to kids. I want to see kids having fun at shows just like I did when I was a kid, I enjoy punk rock music. I don 't care about getting paid: I like to see kids having fun,"
Gary Dean Davis spent a ton of time at The Cog as frontman of Frontier Trust.
Davis: "It was wonderful for what it did for our scene — to have a club that all-age kids can go to and all-age bands can play at and don't get hassled by people that want to run a bar."
Chris Esterbrooks performed at The Cog with the Carsinogents and saw many more bands there as a fan.
Esterbrooks: "It was a pretty basic room. It had no great heating or AC. Pretty crummy bathrooms. But it was a good place. I feel like it existed to have the bands play where there was nowhere else for them to go.
"It was feast or famine. Only 10 people would be there, or it would be jampacked with 150 o r so."
Chris Harding Thornton worked the door at The Cog, made coffee, handed out earplugs, ran sound and pretty much everything else — all as a volunteer.
Harding Thornton: "From eady 1996 through the end of1999,1 may have been at Cog Factory as many nights as I wasn't, so a lot of the actual shows are a blur. ...
"For a good chunk of that time, I lived about three blocks away, and
I had no TV, so I'd walk up there to work the door and watch the bands. I wasn 't necessarily totally altruistic in volunteering. I really liked to see bands and didn't have any money."
Drinking and drug use weren't allowed at The Cog. It was an all-ages venue, and for it to stay open and away from the scrutiny of the police and other watching eyes, everything had to be on the up and up.
Zack Link, guitarist for System Failure, told The World-Herald in 2002 that everyone was on the lookout for violations of the policy.
Link: "Anytime somebody would show up with alcohol or drugs, basically the whole place would tell him to get out of there because everybody knew that if one person messed up, they were going to mess things up for everybody."
Davis said Rathe was, if not feared, greatly respected by the patrons of The Cog. He would give people their cover charge money back and kick them out of the venue if they crossed the line.
Davis: "Kids weren 't doing drugs and there was no drinking going on there. Because of that, well, it's giving kids something to do."
Rathe: "The only thing to keep that place going was to keep it clean. We were militant about it. I don't care what you do, but go somewhere else to do it or you 'll ruin it for all of us."
Jim Minge, a World-Herald reporter from 1995 to 2000, saw countless concerts at The Cog, but he'll always remember Wesley Willis, whom he called "a diagnosed paranoid schizophrenic from Chicago who made music that had its own genre."
Minge: "Willis, originally a street artist who sold his ink drawings to passers-by, was known musically fo r his humo rous but honest ly rics accompanied by the same auto-tune riff from his over-the-counter Technics electronic keyboard,...
"After that Cog Factory performance in 2000, Willis sat off from the stage and greeted fans that lined up to get a headbutt. That was his thing ...It wasn't like a Jean-Claude Van Damme headbutt — more like a buddy bump. But it was hard enough that there was a dozen or so of us walking out onto Leavenworth Street afterwards rubbing our red-marked foreheads."
The Cog Factory wasn't in a very good neighborhood. Regular attendees remember it being a safe space, but it was across the street from a seedy bar.
Omaha musician Matt Whipkey: "I saw some dudes have a knife fight across the street outside of the old Crosstown Tavern while we were playing basketball on a makeshift hoop on a light pole on Leavenworth, ... I think those knife fights were a daily occu rrence."
Davis: 'The Crosstown, that was a bad scene. I'll never forget the sound of a human skull being bounced off the pavement."
Rathe: "It was such a delicate relationship with the city. The city didn't really understand. There was a little bit of looking the other way with us. We had a couple police officers on our side, too."
It seemed like everything at The Cog Factory was always about to fall apart.
Harding Thornton : "Sometimes 1 did sound, though 1 had no idea what 1 was doing I just turned everything up as loud as possible until it hit feedback, then nudged the knobs down a smidge, 1 did other duties as assigned. When one of the inputs was shot on the PA, my job was to really quickly unplug the jack, spit on it, and then plug it back in. I had to do that through someone 's entire half-hour or so set."
Omahan Keith Binder played in bands, and he saw dozens of big-time bands before they went on to bigger things.
Binder: "My first show 1 ever played at Cog Factory, 1 was 14 and in a terrible metal-core band, and we opened for a 16-year-old kid named Conor Oberst and an 'older dude' named Simon Joyner There were maybe 20 people there at the most. It was n ice back in those days because sho ws were mixed genres."
Rathe is humble about the effect The Cog had on Omaha's scene and Saddle Creek Records. In his view, the scene would be alive and well without the Cog Factory.
Rathe: "It's easy to paint that story, but I don't know if it's necessarily true. If they had raw talent, it was gonna happen regardless. I met Conor Oberst when he was 10, and he was a ... gen ius. That guy could live in the desert, and he'd be a rock star.
"There were way more people who saw shows there than were in bands. The biggest impact was on the memories of people. The question is, 'Are you getting people in volved that otherwise loouldn 't be involved?' I think that's true,"
Director Kyle Benecke is trying to capture The Cog Factory's importance to Omaha's music scene with a documentary, "The Cog."
Over the last several years, Benecke has collected videos, photos and interviews with just about every person involved with the venue in its eight years of existence.
"It was weird, unique, a disaster," Benecke said of The Cog Factory.
In addition to conducting dozens and dozens of interviews, Benecke has also combed through hundreds of photos and tons of video footage.
Since The Cog existed mostly in a pre-digital era, photos and video weren't as easy to come by. They were stuck in boxes in people's basements and all had to be scanned.
But finding people to talk about the venue was easy.
"For most people, it was a great time in their life," he said. "The film is a giant thank you to all the people that made The Cog possible — the promoters, volunteers, bands and concertgoers."