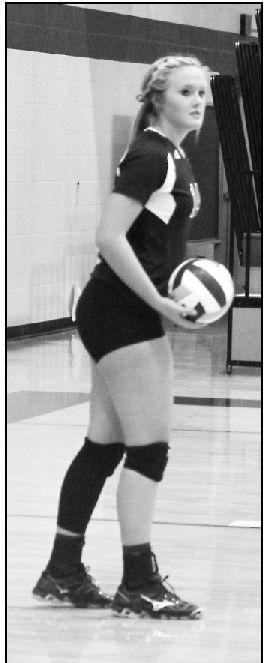 Tim Boender used to be a big football fan. Then he discovered Nebraska volleyball.
He fell in love with the sport, and his family did the same.
Tim and Connie's three daughters grew up playing volleyball and other sports, and all three have excelled at Waverly.
"Everyone knows our family as the volleyball family," said Brianna Boender, the youngest of the three daughters.
The oldest, Amanda, is the starting middle blocker as a senior for Missouri Western. Olivia is a freshman at Nebraska and plays on the left side. She's back at practice after surgery on torn knee cartilage.
Brianna, a junior setter and right-side hitter, is the last one at Waverly. She says it's different not having a sister around anymore.
"We always pick each other up on the court and have each other's backs," Brianna said.
"It's not like quiet. It's just not having someone to go to after every play to celebrate with."
Olivia's departure, after leading the Vikings to the state tournament the past two seasons, thrust Brianna into a new role with the young squad. She said she and seniors Ashley Neujahr and Abby Curtis have had to step up and take on more of a leadership role.
"We always have to encourage everyone to stay positive," Brianna said. "We've picked up the vocals and all talk on the court. We just push everyone to get better."
Coach Terri Neujahr, Ashley's mom, said Brianna also stepped up her hitting. When she's not playing setter in Waverly's 6-2 offense, the 6-footer is playing on the right side.
Setting is her favorite, because she feels like she's in control on the court, gets every second ball and can make things happen.
She's done plenty of that for the 10-9 Vikings, though she's had to sit out at times lately with tendinitis in her shoulder. She's the team's leading attacker, with 147 kills, an average of 3.4 per set, and a .350 hitting percentage. She also leads in aces with 19.
Her coach said Boender takes advantage of spots the defense leaves open.
"She's very aware of where the blockers are, where the defenders are on the other side," Neujahr said.
She'd like to play in college just like her sisters, preferably at setter. She's attracted interest from some Division I schools among others, and has made some visits but hasn't found the right fit yet.
At least by the time she graduates, Amanda will be done at Missouri Western. That will be easier on their parents.
On a recent Saturday, they drove to Amanda's match in St. Joseph, Missouri, then made it back to Lincoln for Olivia's match with the Huskers.
If they can't attend a match, they'll watch it online.
Brianna said they haven't missed any of her matches. And even though they're crazy about the sport, they don't get out of hand.
"They usually keep it pretty cool," Brianna said. "I wouldn't want them to embarrass me."