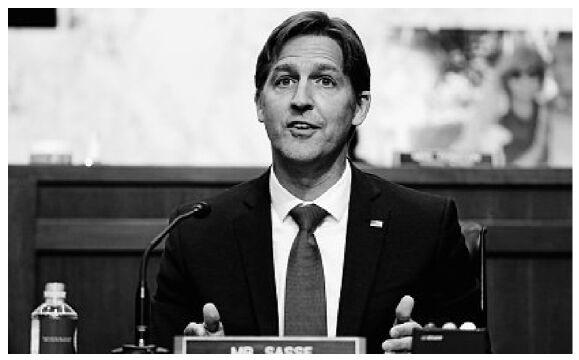 WASHINGTON — President Donald Trump returned fire Saturday with his own harsh assessment of Sen. Ben Sasse, after the Nebraska Republican delivered a scathing critique of the president during a Wednesday telephone town hall.
In his Saturday reply on Twitter, Trump referred to Sasse by the acronym used for a Republican In Name Only.
"The least effective of our 53 Republican Senators, and a person who truly doesn't have what it takes to be great, is Little Ben Sasse of Nebraska, a State which I have gladly done so much to help," Trump tweeted. "@SenSasse was as nice as a RINO can be until he recently won the Republican … Nomination to run for a second term. Then he went back to his rather stupid and obnoxious ways. Must feel he can't lose to a Dem. Little Ben is a liability to the Republican Party, and an embarrassment to the Great State of Nebraska. Other than that, he's just a wonderful guy!"
The Washington Examiner obtained an audio clip from the telephone town hall with Nebraskans in which Sasse was asked about his willingness to criticize the president.
Sasse initially referred to judicial nominations and other areas where he agrees with Trump. But then he got on a roll about aspects of the president that he described as woefully deficient — not just for a Republican, but for an American.
He described the president as someone who cozies up to dictators, betrays U.S. allies and privately trashes evangelicals. He said the president has "flirted with white supremacists" and that his family treats the presidency like a business opportunity.
He also said the president has mishandled the coronavirus pandemic.
Sasse spokesman James Wegmann issued a statement following Trump's Saturday morning tweet.
"Ben said the same thing to Nebraskans that he has repeatedly said to the President directly in the Oval Office," Wegmann said. "Ben is focused on defending the Republican Senate majority, and he's not going to waste a single minute on tweets." During the telephone town hall, Sasse made clear that he thinks Trump is likely to lose the upcoming election and he's worried the president could take Republican senators in battleground states down with him.
Sasse is up for reelection himself but is expected to win easily. He faced a primary challenge from Lancaster County Republican Matt Innis rooted in Sasse's willingness to criticize the president.
But Trump endorsed Sasse, who cruised to a lopsided primary victory.
Be the first to know
Get local news delivered to your inbox!