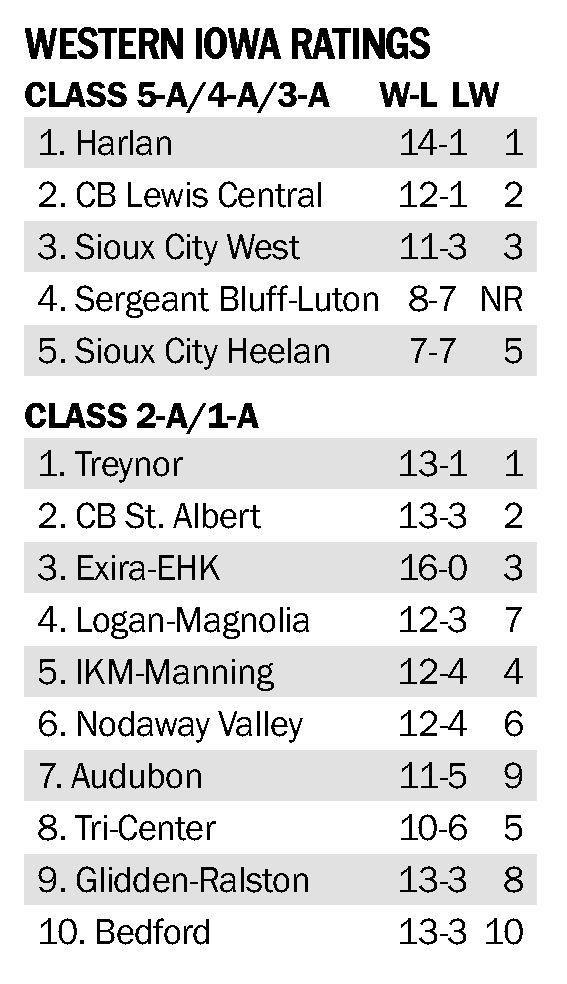 At first glance, the Exira-EHK girls basketball team appears to have all the necessary credentials to contend for a state title.
The Class 1-A No. 2 Spartans, who are third this week in the Western Iowa Class 2-A/1-A rankings, are 16-0 and return four starters from last season's team that finished 25-1, losing only in the state semifinals.
The Spartans are young and balanced on offense. Four players are averaging at least 10 points a game, and every one of their wins has come by at least 12 points. Sophomore Sophia Peppers (16.8) leads the team in scoring, followed by junior Mara Burmeister (13.9), sophomore Kealey Nelson (10.9) and junior Maggie Rasmussen (10.5).
"They understand that they can't be selfish, and they're very good about that," Exira-EHK coach Tom Petersen said.
Still, Petersen has concerns. Last year's team benefited immensely from the play and leadership of seniors Rachel Smith and Kennedy Madsen. Although many players returned from last year, Petersen noted how difficult it's been filling the voids left by last year's seniors.
"I don't think that we're there yet (this year), to be honest," Petersen said. "If you look at what we lost from a year ago with Rachel and Kennedy, people often look at numbers, but the No. 1 thing we've lacked this year is leadership. It's starting to come together. People expect us to be there already, but it's just not."
Consistency has been the one missing element for the Spartans despite many outcomes appearing one-sided. That hasn't always been the case.
In a Dec. 8 victory over Glidden-Ralston, the Spartans squandered a five-point lead with under 30 seconds to play in regulation, forcing overtime. They then outscored Glidden-Ralston 15-3 in the extra session.
In a Jan. 5 contest against Adair-Casey, the Spartans led 26-24 after three quarters. But Exira-EHK took control in the fourth quarter en route to a 49-36 triumph.
Petersen knows he has a talented team. However, the next step forward this season will require everything routinely coming together.
"The experience is there; I just want to see more out of it on a consistent basis," Petersen said. "Oftentimes, we're very complacent at certain junctures of the game, and I'm just not very happy with it.
"Then, all of a sudden, I'll see the team I see in practice, and they'll explode for a 10 or 15-point run in a short period of time."
The bottom line is that, despite some difficulties, the Spartans have passed every test this season. Their coach figures it will make them better.
"We've been challenged multiple times," Petersen said. "It's still a work in progress, but I think our best basketball is in front of us yet."