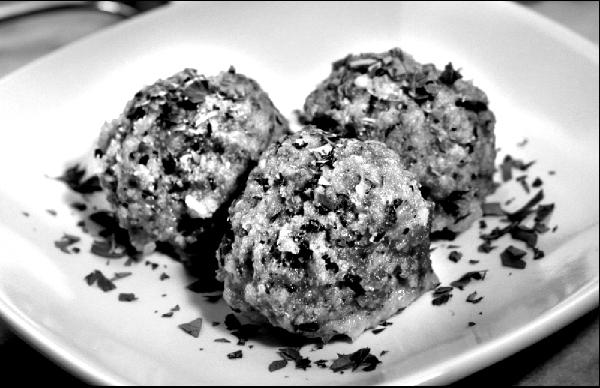 These are some of the best meatballs I've had in a long time.
Roasted garlic, fresh basil and cilantro, along with dried oregano, Spanish paprika and grated Manchego cheese lend rich, deep flavor to these tender pork-and-beef meatballs.
Go ahead and plan to make a double batch — they go quickly.
Cafe Sevilla's Albondigas (Meatballs)
2 cups minced onion, from about
4 ounces roasted garlic, pureed (about 1/3 cup), see note below About 1/2 cup (3/4 ounce) chopped fresh basil leaves
About 1/2 cup (3/4 ounce) chopped fresh cilantro
1 tablespoon dried oregano
1 tablespoon Spanish paprika
1 tablespoon freshly ground black pepper
1 cup grated Manchego or Parmesan cheese
Chopped parsley, for serving
In a saute pan heated over medium heat, combine the olive oil and onions, cooking the onions until they soften and become translucent, 6 to 8 minutes. Remove from heat and place the onions in a large mixing bowl.
To the bowl, add the roasted garlic, basil, cilantro, oregano, paprika, salt and pepper, stirring to combine. Set the mixture aside until the onion has cooled to room temperature.
To the cooled onion mixture, stir in the eggs and bread crumbs, then the ground pork, beef and cheese, mixing with your hands until uniform and fully combined.
Divide the mixture into 36 meatballs, each about one-fourth cup in volume. The meatballs may be covered and refrigerated at this point up to 3 days before cooking.
To cook the meatballs, heat the oven to 375 F. Spread the meatballs out onto foil-or parchment-lined baking sheets, spacing them an inch or so apart for even cooking.
Cook the meatballs until firm and golden and a thermometer inserted reaches 165 F, 15 to 20 minutes.
Rotate the baking sheets halfway through cooking for even heating and coloring. Serve garnished with parsley.
Note: To roast garlic, cut off the pointy top of a head of garlic to expose the tips of the cloves. Place the garlic on a small sheet of foil, cut end facing up. Drizzle a little olive oil over the cut end of the garlic head, and sprinkle a pinch each of salt and pepper. Wrap the garlic head in the foil and roast in the oven at 325 F until the cloves have softened, about an hour.