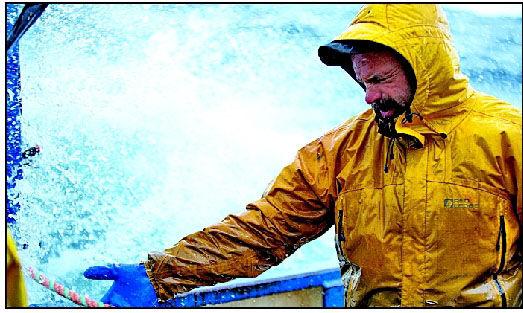 Tonight's prime-time TV highlights.
Chef Michael Psilakis judges a Greek food challenge involving smashing plates before one team is kicked out of the kitchen.
8 to 10:02 p.m., Discovery (season premiere)
Season 11 kicks off with the increase of the crab quota, which sends the crews scrambling to bring back more.
"The Flash" 7 p.m., CW (new)
Felicity Smoak and Ray Palmer visit S.T.A.R. Labs but are forced into action when a meta-human unleashes a swarm of robotic bees on her co-workers.
8 to 9:01 p.m., CBS (new) A Navy commander's car is stolen with his baby still inside. Was it a random theft or an abduction?
"Marvel's Agents of S.H.I.E.LD."
Melinda May reaches a turning point during the battle between Coulson and Gonzales, while Skye learns about her own past.
Prudence wants Luke and Lizzy to be more adventurous, which prompts Luke to try skydiving.
9 to 10:07 p.m., FX (series finale) Who will get out of Harlan alive? The series ends with one final battle among Raylan, Boyd and Ava.