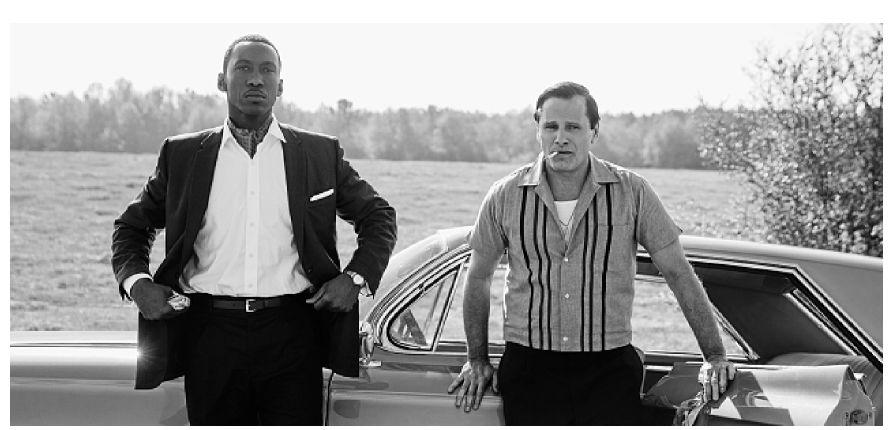 Sunday night, "Green Book" won best picture against presumed favorite "Roma" in an upset that honestly wasn't that surprising.
The Academy's voting body is growing younger and more diverse, but the old-fashioned faction that still votes for staid, simplistic historical dramas is alive and well, clearly.
But the thing is ... the best picture winner never pleases everyone. Every few years, the Oscars make a big mistake, which becomes an evergreen punchline — a whipping boy we gripe about forever after. The Oscars got it wrong Sunday night. It wasn't the first time; it won't be the last.
Yet looking back over the past 40 years of Oscar history, "Green Book" is far from the worst movie to win best picture.
Where does it fall, though? I'm happy you asked. Here's a not-at-all subjective ranking of the 40 most recent best picture winners, from worst to best:
The heavy-handed hyperlink drama that now counts as one of the Academy's great embarrassments.
39. "Birdman or (The Unexpected Virtues of Ignorance)" (2014)
It's not profound; it's pretentious. And it had the nerve to win over "Boyhood" and "Whiplash," two of the decade's best films.
38. "Driving Miss Daisy" (1989)
37. "Out of Africa" (1985)
Let's hope nothing this boring ever wins best picture again.
A cutesy gimmick that quickly wears out its welcome.
35. "The King's Speech" (2010)
It's not that bad. But it won best picture over "The Social Network," "Winter's Bone," "Inception" and "Toy Story 3." It deserves our contempt.
A perfectly fine example of the kind of quasi-intelligent thriller they used to make for adults all the time. Not worthy of best picture, though.
This movie is sweet and well intentioned, but also staid, stuffy and backward-looking. Voters should have given the Oscar to "Black Panther" on Sunday night.
32. "The Shape of Water" (2017)
The fish sex movie has great production design. But c'mon.
31. "Dances With Wolves" (1990)
A decent Kevin Costner Western, but it beat "Goodfellas" for picture/ director and thus, like "The King's Speech," deserves our contempt.
30. "American Beauty" (1999)
It felt like a masterpiece at the time. It has not aged well.
29. "Chariots of Fire" (1981)
Try to recall a single scene in "Chariots of Fire" beyond the boys running on the beach while Vangelis plays.
"Moulin Rouge!" and "La La Land" were better and more deserving musical candidates for best picture.
27. "A Beautiful Mind" (2001)
A mildly engrossing film.
Definitely not as good as you remember. Definitely.
25. "The English Patient" (1996)
(The writer has fallen asleep.)
(The writer is still sleeping)
(The writer wakes to an explosion.)
(To the sounds of swords clanging.)
21. "The Last Emperor" (1987)
(Fully awake.) What? Who? Uh ... Yes, now we're talkin'. Bertolucci's grand, sweeping vision of China before and after the revolution.
20. "Ordinary People" (1980)
Haunting family drama about grief and forgiveness.
19. "Terms of Endearment" (1983)
Sad but frequently hilarious family dramedy about grief and forgiveness.
18. "Shakespeare in Love" (1998)
It probably shouldn't have won best picture over "Saving Private Ryan," but it's unquestionably a delightful film.
Journalism puts a W on the board.
Just a fun, bawdy, sadistic period comedy. And so relatable. Who among us doesn't have that friend who's so much better than us at everything despite giving zero effort?
15. "The Lord of the Rings: Return of the King" (2003)
It has 17 too many endings and that final battle sequence goes on 20 minutes too long, but its best picture win was really an award for the whole trilogy, of which "Fellowship of the Ring" is still the best.
14. "Slumdog Millionaire" (2008)
Danny Boyle's hyperkinetic style can be annoying and TOO MUCH, but when he finds the right vehicle for it, the results are dazzling.
As a kid, I hated this movie because it felt cool to hate this movie. But I've made my peace with it.
12. "Forrest Gump" (1994)
It's still great, even if there were better best picture nominees that year, like "Pulp Fiction" and "The Shawshank Redemption."
11. "Kramer vs. Kramer" (1979)
One of the best small best pictures.
One of the best big best pictures.
9. "The Hurt Locker" (2009)
The Iraq War finally got its great film. Kathryn Bigelow finally became the first woman to win best director.
Scorsese had better best picture nominees than "The Departed," including "Raging Bull," "Goodfellas" and "The Aviator." But a Martin Scorsese win is a Martin Scorsese win, and it was about time.
7. "Million Dollar Baby" (2004)
The final 45 minutes are so devastating that people forget this begins as one of the best and most rousing sports dramas of the last 30 years.
Barry Jenkins' masterpiece won in the most confused best picture announcement in Oscar history.
5. "12 Years a Slave" (2013)
Steve McQueen's harrowing slavery drama transcended the trappings of the period epic through great storytelling and even better filmmaking.
4. "The Silence of the Lambs" (1991)
The only horror film to win the award. Easily one of the most grimy, sickening and feel-bad of best picture winners. Which is what makes it so special.
2. "Schindler's List" (1993)
The '90s were the best decade for movies.
1. "No Country for Old Men" (2007)
In fact, I'd rank it among the best best pictures of the past 91 ceremonies. I'm generally of the opinion that the Coen brothers should win best picture every year they make a movie.