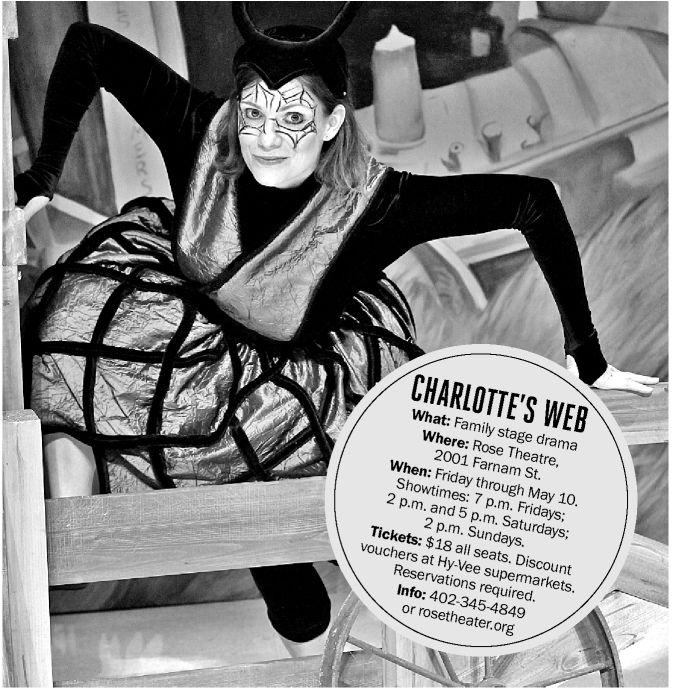 IT'S NOT JUST ENTERTAINING. It's a learning experience.
"Charlotte's Web," the perennially popular tale of a spider who saves a runt-size pig, opens Friday at the Rose. Beyond its 12-performance run for the public, the stage version of E.B. White's award-winning children's book has a double life at the Rose, one of the nation's largest theaters for children and families.
As part of the Rose's Every Single Child program, "Charlotte's Web" will play 14 more sold-out shows to nearly 12,000 schoolchildren from more than 150 schools. They come from as far away as Central City, Nebraska — a two-hour bus ride.
Now in its 16th year, Every Single Child extends to even more kids, visiting more than 80 schools with more than 36,000 students. And thanks to generous funding from foundations, it's free.
The program is what Brian Guehring, the Rose's playwright in residence, calls a scaffolded experience. Each year's presentation builds on what kids learned the year before. The goal is to provide all elementary and middle school students with a meaningful drama experience every year.
Preschoolers learn to role-play and develop empathy. First-graders visit the Rose for a show geared to their age group. Second-graders begin to learn about acting through reader's theater. Third-graders are introduced to directing, writing and designing in a tour of the theater. And so on, through eighth grade.
In the process, more than a dozen Rose teaching artists with expertise in childhood education approach theater in ways that mesh with other curricula: literature, history, science, health, writing, creative teamwork, problem-solving and social behavior.
Students love the program, sending a steady stream of thank-you letters that clue staffers in on what the kids find memorable. Parents appreciate learning materials supplied by the Rose to discuss the plays as a family.
Teachers report a new appreciation for the variety of ways students learn. Kids who languish sitting at a desk sometimes bloom in theater workshops that invite them to physically explore. Teachers learn alongside their kids, also benefiting from teaching guides supplied by the Rose. Workshops and tours before and after performances of "Charlotte's Web" expand chances to learn.
The Rose, Guehring said, aims for creating both great art and great learning experiences for kids and families.
"That balance is very rewarding, and unique to Omaha," he said. "This is the definition of being a teaching artist."
Where: Rose Theatre, 2001 Farnam St.
When: Friday through May 10. Showtimes: 7 p.m. Fridays; 2 p.m. and 5 p.m. Saturdays; 2 p.m. Sundays.
Tickets:$18 all seats. Discount vouchers at Hy-Vee supermarkets. Reservations required.