Local
Order at the cemetery: Omahans honor Irish heritage with ceremony honoring Gen. John O'Neill
Wearing green top hats, shamrock necklaces and shirts emblazoned with the word "Lucky," Omahans headed to bars Friday morning to celebrate St. Patrick's Day.
Shortly after 9 a.m., groups of people walked toward Barrett's Barleycorn Pub & Grill on Leavenworth Street. Omaha police officers, standing outside, opened the door of the pub for newcomers.
But further down Leavenworth Street, a different kind of celebration was happening in Omaha's oldest active Catholic cemetery.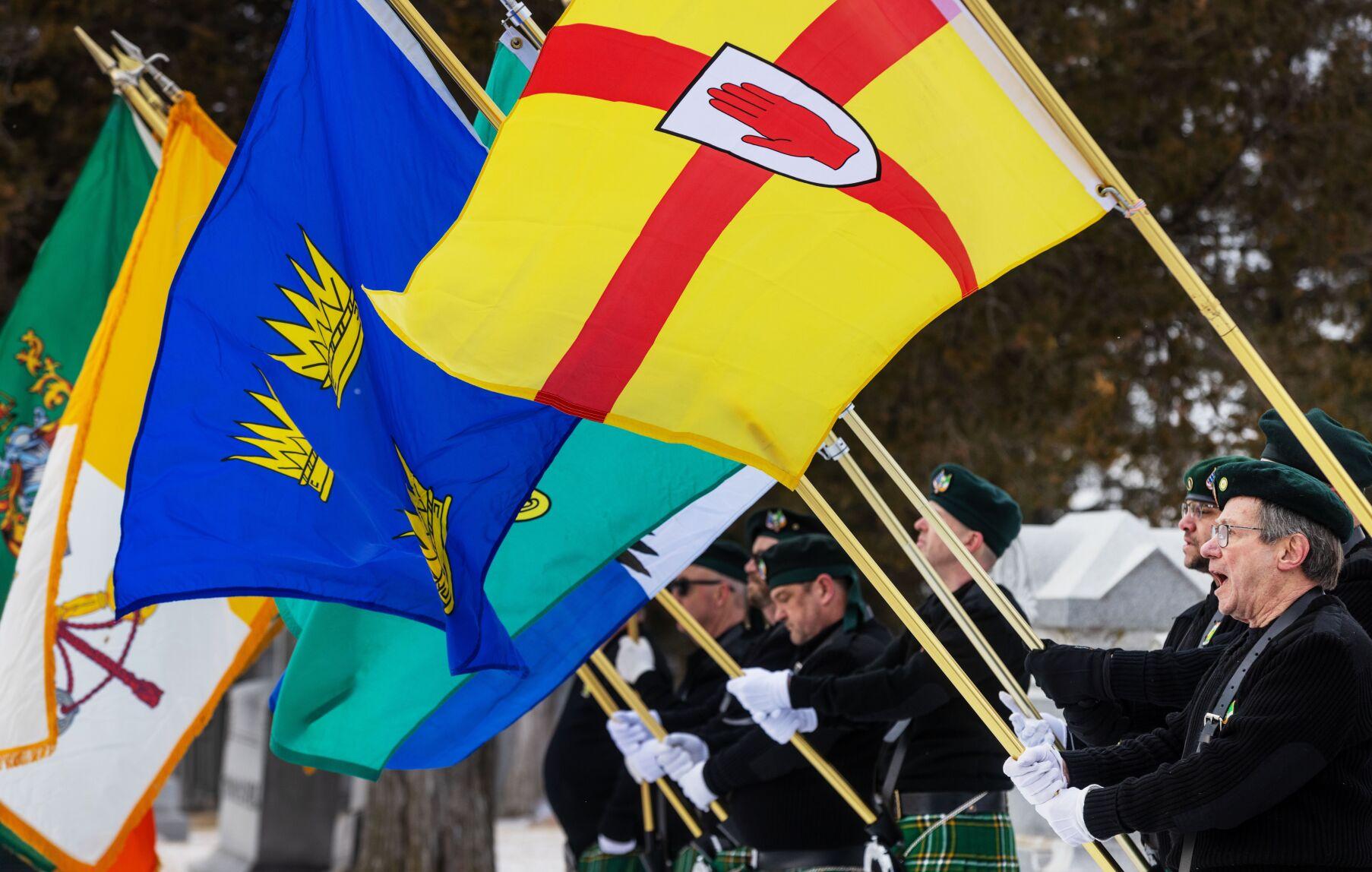 A line of cars climbed the hills of Holy Sepulchre Cemetery, finally stopping at a section that overlooks the University of Nebraska Medical Center.
Men in kilts climbed out of their cars and waved to each other. The outdoor temperature was about 29 degrees, but no matter how cold or wet, Omaha's Ancient Order of Hibernians arrive at this cemetery every St. Patrick's Day to gather at the gravesite of Gen. John O'Neill.
As one member played the bagpipes, the rest of the group's honor guard carried flags and marched, stopping in front of O'Neill's grave. They prayed. They sang.
O'Neill, the namesake of the Nebraska town, was a fervent Irish nationalist who distinguished himself in the Civil War. He settled in Nebraska after a failed plan to invade Canada and force Great Britain to trade Ireland for its return.
"John O'Neill is an Irish patriot and we just honor his death and all his accomplishments throughout life," said Tim Lonergan, the current president of Omaha's Ancient Order of Hibernians.
For Lonergan, St. Patrick's Day means celebrating Irish culture and heritage in America.
"What the English has done to Ireland for 700 years, it's a way to show that we still fight, we still promote Ireland, our heritage is very important to us," Lonergan said.
"We're resilient. We're here," said Richard Fitzgerald, a member of the Ancient Order of Hibernians. "And at this point, to be Irish is to be against discrimination."
Fitzgerald pointed to how the Irish have opened their arms to Ukrainian refugees. According to an Irish Times article from last month, the number of refugees fleeing the war in Ukraine and arriving in Ireland is close to 75,000.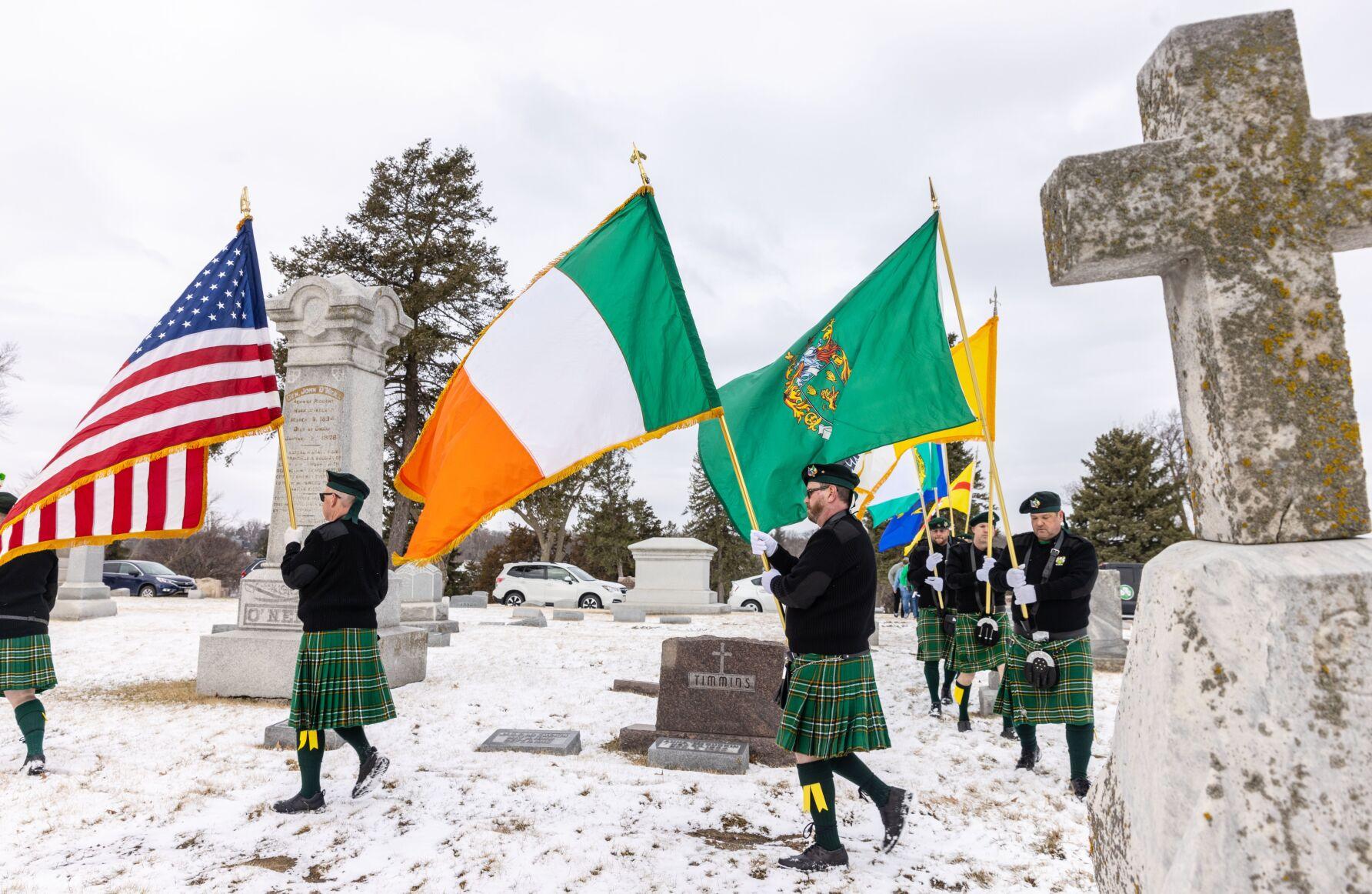 "To be Irish now is to be on the side of the people that are oppressed and put upon," Fitzgerald said.
After the ceremony at O'Neill's gravesite, many head to Mass at a nearby church and later they celebrate with a few pints.
"It's a very somber day," Lonergan said. "And just like a good Irish wake, after the wake and the religious aspect, we're going to have a little celebration and honor our patron saint St. Patrick, honor Gen. O'Neill and honor our heritage."
Having a pint of beer is one way to celebrate St. Patrick's day. Buzz60's Keri Lumm shares some suggestions from bartenders that are not Guinness.
Check out some of our best Omaha staff photos & videos from March 2023