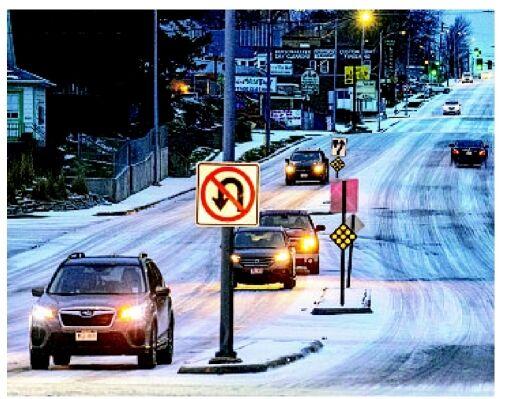 Nebraska football returns on Saturday. Winter weather won't be far behind.
The Omaha area is likely to see some snow Sunday, so city officials have been preparing for the first battle of the year to keep the roads clear of ice and snow.
It wasn't clear Friday afternoon how much would accumulate. The precipitation expected to arrive early Sunday should start as snow, but as the morning progresses, temperatures could rise into the mid-30s, leading to a rain-snow mix, said Hallie Bova, a National Weather Service meteorologist in Valley.
"Then, Sunday afternoon and evening, that cold air arrives, and then we'll see the changeover to all snow," she said.
City crews will begin to pretreat Omaha roads with brine at noon Saturday and will continue until the precipitation begins Sunday, City Engineer Todd Pfitzer said. Starting that process Saturday will give the brine enough time to dry, he said.
Pfitzer said the first round of snow Sunday morning will land on warm pavement, which could lead to the formation of ice. The brine treatment helps prevent snow and ice from sticking to the roadway and makes it easier for plows to scrape it off, he said.
The weather service estimated that 2 to 3 inches of snow will fall by Sunday night, but Bova said confidence in those numbers was low because it wasn't clear how long the rain-snow mix would last before temperatures drop.
The city calls in private contractors to help clear roads if the accumulation hits 2 inches or more. Contractors are available and ready if needed, he said. The city has 29 companies at its disposal, which is one more than last year.
Omaha treats and clears main arterial roads first, followed by secondary roads and then residential streets. The city has about 5,000 lane miles, and Pfitzer said about 117 city trucks are on the road at full deployment.
A reminder for Omaha residents: Grab a shovel and clear off your sidewalk to avoid a fine from the city.
An ordinance requires people to shovel their sidewalks within 24 hours after major streets have been cleared of snow. Delinquent shovelers receive a written warning to clear snow before the city has the work done and bills them. The city will leave a note on a door or put the notice on a stake at an empty lot.
Monday could produce record-breaking cold weather in Omaha. Forecasters are expecting a record low early Monday of 20. The record is 21, which was recorded in 1997.
The forecast high of 28 degrees Monday morning would also be the lowest high temperature on record for Oct. 26. A high of 32 degrees in 1957 holds the current record, said David Eastlack of the weather service.
Tuesday will also be very cold, with a low of 16. The record low for Oct. 27 is 15 degrees, set in 1925.
The north-central and southwest areas of the state are expected to receive the brunt of the snow.
Eastlack said north-central Nebraska could get 6 to 8 inches and the southwest portion of the state could see 4 to 6 inches.
The Nebraska State Patrol said Friday that it plans to have troopers on the road around the state to assist motorists.
"The first major bout with winter weather often has the potential to catch travelers off-guard," Col. John Bolduc, superintendent of the patrol, said in a press release. "We encourage all drivers to plan ahead for adverse driving conditions in the affected areas and check roads conditions with 511 before beginning your travel."
Nebraska Department of Transportation crews are also prepared to clear roads. Motorists can check road conditions in real time using the department's Plow Tracker at plows.nebraska.gov. Weather conditions can be worse than they appear on camera, and travelers are advised to not drive faster than conditions allow.
The Transportation Department reminds motorists to be prepared with warm clothing, water and food.
For help on Nebraska roadways, call *55 or 800525-5555 to reach the State Patrol's Highway Helpline 24 hours a day.
World-Herald staff writer Bob Glissmann contributed to this report.
reece.ristau@owh.com, 402-444-1127 twitter.com/reecereports