Each year for well over a decade, a couple have turned their house outside Ponca, Nebraska, into a Christmas museum — on the inside and out.
The home of Gene Watchorn, 68, and Julie McDowell, 62, is so extremely Christmas that they just won $50,000 for their efforts. The couple won the prize against three other Christmas-crazy families on Monday night's episode of ABC's "The Great Christmas Light Fight," a reality competition series that hunts for the best home holiday displays throughout the U.S.
The Watchorn Christmas home is something — it's surrounded by a walk-through maze lined with lights, inflatables, blow molds and creations of Watchorn's own making.
But it doesn't stop there. Christmas continues indoors. Each year around the holiday season, the couple invite visitors to see all the decorations on the inside. Last December, more than 3,000 people toured their home.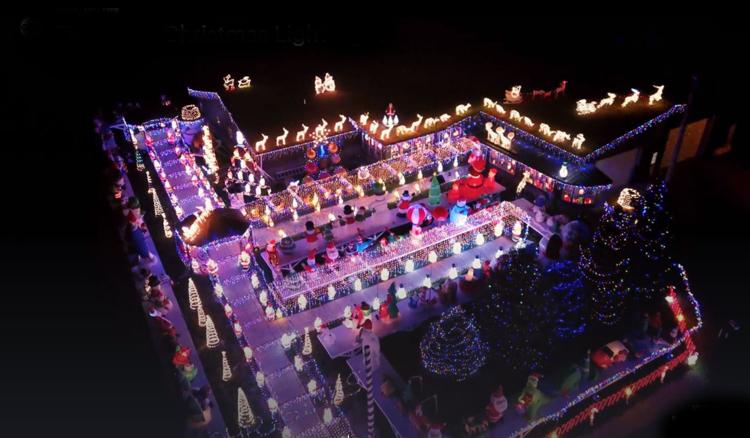 When "Great Christmas Light Fight" judge Carter Oosterhouse asked Watchorn why he likes decorating his house to such an extreme degree, he said: "I just like doing things."
Watchorn owns half an acre about 3 miles outside of Ponca, and since 1978, he's been decorating the house for Christmas. Over the years, things escalated.
Things really got going about 15 years ago, when Watchorn upped his decoration game as a way to spoil the grandkids.
"It kind of grew from that," he said. "Now we do Christmas every year, and it takes most of the year to do it."
Watchorn, who is semi-retired and owned his own repair shop for about 30 years, starts getting the house ready for Christmas around Labor Day each year. But he works on projects year-round.
Past projects have included a Ferris wheel made out of an old wire spool, and snowmen made out of stacked tractor tires, with pinched stove pipes serving as the carrot noses and PVC pipes for the arms.
He's built platforms for the front yard, on which he puts the inflatables that lead up to his house. He does this because "mice eat the bottoms out if (the inflatables) stay on the ground too long."
For the walk-through Christmas display in the front yard, Watchorn added sidewalks a few years back so that visitors wouldn't slip on icy grass.
The grandness of the display is best conveyed in numbers. There are:
» More than 100,000 lights in the yard, on the trim of the house and in the trees and gazebo.
» About 30 reindeer on the roof.
» Just over 250 Christmas animations that take about 1,400 batteries to get up and running.
» A Christmas village display that takes about 50 hours to set up.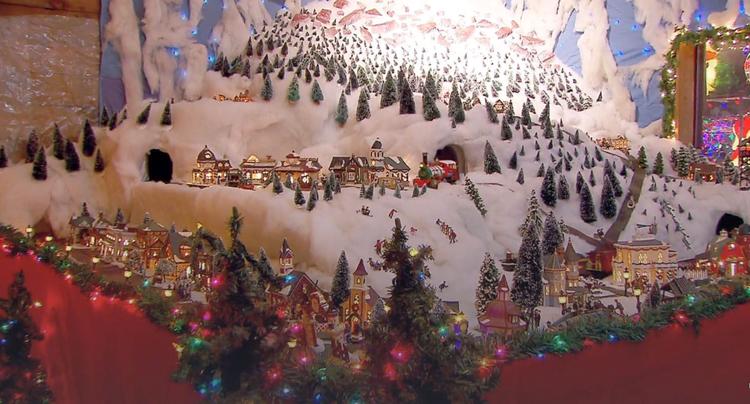 » And more than 6,000 Christmas figurines. "There's bells, and there's snow globes, and there's bears and Santa Clauses and snowmen."
» Last year, Watchorn added 350 feet of new shelving in order to fit all his new figurines.
» And 19 full-size Christmas trees throughout the house, all fully ornamented.
"It's scary to think how much money we've got in it," McDowell said.
The house and its bills are in Watchorn's name; McDowell has her own house in Ponca. So she doesn't know what the electricity bill is for each December.
"One year, he told me that you could buy a nice used car each year for what it costs," she said.
But whatever the cost, it's been worth it. And not just because they won $50,000.
Watchorn said it started as something for the family, but now it's something for the community. That's why tours through the Christmas house are free.
"We have a donation can, but we don't charge anything," Watchorn said. "It costs so much for a family to do anything anymore. I want to give a little enjoyment where it doesn't cost anything."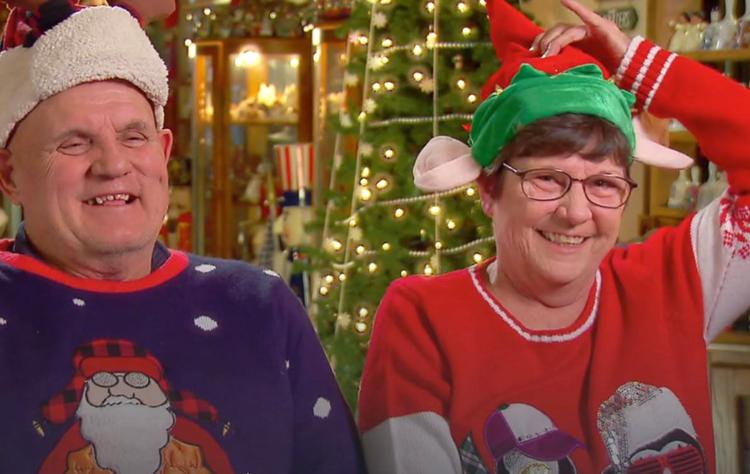 The episode of "The Great Christmas Light Fight" was actually filmed last December. So Watchorn and McDowell have been sitting on the secret that they won $50,000 on a Christmas lights competition show for nearly a year.
"I don't think I've ever kept a secret that long," McDowell said. "We couldn't even tell the kids."
On Monday night's episode, McDowell choked up after learning they'd won.
"I'm extremely proud of Gene," she said. "I love him to death. He has just worked so hard. He's got such a large heart, and I'm glad to see he's been acknowledged."
Starting this week, the couple will offer open house tours from 6 to 9 p.m. on Fridays, Saturdays and Sundays through Dec. 30. Appointments are available for those who can't make those times. No dogs allowed.
Those wanting to tour the home can contact Watchorn or McDowell at 402-755-2655 for directions or to make an appointment.
Stay up-to-date on what's happening
Receive the latest in local entertainment news in your inbox weekly!