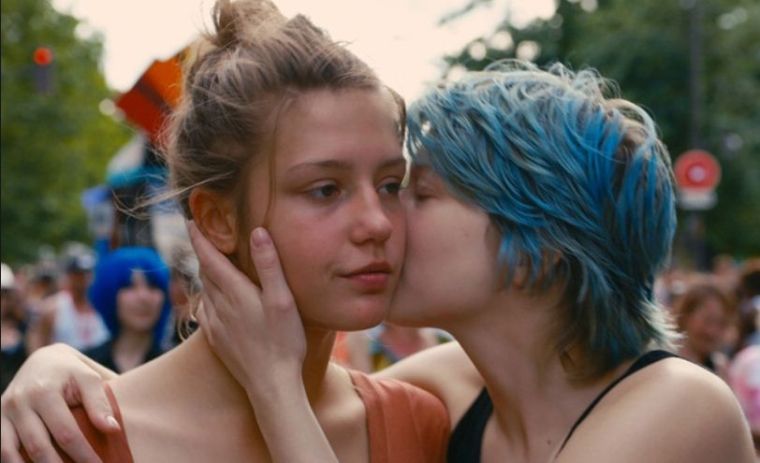 On Friday, the acclaimed new film "Blue is the Warmest Color" opens at Film Streams.
It's notable for a few reasons.
1. It's apparently great, winning Cannes' Palm d'Or award and getting near-unanimous raves from critics.
3. It's rated NC-17 (for graphic sex scenes).
An NC-17 (No children 17 and under admitted) movie is a rarity these days, especially in Omaha.
It's been nearly 20 years since an NC-17 movie got a nationwide release. That was "Showgirls" in 1995, which remains the all-time NC-17 box-office champ, with a gross of $20 million.
To even see an NC-17 movie now, you've got to go to the art houses. In Omaha that means Film Streams or the Dundee Theater, though Dundee's now closed for renovations.
The last time a first-run NC-17 movie played at Film Streams was more than six years ago, Ang Lee's "Lust, Caution." Before Dundee closed, it played both the sex addiction drama "Shame" and the redneck noir "Killer Joe," two films that wore their NC-17 ratings proudly.
Patrick Kinney, communications director with Film Streams, said the theater's played a few other NC-17 movies at special events, including 1990's "The Cook, The Thief, His Wife & Her Lover," and showed unrated movies that could have been NC-17, such as the 2009 French film "Enter the Void."
With the Dundee closed, don't expect to see another NC-17 movie hit Omaha for a long while. While most theater chains don't have an overt policy on not showing NC-17-rated films, it's extremely uncommon.
New York City's IFC Center, which is AMC-owned, announced it would ignore the NC-17 rating for "Blue is the Warmest Color" and allow teenagers to see it. IFC based its decision on the film's value as a coming-of-age story relevant to teens. The Parents Television Council has protested the theater's decision, but IFC points out that the MPAA ratings are just a recommendation and each theater has the choice to ignore a rating they don't agree with.
Much of NC-17 films' rarity at mainstream theater chains has probably as much to do with the specialty label of the NC-17 movies as it does the "dirty" content. NC-17 movies are almost exclusively arty, often foreign.
You won't see a major motion picture with an NC-17 rating because it would kill its box office potential. The label presents distribution limitations, and most studio-produced movies cost way too much to open in anything other than wide release. So major features slapped with an NC-17 will strive for an R rating by either editing out the offending content or appealing the MPAA's decision.
But an NC-17 rating doesn't really hurt an art film that relatively few were going to see anyway. It might even help its modest box office. Movies like "Blue is the Warmest Color," "Shame" and "Killer Joe" get more media attention because of the rating. It makes them stand out from the hundreds of indie movies released each year. "Blue," for instance, is pulling solid box office in its opening weeks and is on its way to being one of the highest-grossing indies of the year.
But for a movie like "Blue," box office isn't really the point.
For an independent film, the NC-17 label connotes an uncompromising work, one in which only serious film-goers need apply.
The MPAA replaced the X rating with the NC-17 rating in 1990 for this very reason. The X rating carried a stigma of being pornographic. The new rating was an effort to give a more respectable label to explicit arty fare like "Last Tango in Paris" and "Henry & June"
You could say one thing for the NC-17 rating that you couldn't say for any other MPAA rating: If a movie's rated NC-17 these days, it's almost always attempting to be a work of art and not commerce.
So in this increasingly depressing movie landscape full of reboots, sequels and bottom-line motivations, our dirtiest movies might actually be our purest of intent.