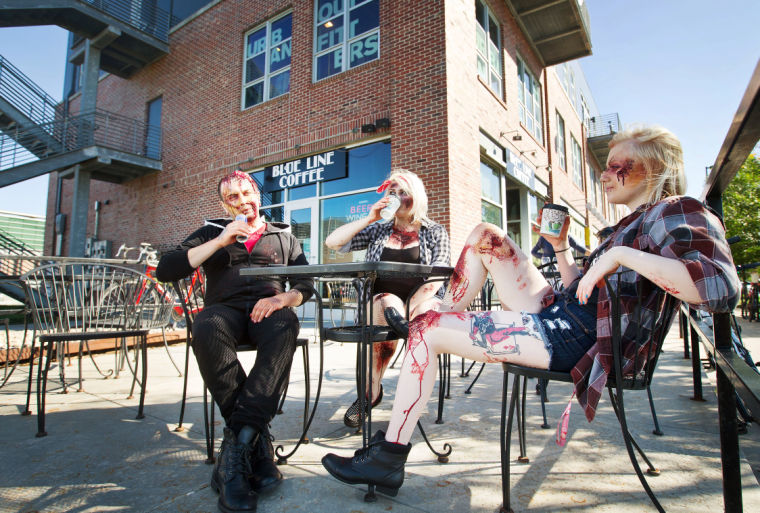 April Leonard loves to run down people with a chainsaw.
She also enjoys dressing up as a creepy clown and hiding behind a bookcase at her volunteer job at a local haunted house.
"Basically, it's an adrenaline rush," the Omaha woman said. "Not a lot of people get a chance to dress up like horror monsters and scare the living daylights out of people."
As Halloween approaches each year, Leonard and hundreds of other Omahans volunteer at local haunted houses to put on makeup, don costumes and jump out from dark corners to freak people out.
Most do it, they say, because they enjoy horror movies and the rush they get from scaring people.
Leonard began her scare career about five years ago, when she was in high school. Her school required community service, so she volunteered at The Shadow's Edge, which fit with her love of horror films and dressing up for Halloween. She works full time but still finds time to volunteer at The Shadow's Edge, which donates some proceeds to charity, much like other area haunted houses.
While you and your friends inch your way down dark hallways at Mystery Manor, Scary Acres and The Shadow's Edge, actors in monster makeup peer out from peep holes in trap doors. Hallways weave through the haunted house to other scare areas.
Behind the scenes, dozens of volunteers touch up makeup, lie in wait for customers, run from one section of the house to another and then laugh about how they just scared your pants off. Some are volunteer actors; others are costumers and makeup artists.
Tyler Christian enjoys the makeup aspects. For photos with The World-Herald, he gave himself a (very realistic) massive head wound using cotton balls, liquid latex and a good amount of fake blood.
Horror movies, especially the gory ones, are what got Christian into dressing up and working at haunted houses.
"Every weekend, I try to go to as many events as possible and wear a different costume," Christian said, adding that most of his costumes are zombies, including a cat zombie.
Marina Gulley volunteers at the Bellevue Berry Farm's Ranch of Terror haunted house. Horror has been her favorite genre since she was young, and she began to put bloody makeup on for fun, which eventually led to her gig at the haunted house.
She even puts on zombie makeup outside of Halloween season.
"I've even gone to the store as a zombie," she said. "It's an obsession."