What's your unique place in society?
Watie White hopes you'll contemplate the answer whenever you encounter his art.
Last January, the public got an introspective look at the painter and printmaker's social-minded "100 People" woodcut portrait series in an exhibition at the University of Nebraska at Omaha.
Starting Oct. 10, the ongoing public art project — enhanced by a new augmented reality app — gets a larger-than-life presence in "Community," a multifaceted exhibition at Kaneko that runs through March 1, 2021.
The artist began formulating his "100 People" project shortly after the 2016 presidential election. Dismayed and frustrated with how ugly politics had become, White needed an outlet to affirm his faith in civil society.
So he began inviting people he respected and admired into his Little Bohemia studio at 13th and William Streets to collaborate on a portrait mural that would embody each subject's unique personality and personal convictions — not on paper or canvas, but on wood.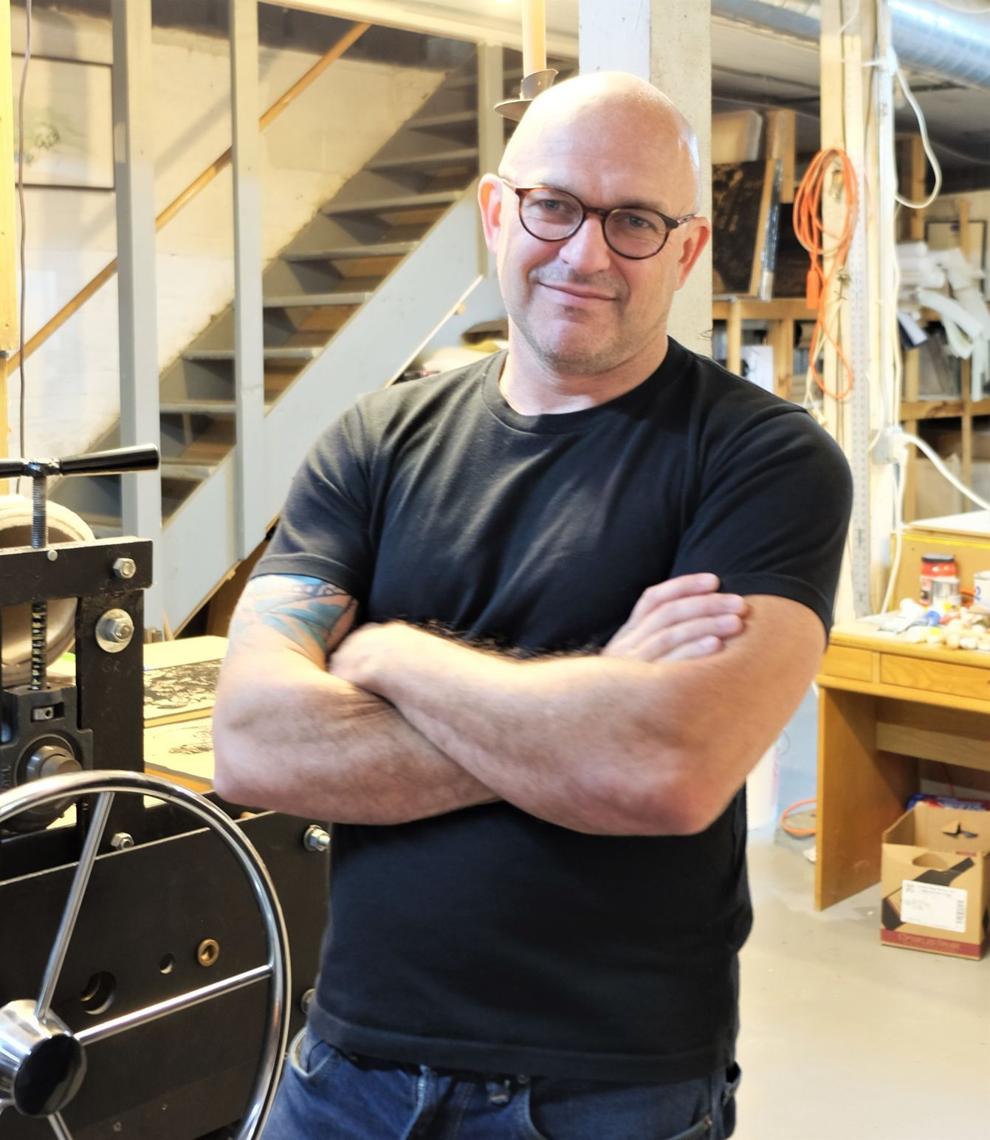 "100 People," White said, was a natural extension of his 2014 "New Nebraskans" public art portraiture project spotlighting immigrants and refugees as newly naturalized citizens. The inspirational black-and-white woodcut murals, with narratives overlaid in red text, are displayed on buildings in Benson and at Indian Hill Elementary School in South Omaha. Some even share space with White's 8-by-4-foot "100 People" murals.
"Public art's purpose is to affect the world in some way," White said. "When COVID-19 hit, it felt like my grandkids would someday ask me, 'What were you doing during the pandemic, and the protests and civil unrest?' "
Four 20-by-8-foot woodcut panels on display at Kaneko provide a clue.
Coupled with 30 portrait murals from his ongoing "100 People" series, these are the most ambitious art undertakings of his career — and possibly, the most personal, too.
White's process for "100 People" involves creating a densely detailed 2-by-1-foot woodcut portrait on an MDF panel and making a paper print from the woodcut on his studio press. Next, he digitally enlarges the print to an 8-by-4-foot mural for public display.
Each woodcut portrait, which is self-funded by the artist, is a painstaking process. Translate the technique to a 20-foot woodcut mural, and it's a herculean feat.
Mid-project, the inconceivable happened.
"I hit a wall," White said. "I was so exhausted — not just from the carving, but from the quarantine, too."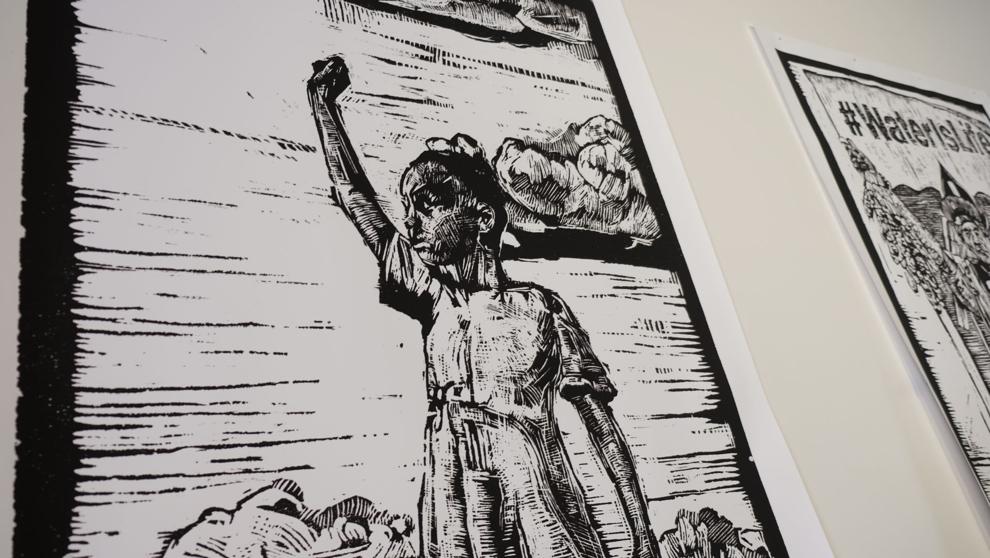 With other projects on hold due to the pandemic, White dove into carving and etching final panels for the Kaneko show. Working eight to 10 hours a day for three months at the start of the pandemic left his hands cramped and raw.
"I had overcommitted myself," White realized and allowed himself to take a break and, in the process, get his second wind.
In the end, his monolithic woodcut of a powerful ocean scene — completed during the pandemic — would be his favorite among four mural themes.
That final carved piece was inspired by an epic adventure, a forgotten wallet and the admission that sometimes you simply have to relinquish control.
White and his college-age son were on their way to Mexico in February to swim with whale sharks when White discovered he had left his wallet in Omaha. His son took charge of the situation and saved not only the day, but the trip.
"It truly was an amazing thing," White said.
Rembrandt and other Dutch Masters were early influences as White found his artistic voice. Metaphor, sometimes humorous, has long been an integral part of his richly layered storytelling.
"If you are curious enough to keep looking, the artwork will open itself up to you," White said of the search for hidden elements in his woodcuts. "If I can help you keep coming back to see more in a piece, then my work has been successful."
Even better if a large work causes you to contemplate your place in society, he said.
"I'm really, really curious about people," White said. "If we experience the same event, we'll see it differently."
That creative funk? It ended with the start of another public art endeavor.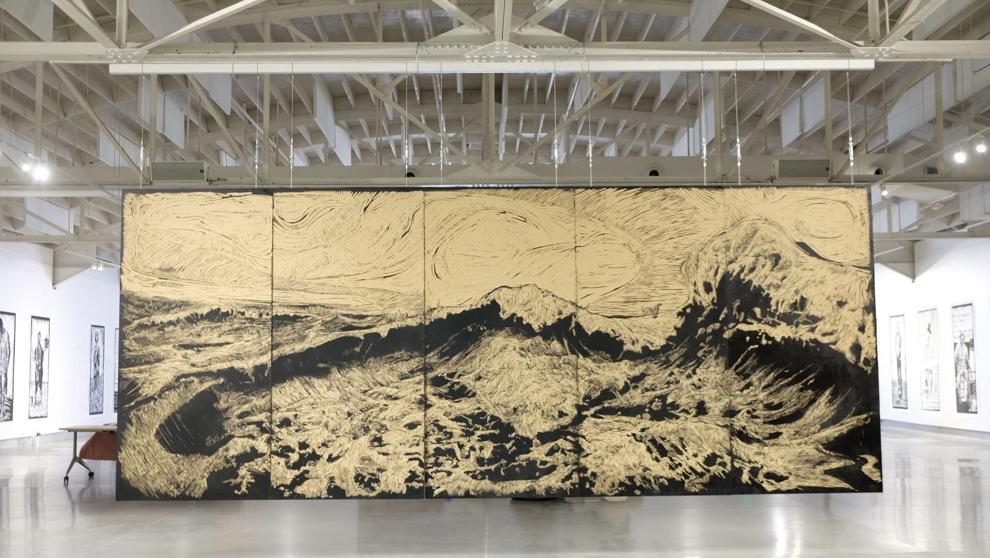 * * *
"Community" is the first public opening at Kaneko since mid-March, when COVID-19 forced a temporary close. For White's opening receptions Oct. 2 and 3, 20 patrons were being admitted every 30 minutes with advance registration.
"Community" continues with the progressive openings of exhibitions by Pamela Conyers-Hinson (Oct. 17) and Therman Statom (Oct. 24). Viewings are by timed, ticketed entry at thekaneko.org.
Oct. 29, Kaneko's first-floor galleries will open to the public, and by the end of November, the pandemic-inspired "Tessellation Project" and Juan Sanchez's exhibit will open in the second-floor galleries.
Kaneko is located at 1111 Jones St. For more information, call 402-341-3800.
---
Iowa artist turns metal into lifelike trees