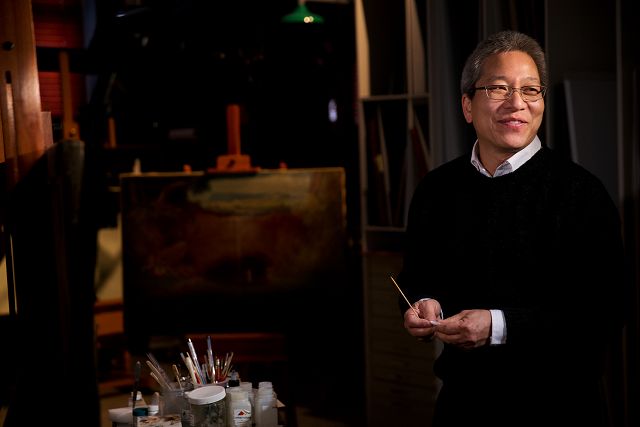 You can see an art conservator working on an iconic Omaha painting in the new exhibit at the Durham Museum — if you show up at the right time.
The 1905 painting — part of the museum's permanent collection — once hung in the lobby of the Omaha Bee newspaper office. Now faded, it looks west from the Missouri River and captures the layout of Omaha past and present. Bé's work will bring it to new life.
The exhibit also will feature museum staff actively digitizing photographs from the Durham collection and highlight stories behind iconic Omaha photos through the personal memories of former staffer and volunteer Bill Gonzalez, a long-time Omahan.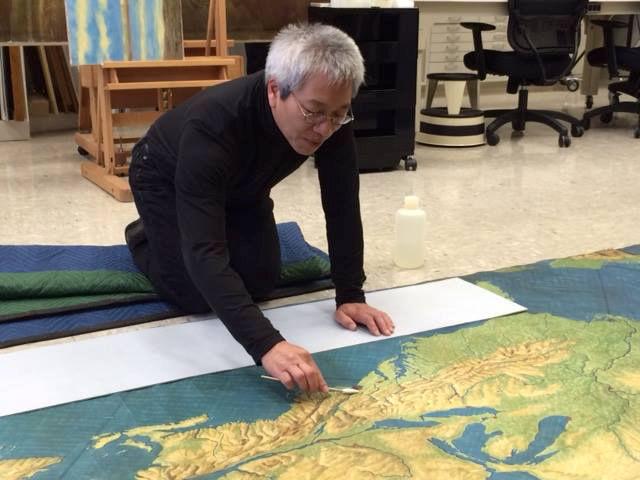 Bé will conduct a virtual presentation about his work on the painting from 6:30 to 7:30 p.m. Aug. 17. He will participate in an in-person and online panel on historic conservation with Hilary LeFevere and Rebecca Cashman, fellow Ford Center conservators. That event is Oct. 12 from 6:30 to 7:30 p.m.
Bé will work at the Durham from 10 a.m. to noon on Tuesdays and 10 a.m. to noon on the second Saturday of the month until the exhibit ends this fall.
Kanesville Symphony to offer 'Wet Ink' concert this afternoon
You have one more chance to see "Wet Ink." The Kanesville Symphony Orchestra presented the program on Friday and will repeat it today at the Hoff Family Arts & Culture Center, 1001 S. Sixth St. in Council Bluffs.
"'Wet Ink' unmasks the relevance of contemporary orchestral composition in the 21st century," said Conductor David Galant. "Stories without words, the basis of musical language, often address the human condition in ways that speech cannot. This concert is a platform for local composers to tell their stories."
Original works from orchestra members April Corbet and Heather Horst, plus resident composer James-Michael Sellers, will be featured in the second half of the concert. The first half will include works from Georg Frederic Handel, Wolfgang Amadeus Mozart and Ludwig van Beethoven. Patrons can grab a drink at the center's McCormick's 1894 cocktail bar an hour before the show and participate in a pre-concert conversation with Galant and Sellers.
Tickets for the 3:30 p.m. concert range from $5 to $15. You can get them at the box office or buy online at paceartsiowa.org.
Chanticleer's 2021-22 season includes pandemic-canceled shows
Chanticleer Community Theater will open its 2021-2022 season with the show that was onstage when the pandemic closed the Hoff Family Arts & Culture Center. "The Music Man" by Iowa native Meredith Willson premieres Sept. 10 and runs through Sept. 19. It was the first Chanticleer show at its new home at 1001 S. Sixth St. in Council Bluffs. The story of how a con man changed an Iowa city, it premiered on Broadway in 1957 starring Robert Preston.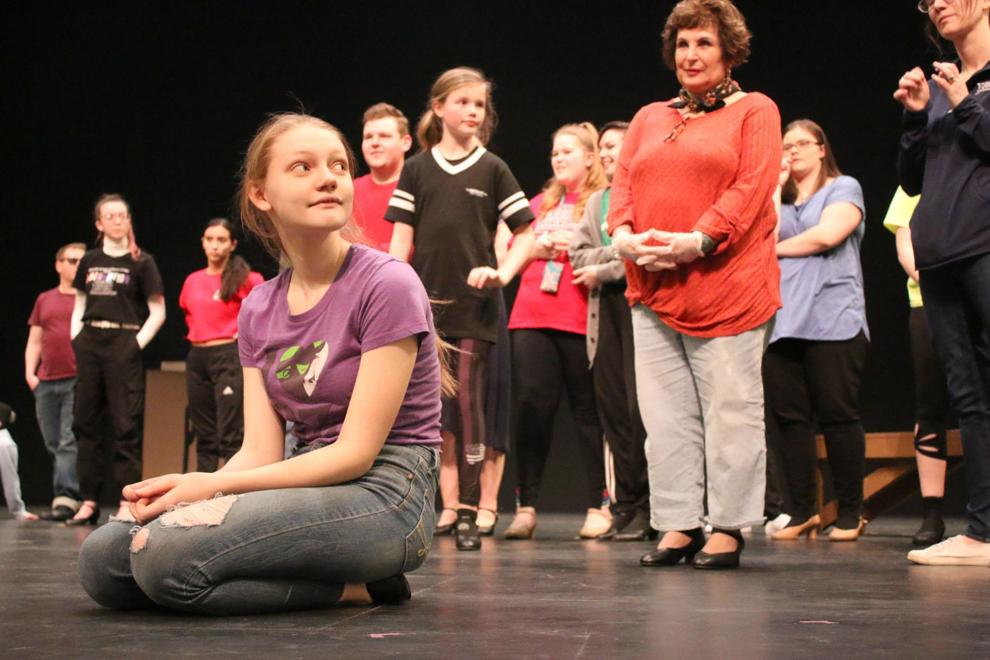 The rest of the season lineup:
Dec 10-19: "Joseph and the Amazing Technicolor Dreamcoat" by Andrew Lloyd Webber and Tim Rice. A musical based on the Old Testament story.
Jan. 7-16, 2022: "A Streetcar Named Desire" by Tennessee Williams. The classic about a woman who can't cope with the reality of life.
March 13-20, 2022: "A Gentleman's Guide to Love and Murder" by Robert L. Freedman and Steven Lutvak. A Broadway musical about a man who wants to get rid of rich relatives to enrich himself.
May 13-22, 2022: "The 39 Steps" by Patrick Barlow and John Buchan. One part Hitchcock, one part spy novel and one part Monty Python.
Musical siblings to perform at Jewell jazz club
Omaha singer Camille Metoyer Moten will join her brothers for shows at The Jewell, a downtown jazz club, on Aug. 14. Camille has won numerous awards for her theater performances and concerts in Omaha and elsewhere.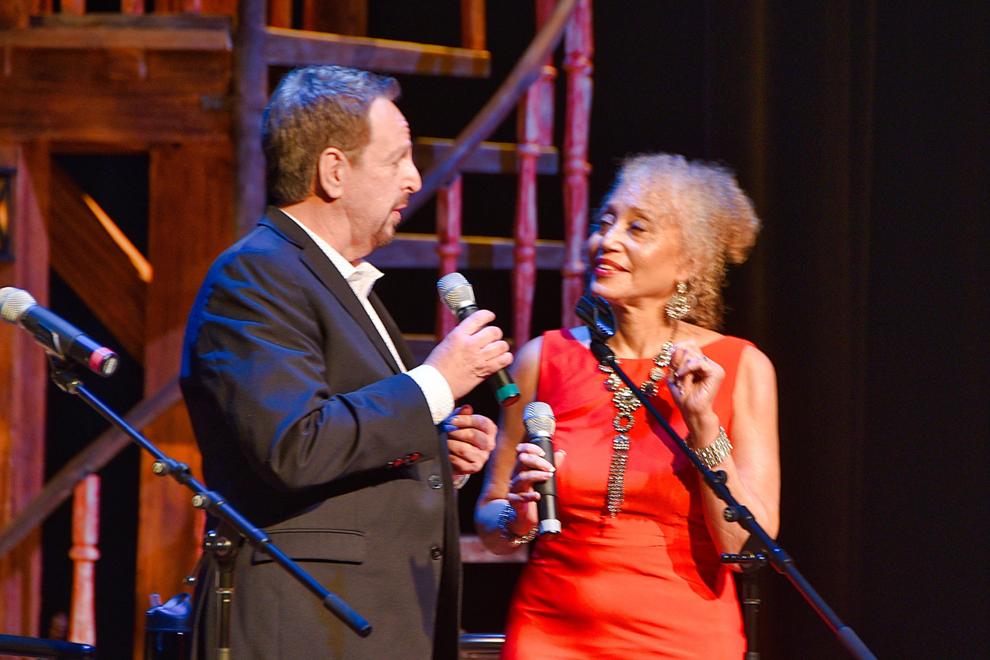 One brother, Louis, is a sought-after guitarist who lives in Los Angeles and has performed on Grammy Award-nominated singles by artists such as Belinda Carlisle, Darlene Love and Stanley Clarke. He has been on "The Today Show" and the "Tonight Show with Jay Leno," and appeared on a televised Christmas concert for Pope John Paul II.
Her other brother, Ray, is a drummer and a former Omaha television news anchorman. "It's really a family affair," Moten says. The only performer missing will be sister Lanette Metoyer-Moore, who is recovering from health issues. Shows will be at 6:30 and 8:30 p.m. The Jewell is at 1030 Capitol Ave. in the Capitol District. For more information, visit jewellomaha.com.
Smokin' Gunz Bar-B-Que wins first Dillon's Rib Fest competition
The contest for the title of Best Ribs in Eastern Nebraska was razor-close, but an Omaha barbecue truck won it at the first-ever Dillon's Rib Fest a couple of weeks ago. Smokin' Gunz Bar-B-Que edged out Mary Ellen's of Lincoln to win. In addition to the title, the business took home a $500 prize.
"The judges' panel scores were so close that the people's vote was ultimately the deciding vote," said council president Jake Van Lent. "Feedback from fans was tremendously positive, whether they came for the ribs, the live music or the party as a whole."
---