Stage actor Josh Tower thinks Aaron Burr is a bit misunderstood.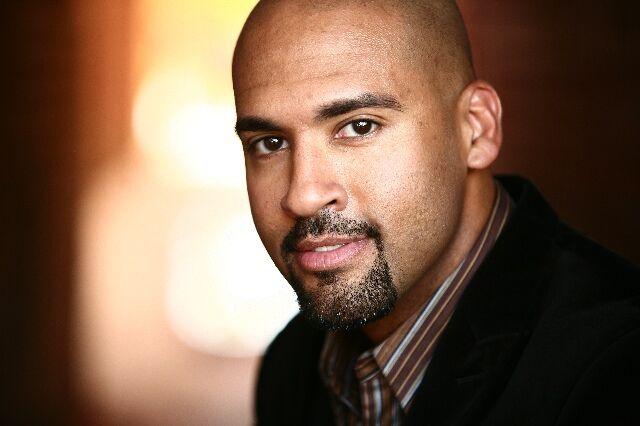 Some may consider the historical figure the antagonist in the hit Broadway musical "Hamilton." But for Tower, who portrays Burr in the touring company coming to Omaha Performing Arts' Orpheum Theater this week, there may be more to the man who killed Founding Father Alexander Hamilton.
"(He's) the 'bad guy' who I don't think is really a bad guy," Tower said in an interview with The World-Herald. "I like to create an arc where you start questioning yourself, 'Is he really bad or is he just misunderstood?' And I think that is really interesting in a character. I love all of these nuances. He has a public mask and a public persona, but his inner feelings — his private being — is very different than his public being."
Tower likens Burr to the character of Judas in "Jesus Christ, Superstar" in that he is not the title character but still has some of "the best songs and character arc."
"If you said Aaron Burr to 95% of people, they probably wouldn't know who he is," Tower said. "They might know at this point that he shot Hamilton, so they perceive him as a bad guy. While he had the status, there was part of him that was always a step behind Hamilton."
While Hamilton and Burr jockey for position, King George answers emails, FaceTimes his daughter and watches Netflix.
Because George is on stage for little more than nine minutes, actor Peter Matthew Smith has ample time to do other things in his dressing room. "I call it my office hours," he said. "I spend at least an hour and a half backstage."
The role? "It's the best gig" for any actor, in any show.
It's also one of the flashiest. King George, upset with colonists trying to start a new nation, interrupts the Founding Fathers' plotting with his own assessment — "You'll Be Back." The song is comic relief and a guaranteed scene stealer for those who play it.
"He's the person you love to hate," Smith said of George. "Most of the history doesn't matter. It's just the fact that he's a ticked-off royal."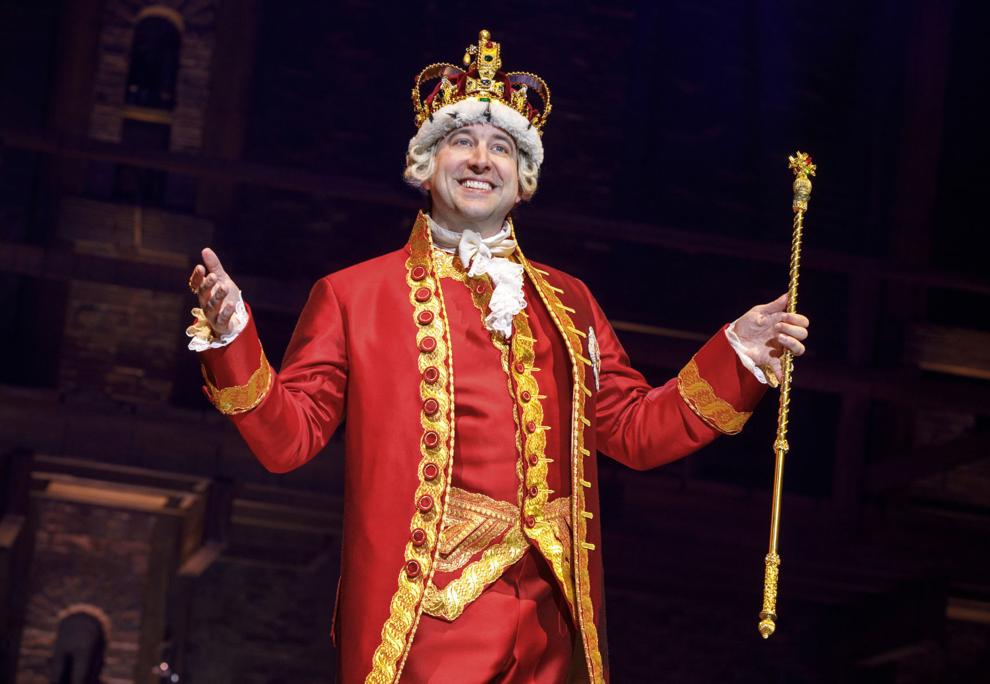 While Smith did research ("one of his greatest failures was losing the Americas"), the key to playing the monarch is just to get increasingly annoyed.
Parading out in a crown and robe, Smith said he doesn't have to move much. "He's a king. Someone's at his beck and call every moment." The crown isn't as heavy as you might think ("it was heavier when the show first started") but the robe "definitely has some heft to it."
For those who look closely, Smith is on stage another 10 minutes or so as part of the ensemble. He's on the second level of the set but doesn't get the workout his co-stars do.
Moving like gears in a well-oiled clock, the ensemble plays dozens of roles while Hamilton's story unfolds. It's exhausting work, Smith said. "I've been in the ensemble before, and I know how difficult their jobs are."
Smith, in fact, was in the ensemble in the original Broadway companies of "Hairspray" and "Cry-Baby." He was also an understudy for both Mark and Roger in the touring production of "Rent."
"Rent," he said, "was the 'Hamilton' of its day. People went nuts for it. 'Rent'-heads would follow us to different cities and be part of the lottery crowd in the first two rows."
Perhaps made more popular after the Broadway version of the show started streaming on Disney+ during the COVID-19 pandemic, "Hamilton" is, in many ways, not your typical musical. It's more than just the story of the infamous duel in which Burr ultimately kills Hamilton. It embraces diversity in both the musical genres — ranging from hip-hop to jazz to R&B to traditional Broadway — and in its choice of actors. For example, in most of the show's touring companies, George Washington is played by an African American or Asian American person. Tower said that diversity is an integral part of the show.
"Non-traditional casting has been around for a long time, it's strived to put people into roles where, historically, (they weren't)," he said. "In this particular case, they pushed it through and said 'Hey, we're going to lay back on the fact that a lot of these guys aren't actually American, they are (or were born to) immigrants from other countries. So they lean into that contemporary thought of what an immigrant is and what immigrant means.
"Being a man of color and playing one of the Founding Fathers, though I don't know that Burr is considered a Founding Father, but being in that same group is really a cool, groundbreaking place to be. It's a great show to be in in that regard. There are still boundaries that need to be pushed ... but it's very cool."
Prior to his work in "Hamilton," Tower was on Broadway in "School of Rock." He has also portrayed Berry Gordy in "Motown" and was in the Broadway adaptation of "The Lion King."
He said he hopes "Hamilton" audiences come away from the show with a sense of "hope" and a new interest in history.
"I know some people might be listening to rap for the first time (in the show) at length, but I love that about the show," he said. "It really is a reflection of the current United States ... that diversity is what we are now. Maybe it wasn't what we were then, but it's great to be able to represent that."
"Hamilton" will open Tuesday at the Orpheum Theater, and will run through Nov. 14. Tickets are available at the Omaha Performing Arts Center box office inside the Holland Center, 1200 Douglas St., or at ticketomaha.com.
Bruce Miller of The Sioux City Journal contributed to this report.
---
Movie reviews: 'Hamilton' is the film you don't want to miss
Movies in a Minute: 'Hamilton'
Movies in a Minute: 'Irresistible'
Movies in a Minute: 'You Should Have Left,' 'The Marshes' & 'Bull'
Movies in a Minute: 'The King of Staten Island'
Movie critic Bruce Miller says "Artemis Fowl," is based on a series of books by Eoin Colfer, which seems set up similar to "Harry Potter." Als…