Orlo "Woody" Jones jokes that he retired so he could start working.
His welding hobby branched out from rustic fire pits to 1-ton trees in the span of a year.
"This is no fancy shop," Jones says as he leads his visitor into a farm implement building on his acreage four miles northwest of Malvern. A 30-foot metal tree is in progress. Its trunk and limbs look so real, they prompt a double take.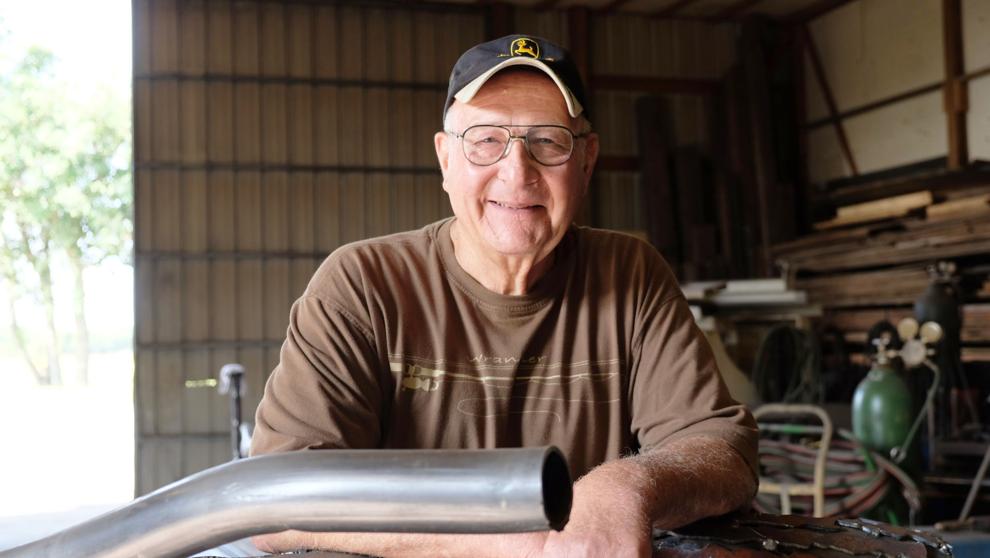 Jones, 74, has been welding since his teenage years just a mile down the road. He owned and operated a welding shop in Malvern for 20 years, then worked for Kiewit Construction as a fabrication shop foreman in nearby Pacific Junction until retirement in 2013.
The shop building on his acreage went up that same year. He's been doing farm welding here ever since. But Jones' tree work is a relatively new pursuit. How it came about is as remarkable as the metal work itself.
* * * * *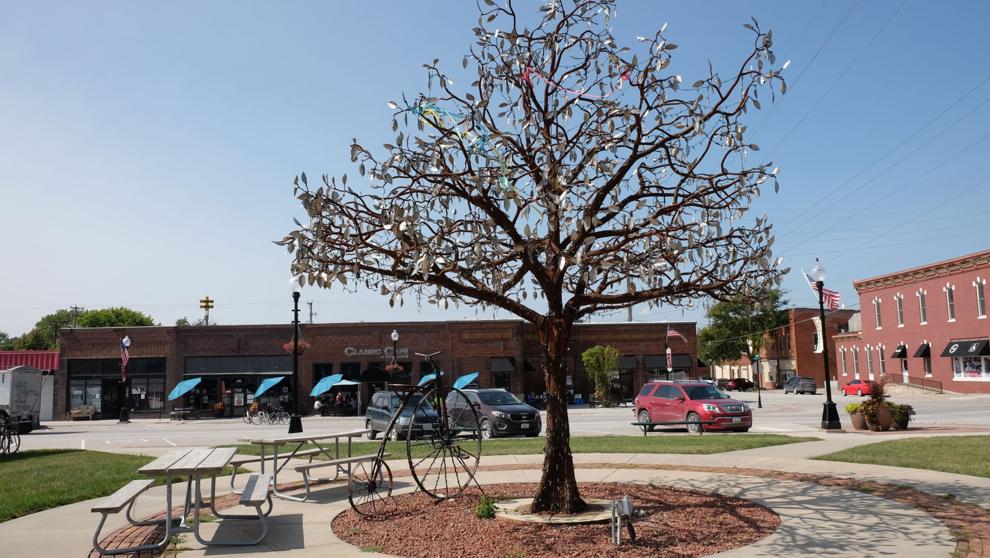 About this time seven years ago, Jones was on a tractor, working along his pond, when the tractor started to tip on the sloped grade. He bailed into the pond and the tractor rolled into the water, pinning him in the mud.
Barbara found him 1½ hours later. She was lured outside by the persistent barking of their Mastiff, who hated the tractor. Woody was submerged up to his ears and had two broken legs. Each time he yelled for help, the dog barked in response.
Jones was taken by helicopter to the University of Nebraska Medical Center in Omaha, where he was hospitalized for 30 days. After 10 surgeries and a bacterial infection that nearly cost him a leg, he returned home for six months of recuperation.
By spring, he was eager to get back into his shop.
"I was bored to death after six months in the house," he said.
One day, a neighbor showed up looking for something to use as a fire pit. Jones offered the rounded end of an old air tank. The following day, the neighbor's friend came over for one, too.
"I got to tinkering around and started doing a little artwork on one for myself," Jones recalled.
Malvern artist Zack Jones thought his uncle's decorative fire pits might do well at the local farmers market. So Woody created a few with decorative motifs, and they sold. From then on, custom orders kept him busy seven days a week. That went on for about a year, then the Malvern Area Betterment Association came knocking.
The town had received a beautification grant and sought to put part of it toward public art. The association's vision was for two 15-foot tree sculptures for permanent display downtown.
"I told them I can weld, but I'm not an artist," he said.
Before he knew it, the tree order went from two, to four, to six over four years.
* * * * *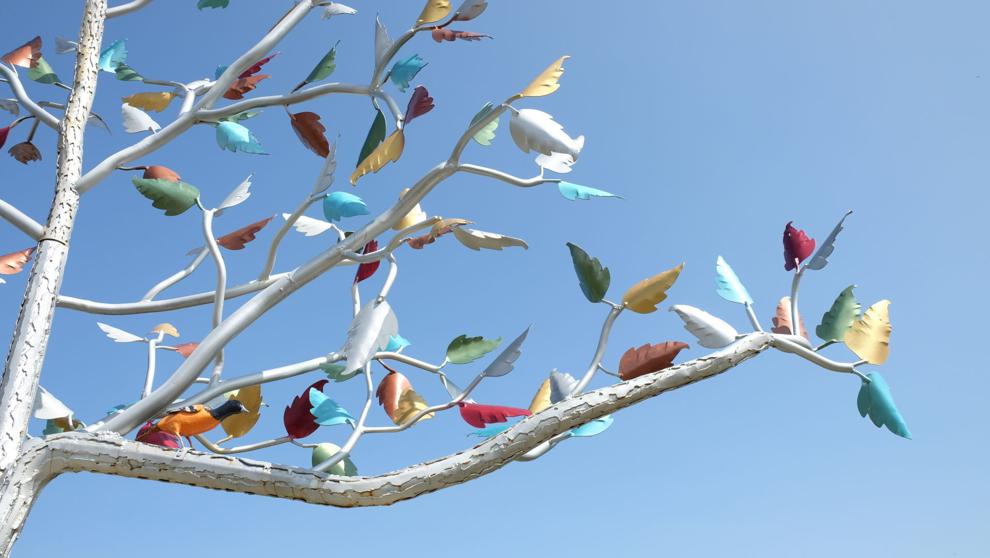 Jones spent "hours and hours and hours" developing his techniques for working with sheet metal and stainless steel pipe.
His primary tools for precision metal work are a computer numerical control (CNC) machine, a plasma cutting tool and welding equipment.
His signature detail: realistic bark.
Jones starts by cutting sheet metal into random strips, roughly 2 by 4 inches. He then builds out the trunk and limbs by welding each piece to core sections of 12-inch gas line pipe, cutting, bending and tapering the steel to mimic a tree's growth patterns. Limbs are fashioned from three different sizes of pipe welded together. Then the leaves are welded in place.
"I did that first tree and thought, 'Boy, I'm not going to do this again.' I spent way too much time welding each piece of bark to the trunk and limbs," Jones said. "Little did I know, there's no way around it. So every tree that I have done has these strips of bark welded to it. You're not talking hours or days. You're talking months."
The tree currently under construction is a private contract. Jones is 50% done after 1½ months of full-time shaping and sculpting. Soon, he'll begin attaching more than a 1,000 leaves and use 350 to 400 pounds of wire in the process.
Finished, the sculpture will be 30 to 32 feet tall and 25 feet wide. Jones is incorporating a limb that can support a 4-foot-wide swing, plus a hole with two raccoons peeking out.
"It's just an added detail," he said. "... I always try to give the customer what he wants, but also I try to give him a little more than he expects."
Early on, Jones cut each leaf himself. Now he saves himself time by providing a pattern to RP Design & Metal Fabrication in Glenwood for an assist.
* * * * *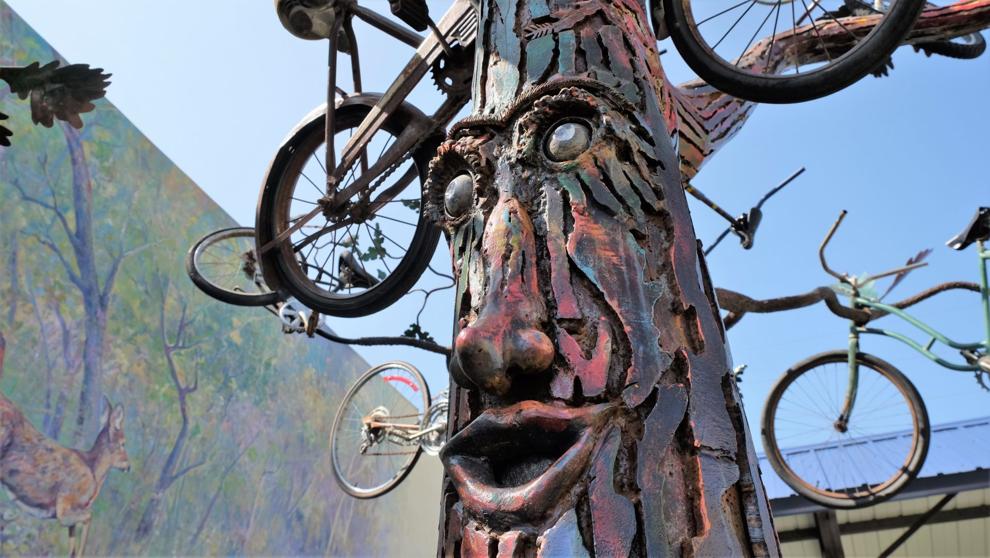 A vacant lot between Mulholland's Grocery and Methodist Physicians Clinic on Main Street provided the perfect opportunity for a pocket park in Malvern. With a building mural of the Wabash Trace Nature Trail by Zack Jones and a small picnic pavilion, it features Jones' most whimsical tree to date.
Called the bike tree, its branches are loaded with bicycle frames, wheels and handlebars. More surprising, though, is a face in the trunk inspired by the playful, molded facial features you sometimes see on real bark. At night, colored accent lighting gives the sculpture added dimension against the woodsy mural.
"The bike tree got him out of his comfort zone," nephew Zack said.
"I wasn't into it originally," Woody admits. "I finally broke down."
And had fun. Friends and townspeople donated old bikes for the project.
"Everybody knew I was building it," Woody said. "And before long, I had more bikes than I could use."
Last summer, the sixth and final tree in the beautification project was "planted" at the intersection of U.S. Highway 34 and 315th Street, Malvern's front door. A grant funded a permanent "Malvern" sign and a welcoming 15-foot sculpture with white metallic bark and multicolored leaves.
"I wanted something that would get people's attention coming down the road," Jones said.
Each sculpture in the series includes a bird — sometimes not easily seen, just like in nature.
"I like to include things that people won't see unless they're looking for it," Jones said.
A downtown walking tour provides an opportunity to scan the branches for a dove, a woodpecker, an owl, a bluejay and a robin. The harder-to-access highway tree holds an oriole.
Jones doesn't pattern his sculptures after specific species of trees. Their trunks and canopies are random, as are their leaves. Jones calls them ironwoods. The exception is the tree in front of Malvern Bank — the first in the series. It's an oak with shiny, stainless steel leaves inspired by the gallant oaks that shade the Joneses' log home.
The ironwood in Heritage Park across from The Classic Cafe & Catering is a 14-footer with 1,200 leaves on hinges that move in the wind. While it was labor-intensive and he's not likely to repeat it anytime soon, Jones likes the effect.
A willow-like sculpture in front of Club 321 fitness center includes a half-circle bench with vines, also crafted by Jones.
* * * * *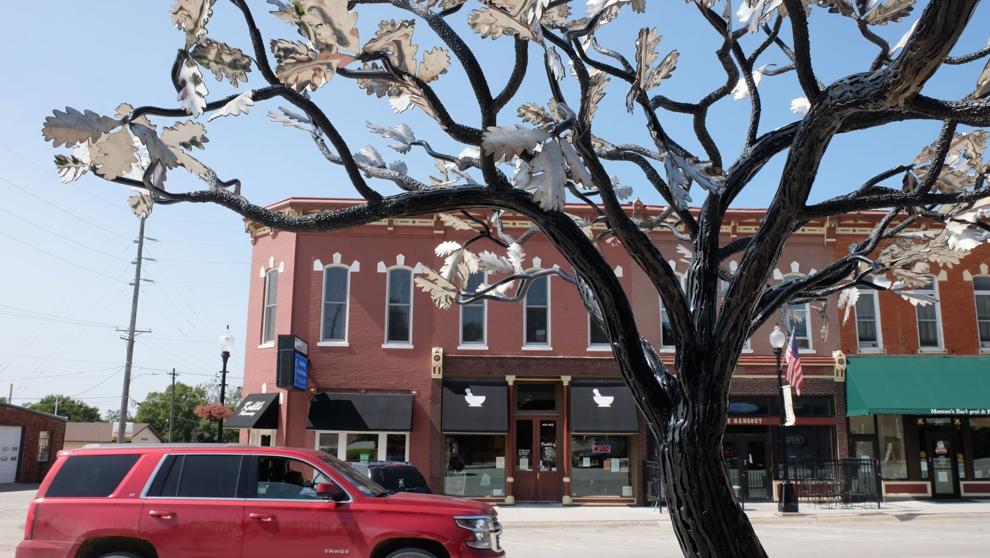 At 74, Jones is ready to slow down a bit.
Last summer, he and Barbara took a six-week trip to Alaska in a fifth-wheel camper.
The coronavirus pandemic put the brakes on 2020 travel plans.
When it's safe to hit the road again, his tree projects will still be at home when he returns.
"I don't worry about competition, because anybody who tries to do this for a living won't," Jones said. "There's no money in it. It's just something that I do."
Woody Jones' many tree sculptures