You've probably seen Jun Kaneko's sculptures at the Joslyn Art Museum, the Henry Doorly Zoo & Aquarium and the Buffett Cancer Center at the University of Nebraska Medical Center.
This weekend, you can see one of them in a whole new environment, with a purpose beyond sheer beauty.
Composer and percussionist Andy Akiho will be playing one of Jun Kaneko's ceramic pieces as a musical instrument in the world premiere of a symphonic work he wrote to honor the Omaha-based artist.
The Omaha Symphony commissioned the piece after Kaneko received the 2021 Lifetime Achievement in Contemporary Sculpture Award from the International Sculpture Center in Hamilton, New Jersey.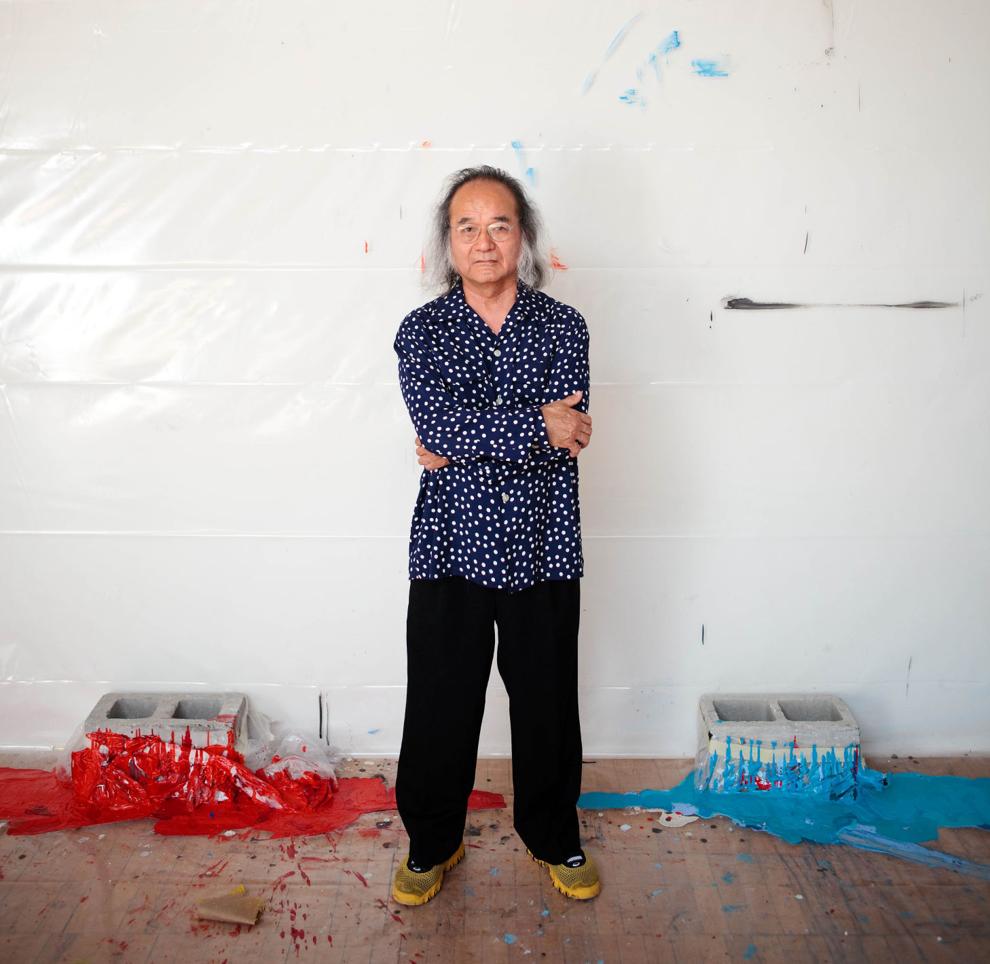 "When we heard he was getting this, we wanted to honor him and highlight him as a wonderful contributor to the culture of Omaha," said Ankush Kumar Bahl, the symphony's music director.
Akiho, known internationally himself as a Grammy Award-nominated composer, spent months in Omaha getting to know Kaneko, his wife, Ree, and his body of work, including the different mediums he employs.
While Akiho was here, he attended symphony concerts and learned about the orchestra, enjoyed the restaurant scene and the Old Market, and, as a jogger, "ran hundreds of miles around Omaha," Bahl said.
In the process, Akiho and the Kanekos became very close.
"The connection they have now is very special," Bahl said, "like a familial relationship."
The result of all that time together is "Sculptures," Akiho's nine-movement, world-premiere piece that will be the finale of Omaha Symphony concerts on Friday and Saturday nights.
The performance will include Akiho playing a Kaneko sculpture live as well as on videos that will be shown as the orchestra and smaller ensembles play his composition.
Bahl said the piece is modern, rhythmic and tuneful. Akiho "gets in grooves and you can start humming along," Bahl said, adding that the grooves are layered on top of each other.
It has breadth, with moments of epic proportion and expansive orchestration to moments with less instrumentation, and it effectively captures the essence of Kaneko's art, which is immense, amazing and impressive as well as stunning in its smaller details, Bahl said.
To further honor Kaneko, the symphony will perform excerpts from "The Magic Flute" by Wolfgang Amadeus Mozart, "Fidelio" by Ludwig van Beethoven and "Madame Butterfly" by Giacomo Puccini, three operas for which the artist designed entire productions. Elements from each of those operas — set pieces, etc. — will be on display.
"We had costumes shipped in from the East Coast and West Coast to demonstrate what Jun worked so hard to produce," Bahl said. "They're all three-hour operas, so a lot goes into the design. Some of these he worked on for 10 years."
On Saturday night, an after-party will follow the concert. Both will take place at the Holland Performing Arts Center, 1200 Douglas St., and the concerts start at 7:30 each night. Akiho and two members of his contemporary rock band will entertain at the post-performance party, which requires an extra ticket but has food and an open bar. Tickets and more information are available at omahasymphony.org.
Bahl is excited about the entire weekend. The concert, he said, is something really special that will put a spotlight on the city.
"This is the most exciting thing happening in classical music this week, in all the classical world," he said. "And it's something that can only happen in Omaha, so we are really proud to present it."