On March 29, 1921, when the 1920s had just begun to roar, the Evening World-Herald documented the beginning of a 100-year musical adventure.
"With the initial appearance of the Omaha Symphony Orchestra at the Brandeis theater this afternoon at 5 o'clock, a musical movement will be started that should receive not only the financial support but the serious consideration of persons who talk of 'Onward Omaha,' " a Page 2 editorial read.
The orchestra has gotten all that and more over the years. It has almost doubled, growing from 50 musicians to 42 core full-time members, 28 contract players and additional musicians hired on a concert-by-concert basis. It has premiered several new works. And it has a thriving outreach and school concert program.
In 2005, it moved from the Orpheum Theater into the Holland Performing Arts Center, a $100 million concert hall hailed for its acoustics. Some of the world's most highly regarded musicians — including superstars Itzhak Perlman, Pinchas Zukerman and Tony Bennett — have been its guest performers.
And in the past year, because of a pandemic, it has done something nobody in 1921 could have imagined, streaming concerts worldwide over an amazing invention called the internet.
Now, as it approaches its centennial birthday in March, it's about to welcome its 13th conductor, Ankush Kumar Bahl, and say goodbye to music director Thomas Wilkins, who has been here for 15 years.
In his tenure, Bahl says, he wants to help musicians, patrons and regular citizens realize what a gem they have. He's excited to be moving to Omaha.
"It (the symphony) outpunches its weight, supersedes orchestras in cities with metro populations of a million or more and matches some cities with several million," he said in an interview after he was hired.
The orchestra has evolved from offering only masterworks, adding the Pops, Rocks, Movie Music, Family and Joslyn series. But the current classical repertoire sounds a lot like the music played at its first concert.
Another excerpt from the March 29, 1921, Evening World-Herald:
"The program is built up of four groups of such masters as (Felix) Mendelssohn, (Franz) Schubert, (Pyotr Ilyich) Tchaikovsky and (Edward) Elgar."
In comparison, the Omaha Symphony's centennial season features Bahl visiting on Feb. 13 and 14 to conduct Mendelssohn. And Wilkins — in his finale with the orchestra — will conduct a piece by Gustav Mahler, a Romantic period contemporary of Tchaikovsky.
That's not all that has remained constant over 100 years. Because of a commitment from city leaders and audience members, the musical adventure will continue.
No doubt the 62,650 people who paid to attend an Omaha Symphony concert in 2018-2019 — before the pandemic caused cancellations — would agree with the 1921 editorial writer's conclusion.
"So-called 'big business' talks in terms of commerce and trade, yet the life of any community, as the life of any individual family, needs the touch of the fine arts to give inspiration and grace to its progress," the writer said. "There is a place in Omaha for a symphony orchestra."
Omaha Symphony conductors
Henry A. Cox, 1921-1924. Founder.
Sandor Harmati, 1925-1929. He was widely known as a conductor when the women's division of the Omaha Chamber of Commerce brought him to Omaha. He later wrote "Bluebird of Happiness," a hit song for operatic tenor Jan Peerce.
Joseph Littau, 1936-1932. He had been a conductor for the Boston Opera and the St. Louis Majestic Theatre.
Rudolph Ganz, 1936-1941. He took over after operations were suspended during the Great Depression. He was the founder of the National Chamber Symphony, sponsored by NBC.
Richard Duncan, 1940-1958. When Duncan and other musicians enlisted in World War II, the symphony shut down again. Duncan took the helm again after World-Herald publisher Henry Doorly, the Associated Retailers of Omaha and the Junior League rebuilt the orchestra to its full capacity.
Joseph Levine, 1959-1969. He was a child prodigy pianist who once was music director for the American Ballet Theatre in New York City. He established the Omaha Symphonic Chorus and the Omaha Youth Symphony Orchestra and created the Concerts for Youth program.
Yuri Krasnapolsky, 1970-1974. He had been assistant conductor for the New York Philharmonic under Leonard Bernstein. He began the Pops series for the Omaha Symphony, which has become one of its most popular features.
Thomas Bricetti, 1975-1989. Bricetti is credited for making the symphony a professional orchestra with a core of paid musicians supplemented by part-time players.
Bruce Hangen, 1984-1995. He is known for commissioning "Ceremonial Images," a piece featuring Native American singers and drummers, and conducting its world premiere with the symphony. He now is a professor at the Boston Conservatory of Music at Berklee.
Ernest Richardson, 1993 to present. He is the principal pops conductor and the resident conductor, and created the yearly Christmas Celebration.
Victor Yampolsky, 1995-2004. He presided over the orchestra's first CD, "Take Flight," and the world premiere of Philip Glass' Piano Concerto No. 2.
Thomas Wilkins, 2005-2021. He came to Omaha from the Detroit Symphony Orchestra and also is the principal conductor of the Hollywood Bowl Orchestra.
Ankush Kumar Bahl, 2021. He has become widely known as a guest conductor with a number of noted orchestras.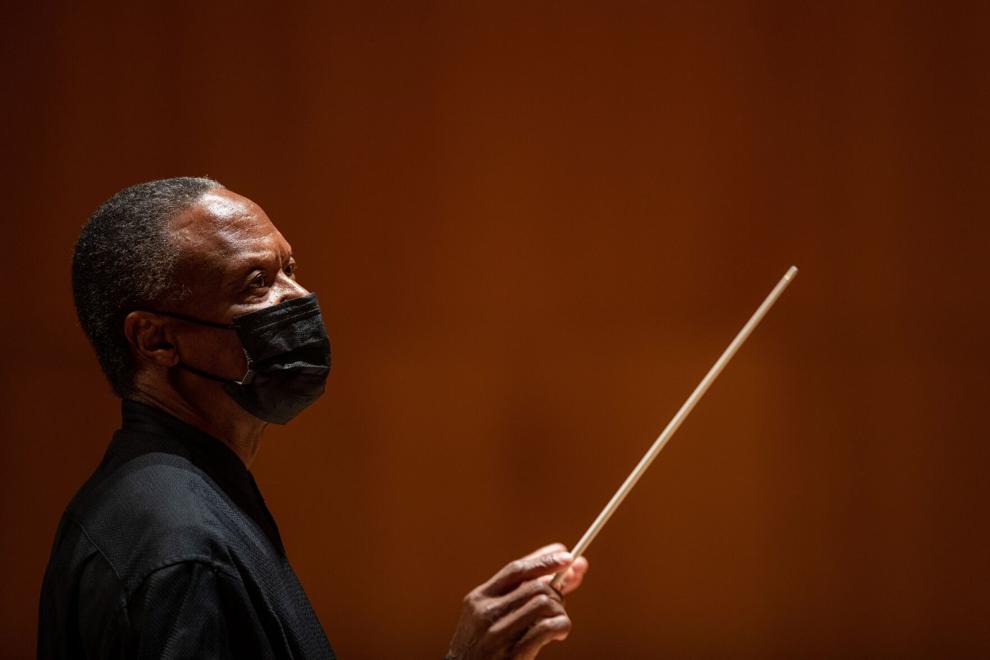 Guest stars through the years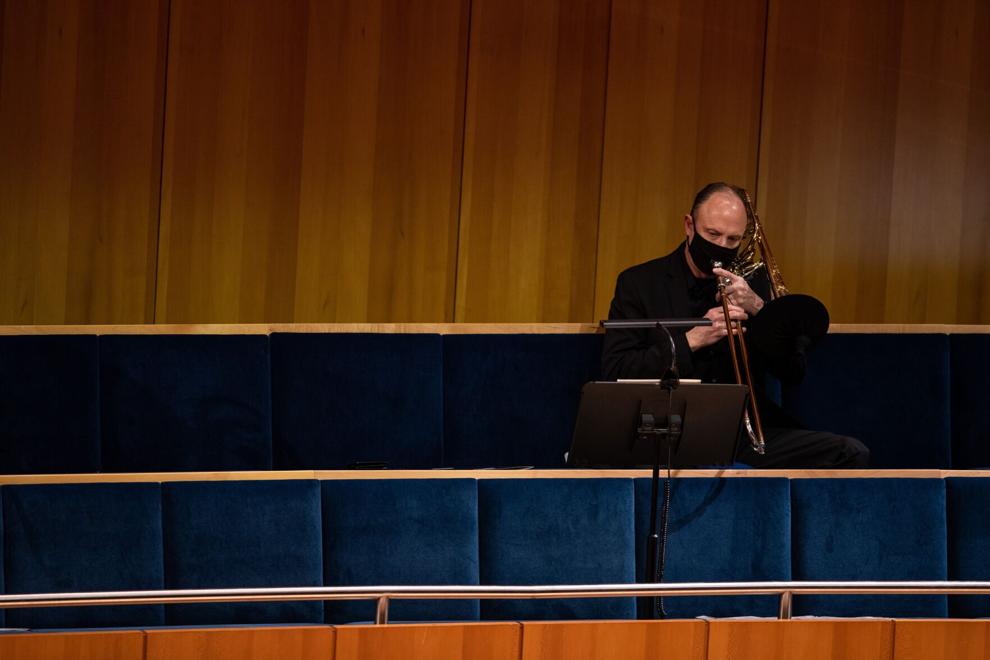 Things to know about Omaha's 100-year-old orchestra
It has six concert series: MasterWorks, Pops, Rocks, Family, Joslyn and Movie Music.
It has a core of 42 full-time musicians and 28 contract players. Most hold advanced music degrees from top music schools and universities. Many also give private lessons, teach in schools or universities, perform in chamber ensembles and serve as church musicians.
It has an annual budget of about $8.7 million.
Its home, the Holland Performing Arts Center, was called "one of the best-sounding" symphony halls by the Dallas Morning News.
Ticket sales account for 38% of its revenue. Donations make up the remainder: 43% from individual donors, corporate sponsors and foundations, 16% from its endowment and 3% from government support.
Its endowment stands at almost $30 million, with another $6.3 million in pledges.
The Omaha Symphony Guild, which has fundraisers such as the annual Table Art luncheon, celebrates its 65th anniversary this year. There's also a guild in Council Bluffs.
A 20-member board of directors leads the organization. It includes community leaders, symphony musicians and guild representatives.
It has a 24-member staff and partners with Omaha Performing Arts, which operates the Holland Center, on some financial, administrative and box office functions.
---
Photos: Omaha Symphony returns to the stage