Photographer Joel Sartore says he never imagined he'd be the subject of a stage play.
Sartore is a University of Nebraska-Lincoln graduate who works for National Geographic. He's known for his Photo Ark project, an effort to document endangered species before they disappear.
The project inspired Omaha playwright Ellen Struve to create "How to Build an Ark: Searching for Joel Sartore," onstage at the Rose Theater through Feb. 21. An online version of the show should be available in about a week.
"When I found out about the play, I was flattered," Sartore said. "I thought, 'I can't wait to tell my wife so she'll say 'Oh, now you're even harder to live with.'"
The play centers on Vita, a girl who has an affinity for anything endangered. She is encouraged by her mom to take pictures of animals and insects in the park so she can look forward to seeing them later.
When a butterfly appears, Vita tries to shoot its picture but she's unsuccessful. Camera, an anthropomorphic character, magically appears to give Vita a new perspective on wildlife and the world.
They travel together through the National Geographic Photo Ark, encountering a frog, naked mole rats and more. At one point, dozens of Sartore's images are projected across the stage.
The show's creators hope to help kids understand how the actions of humans have an impact on all the world's creatures and how to help animals whenever it's possible.
"That's what the Photo Ark is built for … We're really hoping to give a voice to the voiceless," Sartore said in a press release.
Rose Artistic Director Matthew Gutschick is the show's director. He said producing it during the pandemic has been a challenge. Rehearsals for the small cast were both in-person and online, blocking was created to accommodate distancing, and actors wear clear masks that have been incorporated into their costumes.
Safety protocols, including a mask requirement, are in place at the theater near 20th and Farnam Streets. Rose personnel monitor the level of COVID-19 cases in the city and if numbers spike, they will cancel performances and either reschedule or make the virtual show available to people who hold in-person tickets.
Tickets are $20 a piece for the in-person performance and $30 per family for a digital link. Visit rosetheater.org or call 402-345-4849 for more information.
Joslyn Castle plans Speakeasy Series, Valentines date night
You can raise your spirits at Joslyn Castle on Thursday nights from February through May.
The Speakeasy Series will feature alcohol tastings and guidance from local experts Alzuri, at Spirit World, and Kari Korenchen.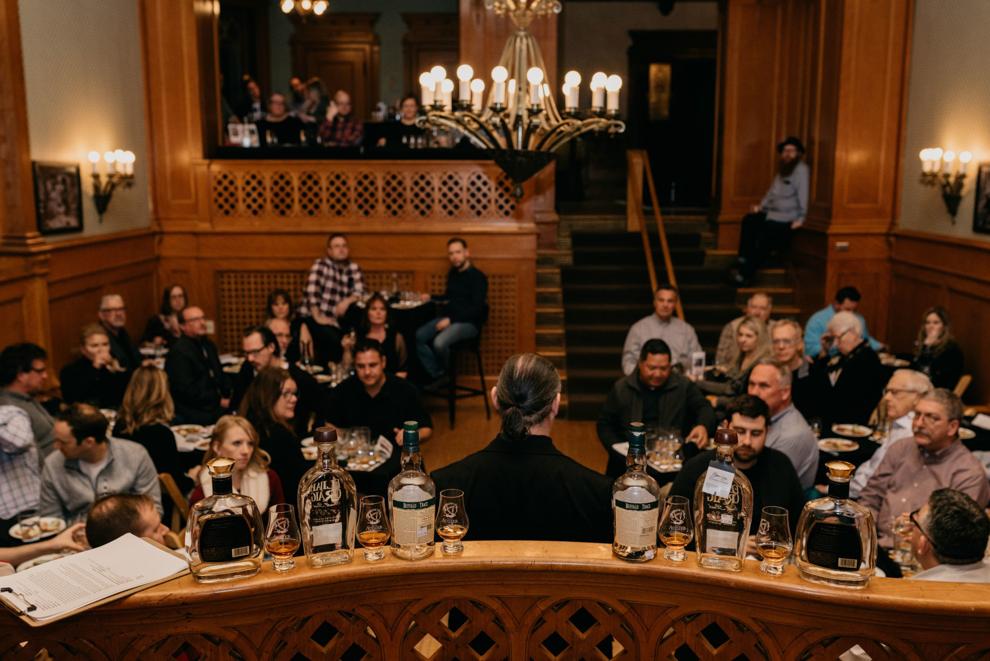 Feb. 18: Gin. Monks first made it from juniper berries as a medicinal liquor. Alzari will feature some of the many varieties available today.
March 18: Agave and Mexican Spirits, from tequila to mezcal and beyond, with Korenchen.
April 15: Bourbon, with Korenchen, who is an executive bourbon steward.
May 13: Whiskey tour, featuring varieties from Japan, Israel, India and France, with Alzari.
Tickets are $75 for each event for Castle non-members and $67.50 for members. Registration is required.
"A Little Dinner Music," with a themed menu, a signature cocktail and live performers, is Feb. 13. Cellist David Downing will play selections from Johann Sebastian Bach to Leonard Cohen. Tickets are $100 for non-members and $90 for members. Registration is required. Visit joslyncastle.com for information.
Hoff Family Arts & Culture Center reopens with new exhibit
"Ruinous Microcosm," a new art installation by Jave Yoshimoto, now is showing at the Hoff Family Arts & Culture Center.
The center had been closed but opened again on Jan. 22 with new safety measures and reduced capacity. An opening reception was held that night and the exhibit will be up through April 10.
Yoshimoto was born in Japan to Chinese parents and came to the U.S. at a young age. He has traveled and lived in various states. He creates art that is socially conscious and true to his authentic self.
His works include elements of satire and politics and themes of tragedy and hope. They've been featured in numerous publications such as the Huffington Post, Guernica Magazine and the Chicago Tribune.
"Yoshimoto's work is extremely accessible and visually stunning," said Danna Kehm, CEO of Pottawattamie Arts Culture and Entertainment, which operates the Hoff Center. "You can feel the struggle and emotion in his contemporary depictions of modern disasters."
PACE plans virtual tours, social media outreach and online classes in conjunction with the exhibition. Gallery hours are noon to 5 p.m. on Saturdays. People who are interested in classes or want to register to attend the exhibit can visit paceartsiowa.org/calendar or call 712-890-5600.
Opera Omaha releases new entry in Black experience series
You Go Girl, a local group that works to empower, encourage and inspire girls and women, partnered with Opera Omaha on the latest entry in the musical organization's series, Amplifying the Black Experience.
The music video, posted at operaomaha.org, features former Holland Community Opera Fellow Chabrelle Williams singing "Hold Fast to Dreams" as girls display signs stating their career aspirations.
Another video in the series, a discussion entitled "Black American Truths," also is on the Opera Omaha website. Williams and Melanie Bacaling, a production and digital content associate for Boston Lyric Opera, are curators of the series.
Its mission statement says it "seeks to honor, celebrate and bring awareness to the multifaceted stories of the Black community."
---
Our best Omaha staff photos of January 2021