There's no doubt that the actors who share the stage in "The Mystery of Irma Vep" at the Omaha Community Playhouse are accomplished and hilarious.
They wouldn't reach their full potential, however, without help from some "ghosts" backstage.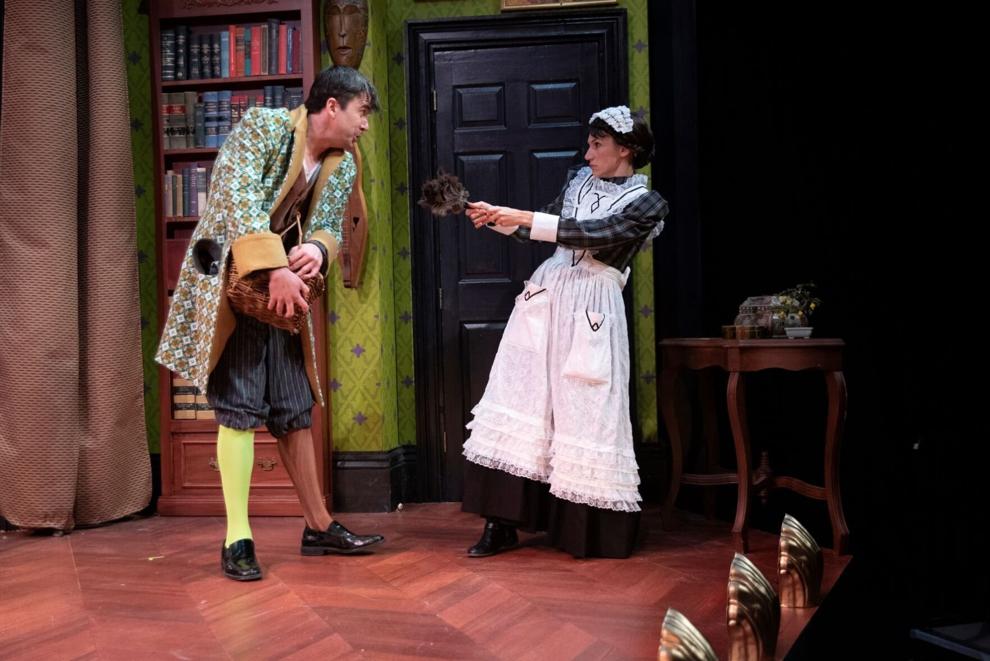 Ben Beck and Anna Perilo are the sole performers, but not the sole characters, in the play, which is billed as a "penny dreadful."
I had no idea what that was, but Google came to the rescue. Based on what I learned about penny dreadfuls at Wikipedia, I was prepared for a grim evening.
Thankfully — and surprisingly — "Vep" was anything but.
It's a hysterically funny and satirical send-up of the many things that scream October: horror films and literature, mystery novels, supernatural phenomena, creepy characters who commit unspeakable acts.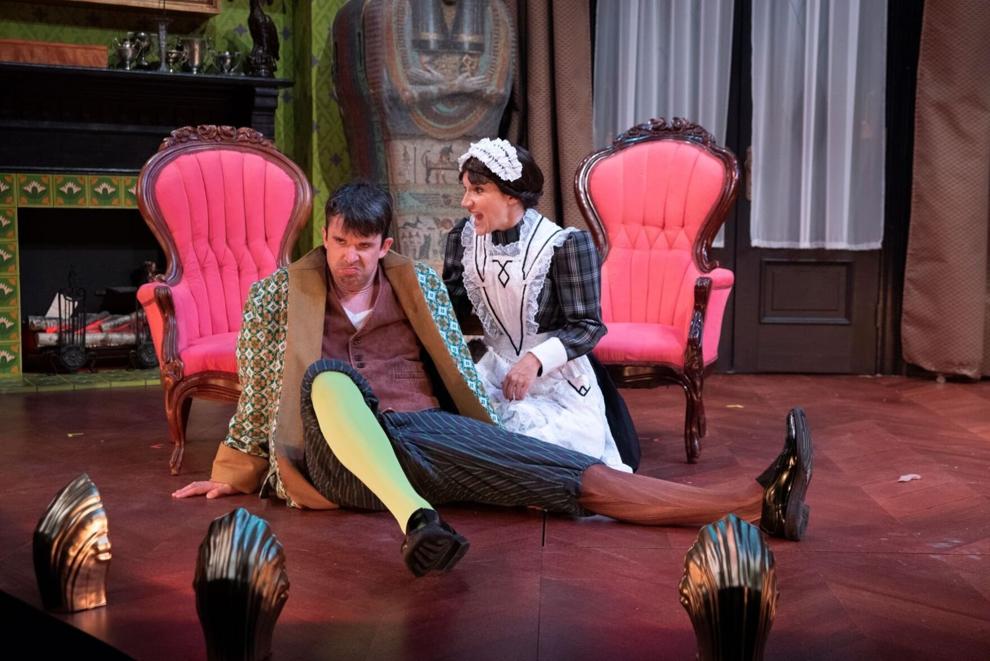 That's not a spoiler; you'd have discovered it mere seconds into this campy, over-the-top show.
The story centers on Lord Edgar Hillcrest, an Egyptologist who lost his wife, Irma, under mysterious circumstances. His new wife, Lady Enid, is a nervous sort, and it turns out she has lots to be nervous about: howling wolves, candles burning out for no reason, a bloody portrait.
There's also Jane, a maid who likes her daily libations; Nicodemus, a limping stableman and groundskeeper; and Alcazar, Edgar's guide when he visits the pyramids in Egypt.
In program notes, director Jim McKain says the Playhouse "struck absolute gold" with the casting of Beck and Perilo, and he is oh, so right. Both have unflagging energy and enthusiasm, a gift for slapstick physical comedy and an extensive repertoire of funny and twisted expressions.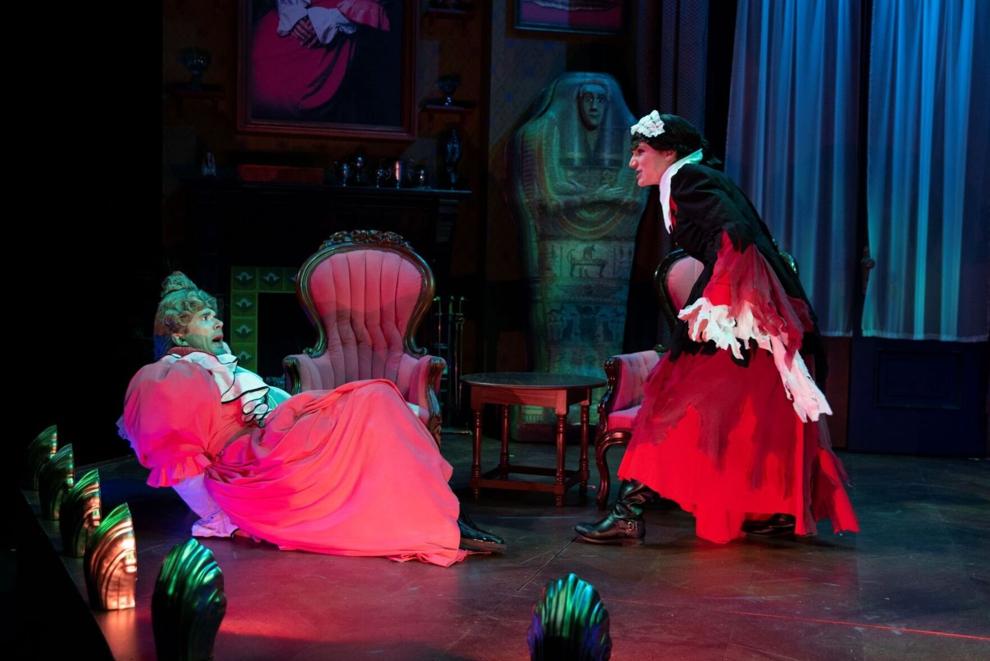 They're absolutely delightful — watch for a scene involving steps in the Howard Drew Theatre. They must have rehearsed it dozens and dozens of times to establish an unfailing trust in each other.
They get lots of help with costume changes and props from those three invaluable "ghosts" on the stage crew. For all intents and purposes, they're part of the ensemble.
So is the set by guest designer Matthew Hamel, a classic English manor that doubles as the pyramids and even an underground vault during Edgar's trip to Egypt. Look for at least a couple of surprises.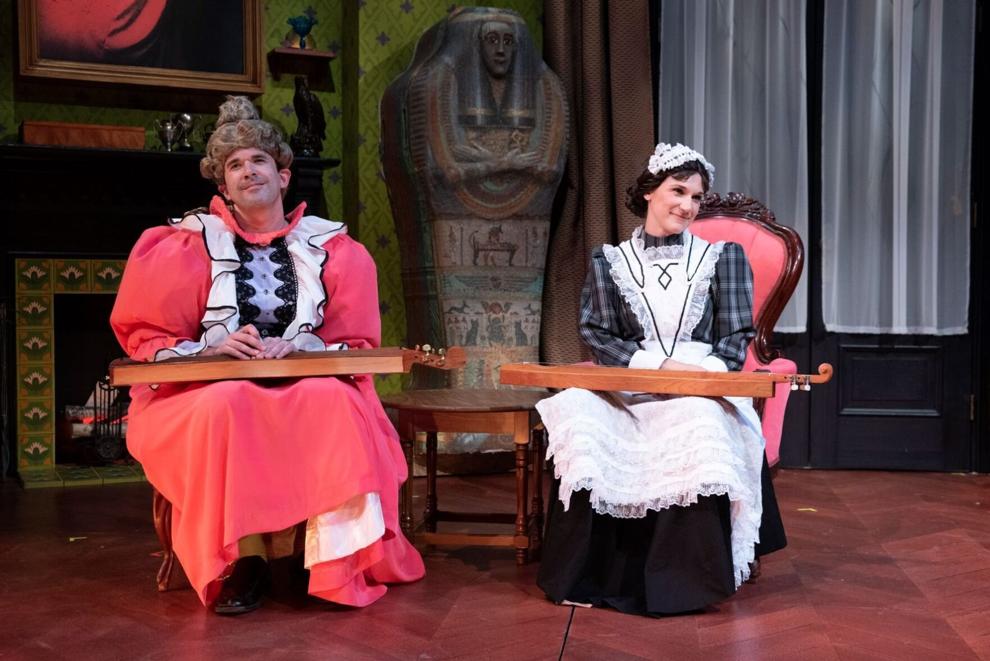 Lindsay Pape's costumes — especially Lady Enid's clownishly huge gowns — add to the fun. When Beck first appeared in one of those satin tents, I nearly fell off my chair.
"The Mystery of Irma Vep" is the perfect antidote to the oh-so-serious and overly gory fare we're usually served at Halloween.
You'll need to pay attention to catch all the jokes, double entendres and pop culture references in Charles Ludlum's script.
I'm sure I missed some zingers, so I wouldn't mind seeing this one again. My friend and I had a blast.
---