When the coronavirus hit, educators at the Rose Theater had to reinvent how they did their summer camps and other classes for young people.
Teens created a production of "Frankenstein" on Zoom and shared it on YouTube. Younger campers produced a "zoomsical," a musical entitled "The Big 1-0" that featured kids singing and dancing on Zoom through an innovative process.
The Rose's efforts were noticed outside of Omaha. Its educators were asked to share their work with children's theater purveyors across the nation, and even at a conference in India (virtually, of course).
"We haven't had any sessions since I came here for which so many have written to us in gratitude," said Rose Artistic Director Matthew Gutschick.
Though he sensed trepidation from parents at first, they reported that the virtual classes bolstered their kids' spirits and created excitement in their households. Participants scoured their homes for items to use as costumes, props and scenery. One girl even baked a cake for the show.
When they realized that it may be a while before they could teach in person, Rose educators started experimenting, said Michael Miller, a teaching artist and director of youth productions.
They first created teaching videos on acting, set building, design and, for older kids, auditioning. As they got more confident about virtual education, they explored platforms for live classes.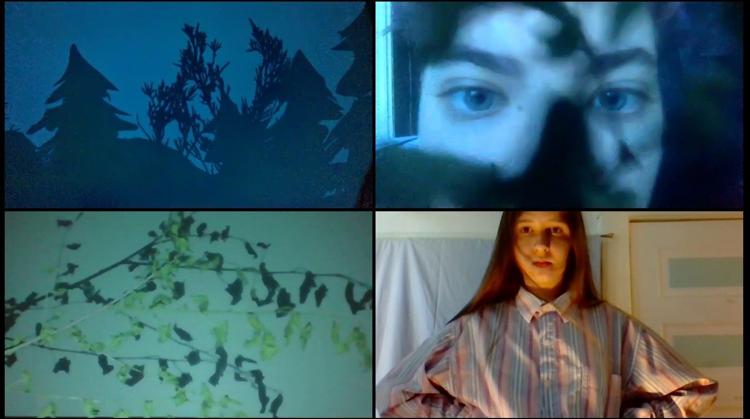 For "Frankenstein," campers adapted Mary Shelley's book into a "theatrical silent film" employing actors and shadow puppetry. Each kid wrote music and played an instrument for the show, and they rehearsed the play from 9 a.m. to noon each day for a few weeks.
"We sent home a 'class in a box,' " said teaching artist Stephanie Jacobson, who was in charge of the teen camp.
The boxes contained lighting gels each kid could use on a computer camera, stage makeup, supplies to make shadow boxes and scenery and other materials.
They videotaped the show straight through at the end of camp, and it now is on YouTube.
"The most important take-away was that students felt like they had purpose, like they had been meeting in the same room," Jacobson said. "They felt like their voices were heard."
They got so tight as a group that they still meet periodically, even though camp has been done for a while.
The process for "The Big 1-0" was a little different, said teaching artist Michael James, who was in charge of a camp for younger kids. Kids recorded their own song and dance at home and submitted it to directors for feedback.
An audio engineer combined the song videos into a "chorus," and a video editor combined the dance segments. In the end, the kids were in a virtual ensemble like you'd see in a live stage musical.
Participants in each camp responded well to the formats, Miller said.
"The kids were always up for it," he said. "They still bring a creative desire and excitement to a virtual space."
Not all their initiatives have been virtual, however.
Jacobson was disappointed that programming for pre-K kids had ceased, so she came up with a worksheet parents could use to introduce their young children to theater.
The worksheets will be placed in Little Free Library locations throughout the city.
Virtual programming will continue in the fall in some instances, though dance and voice classes will be in person.
And some elements of virtual education probably will become permanent. They're looking at having "hybrid" events that feature both online and in-person possibilities after the pandemic ends to increase their outreach and visibility.
"It's important to note that (virtual classes) had students from outside the Omaha area," James said. "I had kids from Kansas City, Texas, California. It allows us to reach a broader audience."
Omaha Performing Arts plans Yakov Smirnoff show
Comedian Yakov Smirnoff will perform an online show Aug. 29 for Omaha Performing Arts.
Tickets to access the 8 p.m. show, "United We Stand," are $25, with a $50 version for those who want to participate in a meet-and-greet session.
Smirnoff is a Russian immigrant who has a theater in Branson, Missouri. He's also an author and recently earned a doctorate degree in leadership from Pepperdine University.
He got his break performing on "The Tonight Show With Johnny Carson" and was a regular on the TV sitcom "Night Court." He has been in films with Robin Williams, Tom Hanks and Jack Nicholson.
People who purchase tickets will get an email confirmation that includes instructions for accessing the performance. Tickets are available at ticketomaha.com or 402-345-0606.
Stay up-to-date on what's happening
Receive the latest in local entertainment news in your inbox weekly!