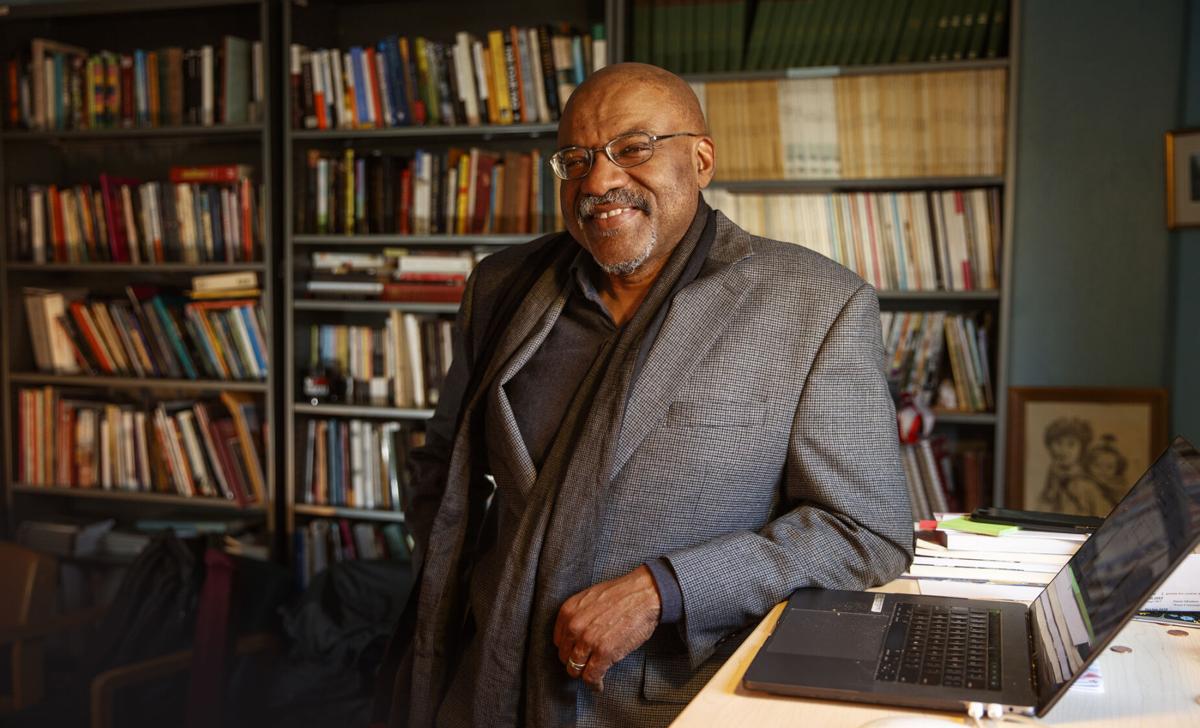 As UNL poet and writer Kwame Dawes takes over the American Life in Poetry column, his goal is to hold himself to the principle that the series should reflect the country in all its complexity and variety.
"Kooser has always believed that poetry is a form of art that can reach just about anyone," Dawes said. "Each column, as it were, constituted a poem selected by Ted Kooser, and a brief and interesting introduction that never sought to explain the poems, but simply offered Kooser's honest sense of what might appeal or be of interest in the poem. Kooser mastered this form of the mini-essay, lending it his own patented poetic brevity and layered simplicity."
Kooser said Dawes, one of his former teaching colleagues, is a fine poet and an ambitious promoter of poetry and poets who will do well as his replacement.
"Over the 15 years I edited the column it grew to a worldwide circulation of 4.6 million readers," Kooser said, "and I feel confident that Kwame will keep their attention and, each week, give them the gift of a new poem to enjoy and to think about."
Dawes is honored that after careful deliberation with the Poetry Foundation, Kooser is excited to see him take over. Dawes' first column runs this week.
He said he has a lot of respect and affection for Kooser and admiration for his work. Kooser won the Pulitzer Prize for poetry in 2005, as well as numerous other awards.
"I also share his core idea that poetry has great value in our world," Dawes said.
Dawes said Kooser had been hopeful that the project would remain associated with UNL. As well as bringing prestige to the university, it creates opportunities for graduate students, one of whom works on the project each year.
Dawes is the editor of the Prairie Schooner magazine at UNL, where he is a professor of English. He's also a regular blogger for the Poetry Foundation.
Often referred to as the busiest man in literature, he's written 23 books of poetry and many others in the realm of fiction, criticism and essays, and has won numerous awards.
Dawes, who was born in Ghana in 1962, remembers arriving in Nebraska in August 2011. He had been teaching in South Carolina.
The eastern part of the state was still recovering from serious flooding. He, wife Lorna and children Sena, Kekeli and Akua, all now UNL alums, navigated their way through multiple detours to reach their new home.
"We played Paul Simon and Bob Marley, and were struck by the enormity of the windmills rising glorious and shining over the extraordinarily flat landscape," he said. "At a gas station, 50 miles out of Lincoln, looking upward, we understood, in a startling way, the meaning of the phrase, 'big sky.' "
Browse 27 of The World-Herald's best books available for purchase
The World-Herald has produced several books that capture the character of Nebraska, including a look back at sacrifices made by local military heroes, great local athletes, Warren Buffett, eye-catching photography and more.