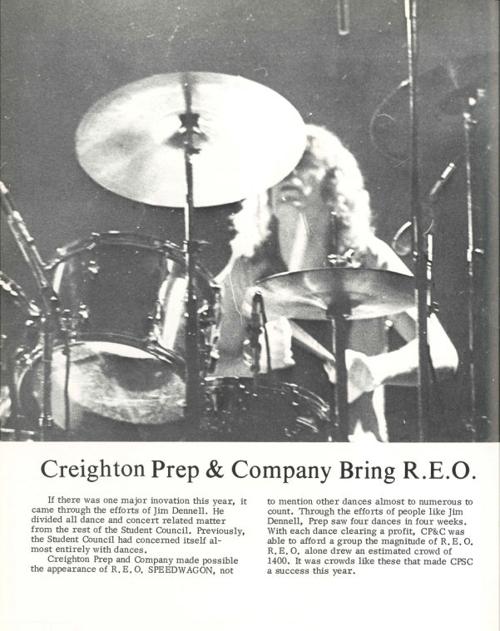 Where: The Lauter Tun, 3309 Oak View Dr. #102
When: Wednesdays in November
What: Local songwriter and guitarist Matt Whipkey will bring other local friends together to play collaborative sets. Tara Vaughan, Jessica Errett, Brad Hoshaw and Corey Anderson will take part in the series. It will be a really cool collaboration.
Some of the ones I had in mind were local Nirvana shows from the late '80s and early '90s and a recent show from The Lumineers (shortly before "Ho Hey" blew up).
What you guys came up with included a lot more than that. We had way more stories than we could publish, and even after all of those, I've gotten a ton of messages, Facebook posts and tweets about more shows, including REO Speedwagon at Creighton Prep, Semisonic at Ranch Bowl, Red Hot Chili Peppers at Chesterfield's and the Backstreet Boys at Elkhorn High School.
One of the more interesting tidbits from the original story was from Marq Manner, who talked about seeing the Red Hot Chili Peppers at the Ranch Bowl in 1989. Manner recalled the legend that the band streaked 72nd Street. Devin Tejral was a bartender at the club/bowling alley at that show: "Afterwards, when the Ranch Bowl closed, about four of us bartenders actually bowled and drank with all the Chili Peppers. I remember we partied in the bowling area till about 4 a.m. I've told this story dozens of times over the years. So I can't deny the streaking but I don't think so. I would of known about it, at least I think I would."
The Rev. John Montag, a Jesuit, remembered hosting REO Speedwagon in Creighton Prep's gym in 1974: "I know nobody remembers them these days except the over-40 crowd, but this was well before they were a big deal, and they did become a big deal indeed. 'Riding the Storm Out' had been out for a few months, and so the gym was pretty crowded, but they blew the windows out."
A couple of my own tales popped to mind last week. I know I have others, but here are two:
Lady Gaga opened for the New Kids on the Block a few years ago. At the time, back in 2008, she was virtually unknown. I did not enjoy her performance, which was way more about dancing than the music. She was flanked by several dancers that were also roadies, and they pushed around video screens. Though I enjoyed "Poker Face," the show was way too much about the visual. Gaga absolutely exploded after that.
When Blue October played its first shows in Omaha, they were at the Ranch Bowl. I saw a lot of those and was always amazed by lead singer Justin Furstenfeld's intensity. There was some raw emotional content on the band's second album, "Consent to Treatment," and it kind of bums me out that they don't often play songs from that record.
I'm going to continue to publish more of these stories, so please keep sending them to kevin.coffey@owh.com.
Stay up-to-date on what's happening
Receive the latest in local entertainment news in your inbox weekly!