Home is about the safest place you can be these days.
For some culinary entrepreneurs, it's also the busiest. And they may have the luckiest clients.
These creative businesspeople are cottage bakers, artists who make decadent artisan cakes and other desserts in their own kitchens and sell them through various outlets.
The cottage food industry has been growing in Nebraska since 2019 when the Legislature passed a law allowing people to widely market baked goods from their homes. Farmers markets had been their only outlet before the law changed.
New cottage bakers now display their goods on social media sites such as Facebook, Twitter and Instagram with ordering instructions. Many of their confections are distinctly over the top.
These burgeoning bakers say the coronavirus pandemic has been challenging — one reported that her business fell off from 17 orders a week to about 10 a month when it started — but beneficial because they don't have a commute or are generally spending more time at home.
Here are three success stories.
Corporate marketing exec to cottage baker
Stacey Leick of Omaha gave up a corporate career as a marketing director for an international sales company to bake cakes.
She's now 57, and her business, Buttered Marshmallow, became her full-time avocation in October 2019. And despite the coronavirus, she makes more money than she did before.
Leick first tried a buttered marshmallow in an attempt to win a contest at a cookout a few years ago. She smeared her entry with butter before roasting it, using a device that's meant to butter roasted corn.
"I was watching the marshmallow cook and it was crazy," she said. "It didn't flare up like I thought it would. The only way I knew it was done was because it started falling off the stick."
The judge declared the contest over when she tasted it. And Leick herself was impressed.
"It was like a party went off in my mouth," she said.
She related that story to an acquaintance a few weeks later.
"That's what you should name your bakery," the woman told her.
She took a year to prepare, buying supplies, opening a bank account, trademarking the name. She even bought a year's worth of personal items such as toothpaste and laundry soap so she wouldn't have to worry about restocking.
When she started full time, she figured out she needed to bake 17 times a week to make a living. People were extremely responsive, she said.
"When I met people and told them about my cakes, 100% of the time they bought a cake," she said.
She had pictured pounding the pavement for clients and visiting businesses to get enough orders. Turns out, it was easier than that.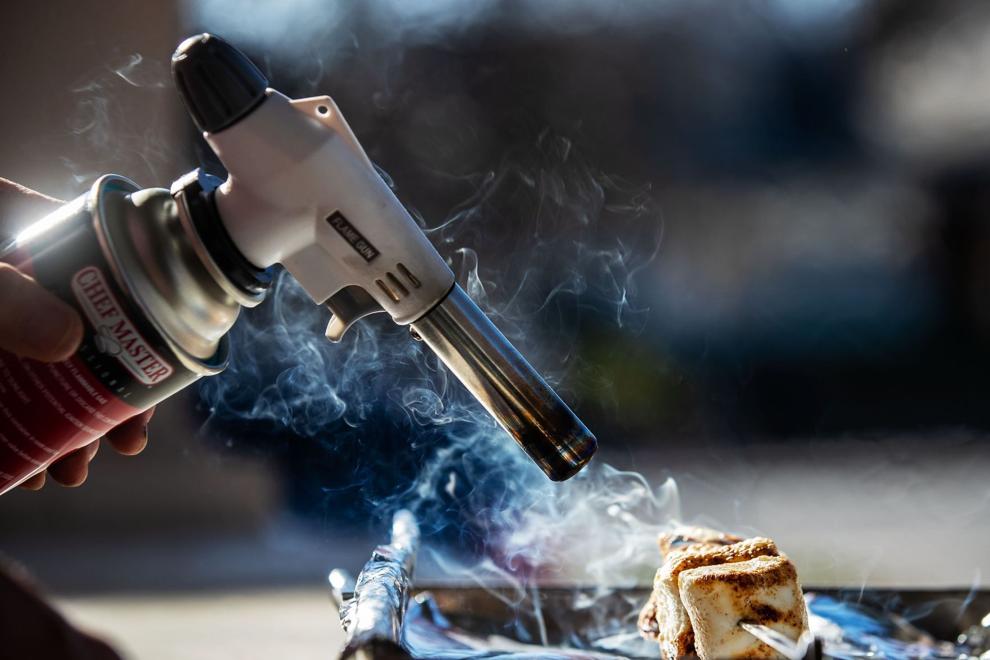 Then the coronavirus hit and the orders slowed to a trickle. She turned to the internet, hooking up with the Nextdoor app and posting on Facebook, and business immediately started picking up.
"I joined the Omaha Food Lovers group (on Facebook) at 8 one night, and at 8 in the morning, I already had an order," she said.
Then she got 10 orders the week of Easter, an order a day for the next week and a half and then three to seven orders a day. People were posting glowing testimonials about the cakes online.
"It was insane," she said.
So are her cakes. Her signature pastry, named after the bakery, features buttered marshmallows both in the batter and torched on top, buttercream icing and caramel.
She also touts her deep red raspberry cake and the Scarlet and Cream Cake with Scott Frosting, which both feature fresh fruit; a Bananas Foster cake she recently made by request; and a peanut butter cake that "tastes like heaven."
If someone asks for a cake she hasn't yet made, she'll give it her best shot.
She perfected her system, allowing her to make 40 batches of baked goods a week, if necessary (she also does pies, cookies and other items, especially during the holidays).
And she's having a blast.
"Every morning I wake up and think, 'I live a dream life,' " she said.
Is it a taco or a cake? Ask Kelsey Harman
You know those social media posts that show knives cutting through shoes or hamburgers or watermelon, but the items turn out to be desserts?
Bellevue resident Kelsey Harman bakes cakes like that.
Her jack-o'-lantern and taco cakes are especially realistic, but an octopus cake she made for her son in August is responsible for launching Harmony Custom Cakes.
"It started getting the community around me really excited about needing cakes," she said. "Everybody was telling me I needed to start a business."
She's part of an extensive community: fellow home-school families; people at church; neighbors in base housing at Offutt Air Force Base, where her husband is stationed; even friends back in her native Oregon.
Harman teaches her kids in the morning — she has a newborn, a 4-year-old and a 5-year-old — plays with the kids in the afternoon and bakes at night and on weekends when her husband is home.
She didn't do much to set up the business. She already was a self-described neat freak who does a deep clean before and after she bakes. She took the online ServSafe course that's required for a cottage baking license in Nebraska.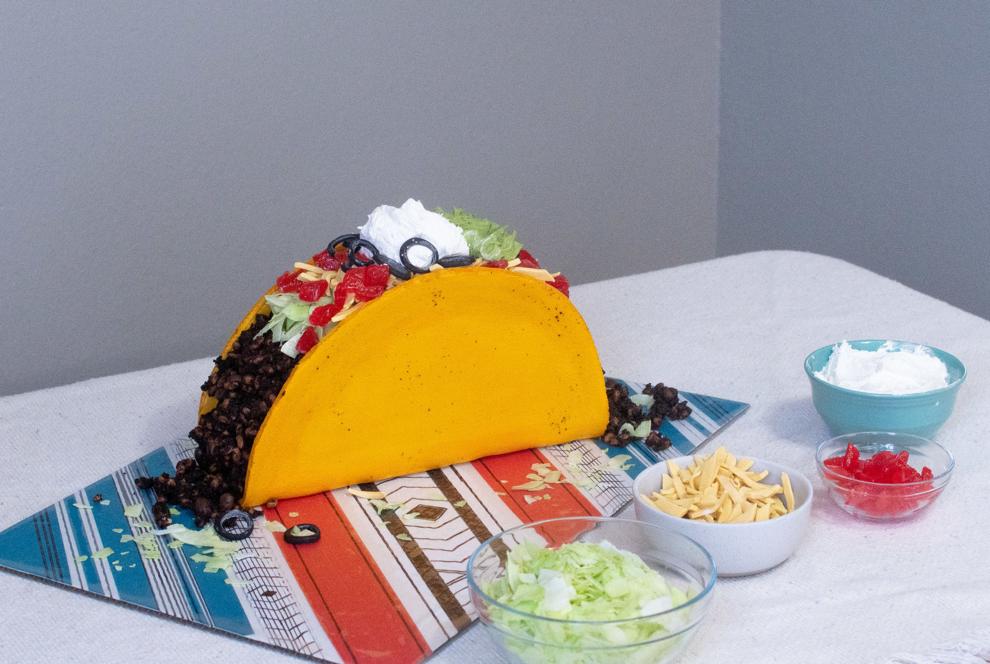 And, she said, "I bought an extra KitchenAid."
She says she considers her niche to be in novelty and decorative-style cakes. No sheet cakes. She fulfills several orders a week.
Harman needs a gluten-free diet, so she also specializes in baked goods fitting that plan. For Thanksgiving, she's offering packages of three different cupcakes for special diets: gluten-free, keto and dairy-free.
"They are really decadent," she said. "I just got an order for a dairy-free first birthday cake."
It's nice to have the extra money, because they're a one-income family, she said.
She's also happy to have a creative outlet. She and her husband are both violinists — she studied at the University of Oregon — but have little time to indulge that pleasure. Baking helps fill the void.
"On one hand, I'm a lot busier, but on the other hand, it's nice to do something that's expressive for me. This has been good personally."
From Air Force One to a Papillion home kitchen
Jodi Jefferson has baked cakes for George and Laura Bush and Barack and Michelle Obama.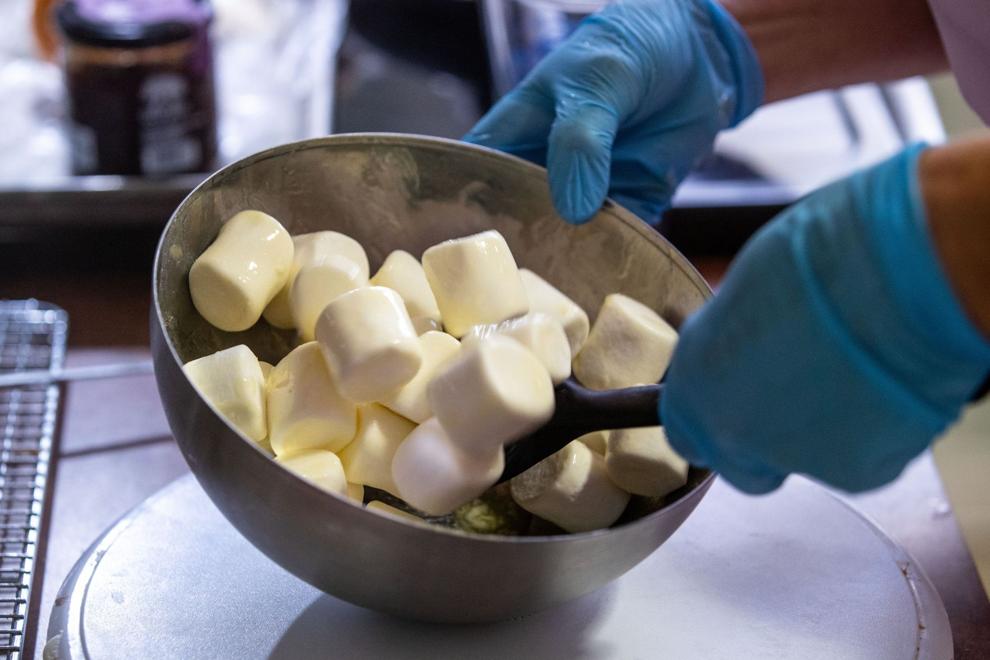 "My carrot cake is pretty famous," she said. "I used to make that for the Bushes all the time."
Jefferson was a flight attendant in the Air Force, and one of her assignments was aboard Air Force One, where she prepared meals — and desserts — for presidents and their traveling companions. The huge jet has kitchen facilities and 30 to 40 crew members at any given time.
Cottage baking seemed like a post-military option. She started Busy Bee Baking Company in March and went full time when she retired from the Air Force in October.
At Offutt AFB, her last posting, she served on the "Doomsday" plane, so nicknamed for its ability to withstand a nuclear hit.
She mainly makes gourmet cakes, with lots of rich ingredients. She's never taken a decorating class, so she doesn't write on cakes or do anything child-themed.
Her most popular cakes include that Bush favorite — with just carrots and coconut, no raisins or pineapple — and a crème brûlée cake.
She's mainly self-taught.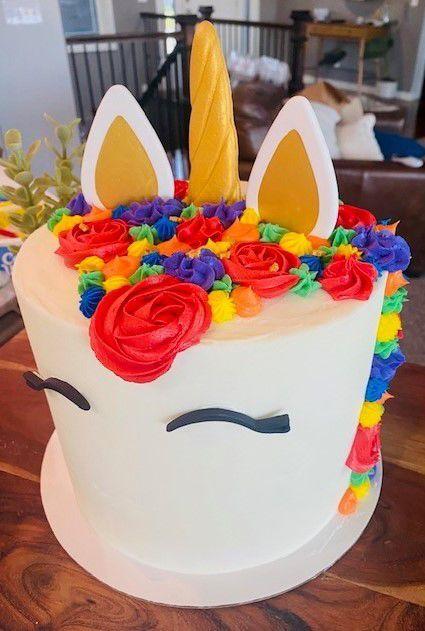 "Culinary school was Mom and Grandma teaching me," said Jefferson, who grew up in Hampton, Nebraska.
She gets many of her ideas from Pinterest, though she sometimes has to modify them.
"When I look at the recipes, (I realize) there's no way that this cake is what's pictured," she said.
Jefferson makes between 12 and 15 cakes each week. She bakes at the beginning of the week, freezes everything, then frosts each on the day it goes out.
This week, she's in the throes of the annual Thanksgiving Bake-Off she does with her mom. Proceeds will go to families who will spend the holidays at the Carolyn Scott Rainbow House near Children's Hospital & Medical Center.
Her goal is $5,000, and she had $4,100 as of midweek. Every cent will go to the families, she said.
Cottage baking suits her because it's flexible enough that she can go on field trips or to class parties with her kids once those things are happening again. She missed them when she was flying for the military.
She did, however, meet her husband on Air Force One, where he served with the military police. He also retired from the service, and now works as a military contractor. The couple live in Papillion.
She never wants a bricks-and-mortar store.
"Think of how many cupcakes or cakes you would have to make just to pay the rent, let alone the light bill," she said.
Jefferson said she'd make any cake a customer asked her to create. She has loyal customers who order each week.
"I love trying new things," she said. "I have to stay busy; I can't just be a stay-at-home mom."
---
Our best staff images from November 2020