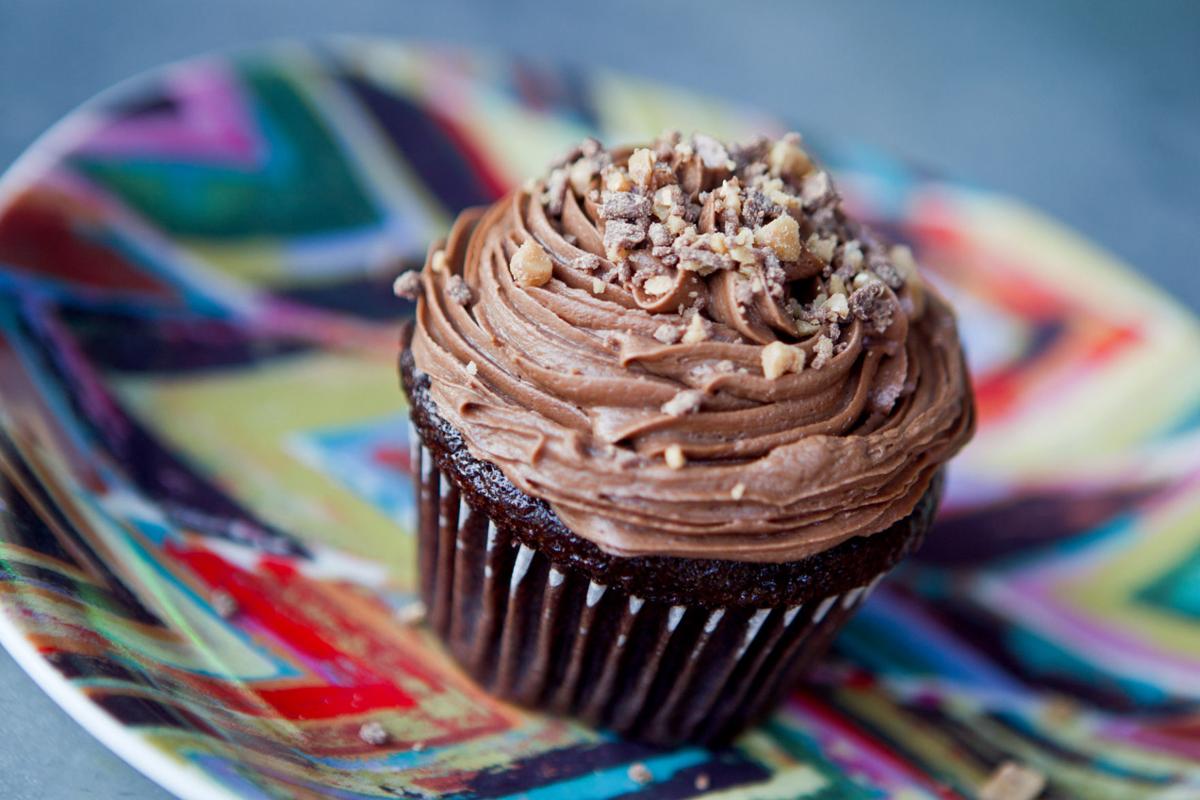 There is such a thing as a bad cupcake, in case you were wondering.
I have a sweet tooth, and if you put cake or pie or a cookie in front of me, I'll probably eat it without complaining.
But when it comes to actually judging, it turns out that some of the cupcakes I tried with three tasters for the May Food Prowl just weren't very good.
When we had the good ones, though, they stuck with us. In fact, the winner of this month's Food Prowl stuck in our heads even after we'd eaten a dozen others.
I'm no baking expert, but I do know a lot goes into making a trendy little cupcake. So I called on an old family friend who is an expert: Patrick McDermott, who with his family ran Delice European Bakery in the Old Market for 11 years before they sold it in 2009.
I also decided to taste with two friends who love to bake: Erin Golden, a fellow World-Herald reporter who is slowly making her way through a cookbook of cocktail-flavored desserts. Think rum and Coke whoopie pies and a chocolate lava cake infused with port wine.
And Sara Wilson, who blogs about her baking adventures at stalkmykitchen.tumblr.com. Her desserts look like they came straight from the pages of Gourmet magazine or the stand mixer of Martha Stewart.
These are people who truly know what it takes to bake a moist cake, what a "tender crumb" is and how to make a sinfully good buttercream frosting.
We began at what's probably Omaha's best known cupcake shop: Jones Bros.
The restaurant had just come off its first win on the Food Network's "Cupcake Wars, " and the winning trio of cupcakes were in the case. It made sense to try one of them, and we went with the strangest: pancetta honey crisp.
We also tried the cafe's more traditional vanilla bean and a chocolate cupcake with chocolate frosting.
The pancetta cake, with cream cheese frosting, wasn't greasy — it had a texture similar to cornbread. Sara said she'd baked bacon-flavored cupcakes, so we trusted her opinion. Though she liked the cream cheese frosting, she said she'd rather have had a maple cream.
"Something breakfasty, " she said.
Erin enjoyed the sugary pecans on top of one cupcake, but Pat said the ones on his seemed overly soaked with honey and verged on sogginess.
Erin, Pat and Sara all liked the moist chocolate cake.
"It tastes like what a chocolate cupcake should taste like, " Erin said.
But everyone agreed it had too much frosting. In fact, the frosting top was the same size as the cupcake itself.
I especially liked the visible vanilla bean bits in the vanilla frosting. The cake itself was a bit light on vanilla flavor for us.
Jones Bros. got points for atmosphere: It was the largest, fanciest shop we visited, and the cupcakes came prettily presented on a bright red plate with real silverware.
We met the next day at Bliss Bakery in the Old Market, connected to Aromas Coffeehouse.
While we noshed on three cupcakes — vanilla with white frosting and purple sugar sprinkles, chocolate with chocolate frosting, and chai spice — we talked about how easy it is to end up with a bad cupcake.
"There is no going back with baking, " Sara said. "It's easier to end up with a dry cake than it is just about anything else."
My quest for a perfect vanilla cupcake didn't end at Bliss — I found theirs cloyingly sweet.
"Very wedding cakey, " Pat said.
The frosting on the chai spice cake was lighter than the other two, whipped until airy, spiced with allspice and just a touch crunchy. The cake tasted just like a chai tea. It was dense, almost like a sweetbread.
"It's sort of like a spice cake that my grandma used to make, " Sara said, chuckling.
The chocolate cupcake was fantastic, moist and dark with an amazing frosting that was light and deeply fudgy at the same time. It took Sara back in time again, this time to her mom's chocolate sheet cake.
I liked that it wasn't overly sweet. We shared, but I think each of us could have easily polished off a whole chocolate cupcake. Bliss also gave us the cupcakes on real china with real forks, knives and napkins — something we wished we'd had at every shop.
Our next two stops brought disappointment.
At Sweet Stop, in downtown Council Bluffs, we found cupcakes with loads of whipped frosting dyed unappetizing hues of tangerine, acid green and shocking pink. Two of the three — the chocolate with chocolate filling and frosting, and the vanilla with bright green frosting — were ice cold. The third, a margarita-flavored cupcake, had a hint of lime flavor but was dry.
Pat said the cakes shouldn't have been served straight out of the fridge. They need to sit at room temperature for several hours.
"I'd rather have a tub of frosting and a boxed cake than this, " he said.
On all three cupcakes, the frosting detached from the cake below in one sugary blob as soon as we started to eat. Not exactly appetizing.
And worst of all, though the shop has a handful of tables, it didn't have plates and the only utensils were plastic spoons. The girl at the counter had to bring a giant bread knife from the back for us to cut the cakes.
At Cupcake Island a couple of days later, we again found too-sweet sweets.
Our usual flavors weren't available, so we mixed it up a bit — a vanilla with chocolate frosting, a chocolate with white frosting and sprinkles, and a coconut. We got the three cupcakes on napkins, and strangely, the shop stuck our plastic forks inside the tops of each.
The coconut cupcake had the shavings just on top of the frosting, not inside the cake as we expected, and it was straight out of a refrigerator. The too-sweet vanilla cupcake with gritty chocolate frosting wasn't a favorite, either.
"The frosting is like the filling inside Keebler Elf cookies, " Erin said, and she was spot on.
The chocolate, overly sweet, was forgettable.
"Texturally, it's good, " Sara said. "But it doesn't have any depth to it. The only thing that makes it chocolate is that it's brown."
Our biggest surprise came at the next stop, Cuppycakes Couture Cupcakes, curiously found inside a bowling alley in the Elkhorn area.
The choco-taco cupcake, our favorite at the shop, had a bit of caramel hidden inside the center of the chocolate base, and the light, not-too-sweet whipped cream frosting had bits of crushed waffle cone on top.
Sara loved the whipped cream frosting, which also was on the cookie dough cupcake we tried. It was something we hadn't seen at the other places. We would never have guessed it was anything but homemade.
"The choco-taco could have been really overly sweet and too much, " Erin said. "But it had a really nice balance."
Sara liked it too, though she's generally not a big fan of filled cupcakes.
The cookie dough cupcake didn't have enough cookie dough inside for us — one side had a big blob of the cookie dough filling but the other side was just vanilla cake.
The moist chocolate cupcake was good, though the frosting was a bit too grainy.
Cuppycakes also gave us real silverware and plates, and the cakes themselves were thoughtfully decorated. The flavors were interesting, too — I wish I'd have sampled a cupcake with a doughnut hole on top.
We met last at Sweet Magnolias, a place none of us had been, though we'd all walked past on our way to breakfast at Lisa's Radial Cafe next door.
The shop had only two flavors when we visited, so we tried both — vanilla with vanilla frosting and sparkly sugar on top, and a German chocolate.
Sweet Magnolias doesn't have tables, but it was a pleasant afternoon, so we sat out front on a set of benches.
We didn't chat much, honestly, because everyone was too busy mowing through the cupcakes.
My quest for the best vanilla cupcake ended there. The one at Sweet Magnolias is fantastic: moist, deeply flavored with vanilla, not too sweet. I'd have eaten more than my quarter if given the choice.
But the whole group was blown away by the German chocolate cake: Dense and rich with a just-gooey-enough coconut topping, it was our favorite of the specialty flavors we tried.
As we finished our last bites, we had a conundrum: Was the fudgy-topped chocolate cake at Bliss better than the two we'd just finished at Sweet Magnolias?
For Erin and me, yes, with caveats.
Erin loved what she ate at Sweet Magnolias, and she said Cuppycakes, especially the choco-taco, was a pleasant surprise.
I remain mesmerized by the sparkly vanilla cupcake I ate at Sweet Magnolias, and though I did agree that the chocolate cupcake at Bliss was really the best, I had a hard time not casting my vote for Sweet Magnolia's vanilla.
Though the two components of a cupcake seem simple — just frosting and cake — it turns out they're much more complex. Complex enough, and so easy to mess up that even a professional and two amateur bakers found only one that stood the test of tasting.
"The frosting at Bliss was perfectly rich, " Sara said. "Not too chocolatey. Not too sweet. The cake was moist. Together, it was just perfect."
Erin Golden, amateur baker and Omaha World-Herald business reporter
Patrick McDermott, former owner of Delice Bakery
>> Cuppycakes Couture Cupcakes
156 W. Broadway, Council Bluffs