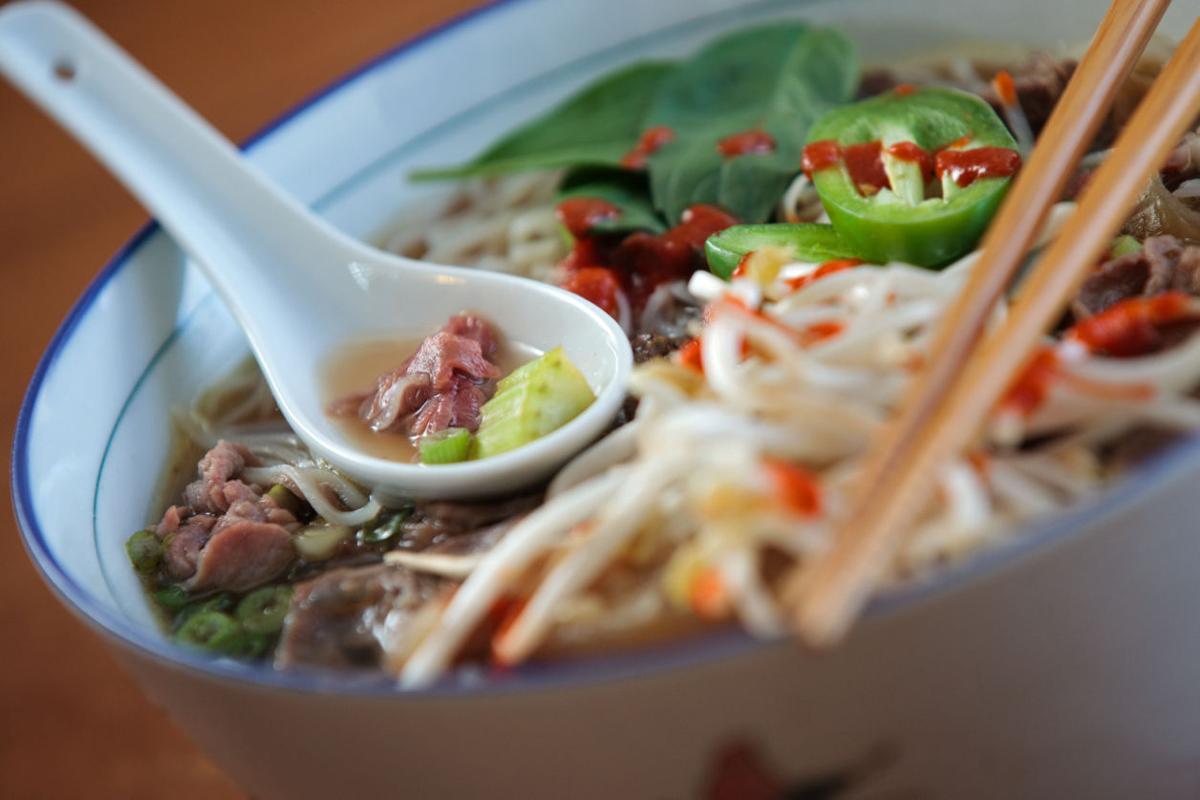 It's a soup that can be a bit scary — Is that raw beef floating in the bowl? What the heck is tendon? Is that white stuff tripe?
Let's face it: For a white girl from west Omaha (me) and people like me, it's even hard to properly pronounce pho.
(It's "fuh, " starting with a soft "eff" sound and ending with an "uh.")
But here's the fascinating part: All that fear — all that otherness that goes with a bowl of pho — melts away when you watch retired Omaha teacher Trinh Tran neatly eat a big bowl of the richly scented broth that's the basis for her homeland's version of chicken noodle soup.
She deeply inhales the scented broth and takes a sip, gauging flavor and spices.
Pho has just a few ingredients: a broth base, meat that can be either well done (brisket) or rare, green and white onions and soft rice noodles. Pho also can include tripe (the lining from beef stomach, ) beef tendon and beef meatballs.
It always comes with the same condiments: white bean sprouts, cilantro or Thai basil, lime or lemon wedges, jalapeños and a big bottle of sriracha chili sauce.
Trinh chooses condiments from a big plate in the center of the table.
Daintily, she removes the seeds from a lemon slice and squeezes juice in the bowl. With chopsticks, she selects three jalapeños and drops them in. Then she drops in a pile of fresh bean sprouts. Then the leaves from fresh cilantro or Thai basil.
Her ritual ends with a hearty squirt of sriracha right on top of the soup. She stirs in the sauce. Then she eats.
I ate pho for my second Food Prowl story with Trinh, a 63-year-old Vietnamese woman, her daughter Thuy and freelance writer Niz Proskocil.
We ate some strange meats. I learned to eat with chopsticks in one hand and a soup spoon in the other. And we all learned from Trinh — who has been making pho in her Omaha kitchen for the better part of 40 years — that this Vietnamese staple is no easy business if you're going to do it right.
Stay with me here — trust me — you're going to like pho. But you have to be willing to try it.
I met Trinh, Thuy and Niz for our first lunch on a bitterly cold afternoon — the perfect weather, it turns out, to inhale a bowl of pho.
We sat in a booth at Kimson Seafood Grill in a strip mall near 76th Street and West Dodge Road and placed our orders — two combination pho, one bowl with rare beef and one with brisket. When the soup came, I watched Trinh and copied her every move.
After she took a few bites, I peppered her with questions: Is it made right? Does it taste like yours? Do you like it?
She told me it takes the better part of a day to make pho broth. She starts with beef bone, oxtail and seasonings such as cinnamon, clove, allspice and star anise that she roasts to bring out the flavor. The concoction simmers on her stove for hours, and throughout the day, she skims fat from the broth so the finished product turns out almost clear.
At Kimson, she quickly deduced that there was sugar in the broth.
"It changes the flavor, " she said. "The flavor is more Americanized."
She also said the noodles were dried packaged rice noodles, not like the frozen fresh ones she uses at home.
The broth was sweet. It was also salty.
Trinh didn't like the ratio of meat to noodles in Kimson's pho, either. A huge wad of noodles makes it hard to find the pieces of beef.
Niz and I ordered the combination pho, with both rare and well-done beef, meatballs, tripe and tendon. Niz was apprehensive about the tripe and tendon, but I went for it.
The meatballs were too chewy, and though Trinh told me they were beef, they tasted sort of like rubbery gyro meat. The tendon, though, was fantastic, flavorful and just a bit chewy. Even the bits that looked more fatty weren't, because tendon isn't fat, it's tissue. I like tendon. A lot.
As we made our way deeper into the bowls, I asked Trinh about her favorite Omaha pho spots.
"Most of the time, I just make it at home, " she said, chuckling. "Pho in Lincoln is better than pho in Omaha."
(I'd heard this: Lincoln's Vietnamese community offers a bounty of restaurants where you can order a bowl of pho. Much of it is rumored to be delicious.)
At the end of the meal, she called the pho "fine." It was clear that she would be a very tough judge. After all, she's been eating this soup for a lifetime.
Trinh left Vietnam in 1975 at age 26, two days before Saigon fell.
Her husband left Saigon first with their oldest son, age 6, and she followed two days later with a 2-year-old son and a 9-month-old daughter. The family stayed in California until an Omaha parish sponsored their relocation.
"In '75, when I got to Omaha, there weren't a lot of Oriental, especially Asian, restaurants in Omaha, " Trinh said. "So when I wanted to eat pho I had to learn how to cook it."
With years of practice, she has perfected a recipe her mother taught her.
We met the next week at New Gold Mountain in west Omaha. Thuy told me this is her favorite spot to eat pho (outside of her mom's kitchen). On previous visits, Trinh said, she found the broth too heavily spiced.
Niz and I had both eaten at this small, hole-in-the-wall Chinese restaurant, but only for dim sum, a Chinese breakfast of many small plates of food. The restaurant has a small Vietnamese menu that includes a number of types of pho as well as some other soups and entrees.
We again ordered a variety of soup — Trinh and I chose combination and Niz and Thuy got beef.
We each ordered the large bowl, which turned out to be absolutely huge. At $7.95, it's a great deal.
The broth here was aromatic, well-seasoned and balanced. After a few bites, Trinh gave a look of approval. It wasn't as spicy as she remembered. It wasn't sweet, like Kimson's. It wasn't too salty, either.
"It's good, " Trinh said, nodding.
She still had some issues, though: The pieces of meat were too small and the broth was too heavy with noodles for her. But it was closer to her own pho.
Niz thought the noodles got a bit mushy after eating about half the bowl, but she liked the spiced broth.
The tendon in my bowl of combination pho was my favorite part once again: slightly chewy, semi-transparent, bursting with flavor. The thinly sliced meatballs were still chewy.
I missed the spice of the Thai basil, but an extra squirt of sriracha made up for the missing heat. Trinh watched me eat the tendon and commented that she likes it, too.
At the end of the meal, as we were walking out the door, Trinh put her hand on my arm and asked me a question.
"Can you ask if the chef is Vietnamese?" she said. So I did, and the answer came back yes. Trinh smiled.
We met two days later at Saigon, off 120th Street and West Center Road, for our final pho lunch.
As we walked to our booth, I saw at least eight diners digging into bowls of pho. That had to be a good sign.
Trinh was excited when the tray of condiments came out and she saw fresh lime wedges instead of lemon. She serves limes with her pho at home, and this was the first place we'd seen it.
The waitress saw Niz squirt a healthy amount of sriracha in her bowl and, unprompted, brought her a small bowl of super-spicy chili oil. It's a nice touch, and it did indeed add a lot more heat to the dish.
My bowl of combination pho included almost the same ingredients, with two variations. There was no tripe, but thinly sliced white onion floated in the broth. That's a traditional ingredient, Trinh said.
The broth here was mild and almost clear. My bowl of combination and Trinh's bowl of brisket didn't have as much fat floating on the top as Thuy's and Niz's bowls of rare beef. Trinh said the rare beef pho has more fat because the beef, which is put in the broth raw, doesn't add the same flavor as cooked beef does. The balance of noodles and meat was right, and the noodles were cooked al dente.
Then it was decision time.
Trinh was divided. She liked the meat and noodles at New Gold Mountain. But she liked the broth at Saigon.
Thuy quickly decided her favorite was still New Gold Mountain. She pressed her mom to make a choice.
"If you had to choose one, " she asked, "which one would it be?"
"Saigon, " Trinh said. "Because it's more traditional. I would choose Saigon."
Niz also had a hard time choosing, but the broth clinched it: She agreed with Trinh.
Which left me, the aforementioned west Omaha girl.
I liked the selection of toppings better at Saigon, but the bolder, spicier broth at Gold Mountain had stuck with me. It was my favorite.
And so the second in the Food Prowl series ends in a tie between two diners who like the more modern interpretation of pho and two diners who prefer the classic interpretation.
After lunch, Trinh invited me and Niz to her home. She wants to make us a batch of pho sometime after this story runs. She wants to introduce us to her sons and daughters. But there's something else, too.
She wants us to try the best pho in Omaha: her own.
Trinh Tran, a native of Vietnam who has been making pho in her own kitchen for more than 40 years.
Thuy Tran, Trinh's daughter. She loves eating pho in her mom's kitchen, made-to-order.
Niz Proskocil, a pho lover at heart, Niz always makes a point to try pho when she travels.
Offutt Air Force Base, Neb.
>> The soup originated in Vietnam during the early 20th century. The exact location of its origin is somewhere southwest of Hanoi in the Nam Dinh province, which used to be a textile market. Cooks there aimed to please the palates of locals with the rice noodles and the tastes of French people with beef. Vendors sold it from large boxes until the first pho restaurant opened in Hanoi in the 1920s.
>> Pho is served in a bowl with a specific cut and style of noodles, called bánh pho. The thin cuts of beef can be steak, fatty or lean flank or brisket. Tendon, tripe and meatballs are other variations. Cooks simmer beef bones, oxtails, flank steak, onion, ginger and other spices to make the broth. Cinnamon, star anise, roasted ginger, black cardamom, coriander, fennel and clove can also be added.
>> Pho has some regional variations. In northern Vietnam, the soup has wider noodles and many more green onions. Southern Vietnamese pho is slightly sweeter and has bean sprouts and more fresh herbs.