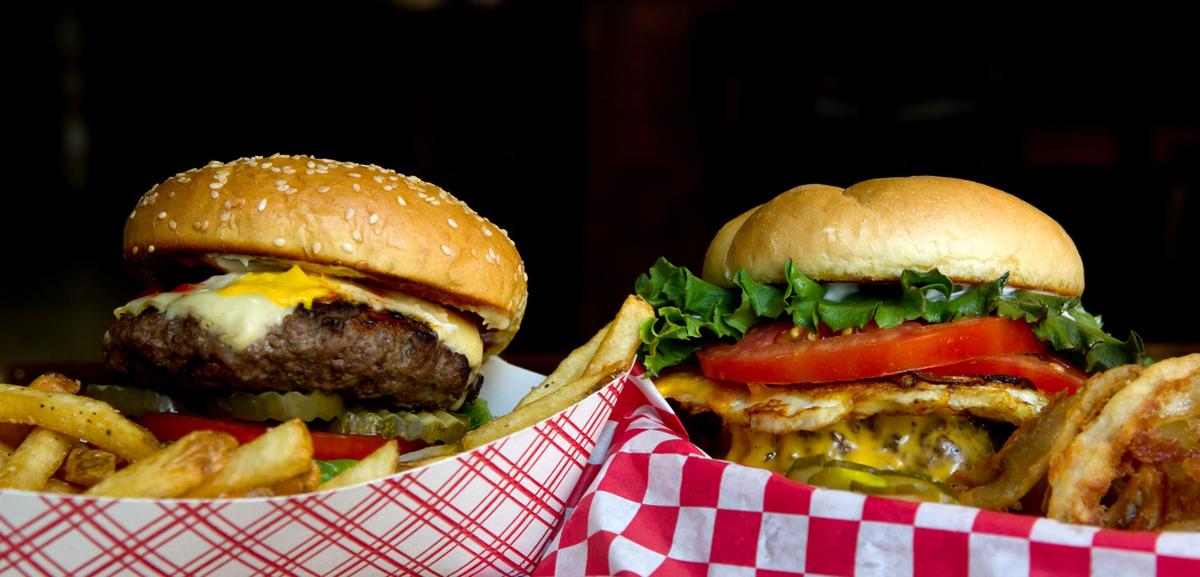 After eating seven cheeseburgers, the July Food Prowl team sat down at the final table over the final burger on the final afternoon.
Between bites of that eighth burger, we sparred over juiciness, seasoning, buns, toppings, sogginess, temperature, meat flavor and grease levels.
As the final burger disappeared, we hotly deliberated.
Because it turns out that cheeseburgers are controversial.
They spur debate. They inspire beef-fueled monologues. They are about more than just burger and bun.
Our impassioned panel consisted of me; sisters An and Michelle Vu, true burger lovers and members of the Omaha Burger Club; and Nick Strawhecker, chef and owner of Dante Pizzeria and winner of the spaghetti Food Prowl. We knew from the first time we ate together that we'd have to make one of the most controversial Food Prowl calls. So we set some ground rules.
Dive bar burgers and casual restaurants only. We'll prowl for high-end burgers down the road.
We'd add an egg to our burger if it was an option. And if a restaurant did something special to its cheeseburger, like special sauce or seasonings or preparation, we'd try it. And we'd be sure to visit restaurants we'd never been to.
Every time we met, we thought we knew who was going to win.
Let's start at the beginning, at the institution that gets the most hype and the most love from World-Herald readers, and has the line out the door: Stella's, in Bellevue.
We arrived around noon on a weekday. The place was jam-packed with people standing, waiting, eating and leaving, all in organized chaos.
After a few minutes, we sat down at a high-top table and ordered our first round of burgers.
We all got a cheeseburger topped with a fried egg.
Our four burgers came in baskets, not napkins as is usually the Stella's way. My burger immediately had structural issues: Half the patty fell into the basket after one bite.
We all decided pretty quickly that there were other issues: There was a skewed burger versus bun ratio — a test we made up to gauge the size of the bun against the size of the burger. I had a big wad of bun left in my hand after my patty was gone, and An and Michelle did, too.
The Vu sisters liked the texture of the hand-pressed beef patties at Stella's, but they didn't love the slippery base of tomatoes, lettuce and onions that made the burger slide out of the bun and required constant rearranging and gobs of napkins.
Nick, a self-proclaimed "salt man, " said he could have used more seasoning. I could have used both more seasoning and a moister patty.
"It's good, but it's also missing some essential elements, " An said.
"It's not what I remembered, " Nick said.
After our last bites, we were a bit shocked: Was the juggernaut going down? What we found at Stella's wasn't bad, but we didn't think it was the best in the city, either. At that moment, we knew what a controversial call this would be. Maybe it was an off day at Stella's. Maybe not. We prowled on.
We met in Benson, at Papa Chris' Chicago Originals, a hole-in-the-wall, dimly lit bar with a devoted lunch crowd and a visible devotion to Chicago sports teams.
One other time, An had eaten the bar's infamous "Luther Burger" — a bacon-and-cheese-topped patty served between two glazed doughnuts — and suffered for a couple of days afterward. We planned to get a Luther that day and share it, but the restaurant didn't have any fresh doughnuts.
We ended up with the straight cheeseburger, called the Louie burger.
A layer of hot melted cheese seared the top bun to the patty, and a thin layer of grease fused the bottom bun in similar fashion. The toasted bun tasted buttery. The burger versus bun ratio was spot on, though the patty itself was a touch greasy.
"This is a working man's burger, " Nick said. "Totally divey."
It was an early contender. We got outed as prowlers at the end of the lunch, when the owner said the burgers were on him. On the way out, I put cash on the counter to cover the cost of our burgers and fries, following the food reviewers code.
We met next at another beloved burger institution, Dinker's. We sat at a table in the center of the dark bar, which was packed, and walked to the counter, old-school style, to order. That's the rule at Dinker's.
We ended up with a haystack burger, deluxe, which means add lettuce, tomato and onion, with onion rings; a cheeseburger with grilled onion, egg and a side of chips; a cheeseburger with an egg and chips; and a Swiss cheese burger with fries. We also took note: Dinker's has one grill devoted to burgers and a second solely for grilling buns. Impressive.
While we waited for our lunch, we had a noisy discussion. We had a list of close to 20 places and only four visits left. Some places were must-gos and some we'd have to skip. The team attempted to persuade me to visit one place I wanted to save for another prowl. I tried to persuade them to go somewhere else. An said some places on the list were non-negotiable.
Our burgers arrived, and silence fell. We were too busy taking photos of the burgers with our iPhones, and then chewing, to speak.
"I think I found my limit, " Nick said, breaking the silence. "This may be the perfect burger."
Nick said Dinker's passed the test for salt and pepper. The toasted bun impressed us. The patty held together but it wasn't too tightly packed. It was juicy, fatty and greasy, but not overly so. The flavor of the beef came through over condiments, eggs, onions and any other toppings: It was subtle, but fresh and meaty. Dinker's high-quality ingredients literally shone through.
It was so good, in fact, that I glued together the crumbs of meat and bread in my basket with a gob of ketchup and ate them until nothing remained but a pile of chips that weren't good enough to waste stomach space on.
"It's going to be hard to beat this, " Michelle said. We concurred. We knew we had a new front-runner.
Sated, we decided without debate where we'd meet the next day, though the rest of the list was still undecided.
Back in Bellevue, at Sinful Burger, I met the Vu sisters, who had told me about their love of its menu devoted to burgers that emulate the seven deadly sins. Nick had to cancel at the last minute this day, so we met without him.
We went for the restaurant's signature, the Sinful Burger, with cheese packed inside the patty instead of on top.
An and Michelle told me how they came to love burgers. Their family moved to Omaha from Vietnam when An was 9 years old and Michelle was 6. Before that, they'd never had a burger.
"For the first few years we were here, we ate at Burger King all the time, " An said. "We were enamored with American food because all we'd ever eaten was no-fat, no-cheese healthy Vietnamese food."
They also became obsessed with hot dogs and pizza.
"I would never turn down a burger, " Michelle said. "Not even a bad one."
Our burgers arrive, and they're not bad. The salty, garlicky seasonings are there, and cheese oozed from the center of the meat.
An doesn't love the texture of the bun, but we all agree the texture of the meat is good, and the melty, cheesy center surrounded by nicely cooked beef seems like a commendable feat of kitchen engineering. My one complaint: When I got to the second half of my cut-in-half burger, the meat had absorbed most of the melted cheese.We liked the Sinful Burger. But it didn't best Dinker's.
The team reassembled at Louie M's Burger Lust, an old-school diner off Vinton Street that has charm to spare and an impressive list of burgers.
By this point, we were suffering from a touch of burger fatigue. But as good food prowlers, we soldiered on.
While we waited again, we pulled out our phones to review photos of all the burgers we'd eaten so far. Dinker's gets presentation points: We loved its red baskets and red and white checked papers. Papa Chris' burger held a fond spot for greasiest.
"Stella's is sexy, too, " Nick said.
Our plates arrived, along with a plate of condiments to share. Nick said he'd rather have them served on his burger instead of on a big dish. Though the owner didn't say he knew what we were up to, he circled our table like a hawk, listening and looking.
The patty seemed lacking in salt and pepper, and there wasn't any grease.
"Seasoning is the hardest thing about cooking, " Nick said. "You have to dump salt and pepper on meat. It just has to be there."
"It's stripped down, " An said. "Almost like an organic burger."
We liked what we found at Louie M's. But it also was no Dinker's.
Then we found ourselves sitting over that eighth burger, at the place that, in the end, the team convinced me we had to try: Block 16, a place I'd written about before and one that a certain segment of the city's young, food-loving population has embraced.
Nick's staff and friends of the Vu sisters had told them that the restaurant's Block burger was the best they'd had in Omaha.
We split two sizable burgers — after all, we'd just come from Louie M's — and after one bite, Nick threw his hands in the air and shook his head as he chewed.
"Winner!" he exclaimed. "Winner. It's a complete dish. It blows Dinker's away."
"It's salty. It's too rare, " she said. "The pickles are watery. The bun is off, but that's not a deal breaker."
It was the first burger we'd had that An didn't love. Her sister agreed: too salty.
I wavered, because the Dinker's burger was simply fantastic. However, the Block burger was the finest example of meat I'd seen: oozing with juice, slightly pink in the center, tender and deeply flavorful. I loved the stack of condiments on the burger — it was messy in the best possible way.
The burger itself sold me. I love being surprised by something so unexpectedly delicious. I voted for it.
The Vu sisters stuck to their guns, and to Dinker's.
"If there is a burger that cures all my burger cravings, it's Dinker's, " An said.
"It's complete, " he said of the Block burger. "It has no faults."
After we cast our votes, and we picked at what remained of one of the two winning burgers, we became pensive.
An said she thinks a lot about what makes a good burger. Nick said he doesn't, but it's sort of the ultimate question.
"You know, food is so subjective, " Nick said. "There's no right or wrong answer. Every American grows up with cheeseburgers. Everyone has an opinion."
It's true — we all had strong opinions throughout the journey, and we ended up falling somewhere between a simple dive bar classic served on a toasted bun with an egg, and a new kid in town, cooked less and stacked high with juicy, flavorful condiments.
Both are great. Both can reign. And the arguing will continue in perpetuity.
An and Michelle Vu, sisters, members of the Omaha Burger Club, burger connoisseurs
Nick Strawhecker, chef and owner, Dante Pizzeria Napoletana, winner of the spaghetti Food Prowl for his pappardelle bolognese
>> Papa Chris' Chicago Originals (Closed)
>> Phoenix Food and Spirits
4005 Twin Creek Drive, Bellevue
>> Stella's Bar and Grill
106 Galvin Road South, Bellevue
We asked World-Herald readers, via Omaha.com, Facebook and email, to tell us where they eat their favorite burger. We included only locally owned burger joints, as they're the only ones eligible for Food Prowl. After readers told us they liked burgers at west Omaha's Phoenix Food and Spirits and north Benson's Tiger Tom's, we checked those places out, in addition to those in the story. We didn't love what we found at Phoenix, though it won points for serving its burgers with tater tots. Taster An Vu really liked her burger at Tiger Tom's, slathered with cheese and jalapenos, but the rest of the team wasn't as impressed with this neighborhood joint.
Top five, in descending order:
Papa Chris' Chicago Originals (8 votes)
Marylebone Tavern (8 votes)
Tommy Colina's Kitchen (5 votes)
Louie M's Burger Lust (4 votes)
Goldbergs in Dundee (4 votes)
Danny's Bar and Grill (3 votes)