The sound of live music and the smells of funnel cakes and barbecue wafted through Elmwood Park on Friday as Taste of Omaha kicked off its opening night in a new location.
In its 24th year, the festival was moved to Elmwood Park until Omaha's riverfront redevelopment is complete.
David Watkins reflected on the move as he watched his fiancée, Savannah Rietz, ride the merry-go-round with the couple's 1-year-old son Kahlayl.
The 24-year-old, who has gone to Taste of Omaha festivals for most of his life, misses the view on the riverfront but said he's excited for his son to experience the festival.
"He won't get to experience everything yet, but we'll be back next year and the year after so he can see everything, so he can taste the food," Watkins said.
Watkins plans to be at all three days of the festival, which runs 11 a.m. to 11 p.m. Saturday and 11 a.m. to 8 p.m. Sunday. Admission, concerts and other activities are free.
Visitors on Saturday can watch two renowned chefs face off in the annual Battle for the Toque.
This year's battle will feature chef Karl Marsh of Barrel & Vine in Elkhorn and chef Patrick McCracken of Pacific Eating House. The two will face off at 3 p.m.
Guests in the audience will get the chance to taste the chefs' dishes and choose a favorite.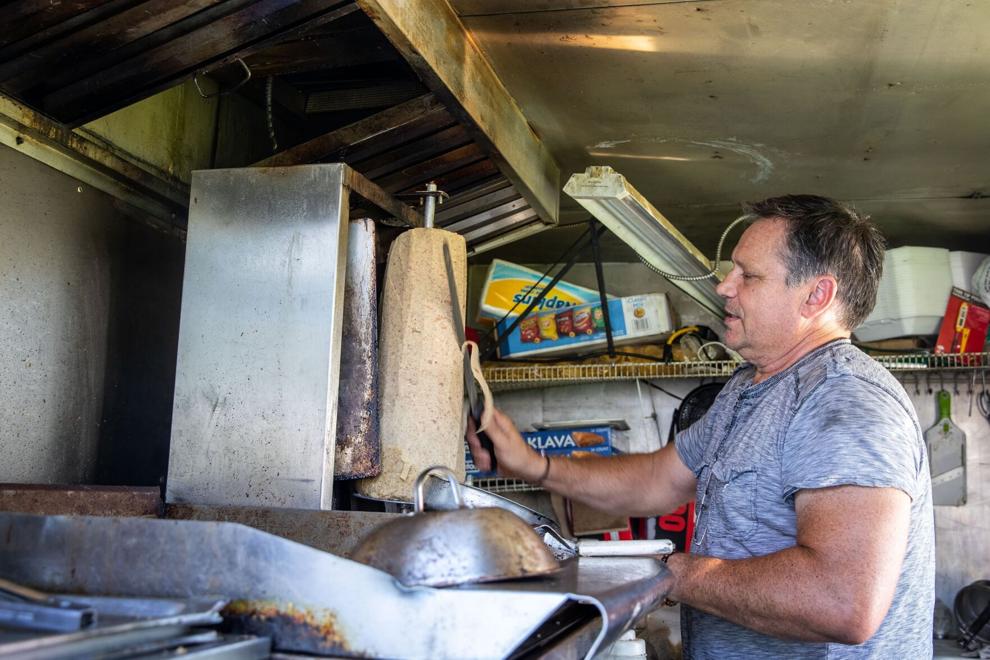 Farther into the park, set up near the tree line Friday, Taras Serednytsky was readying his food truck for customers.
His truck, Kebobs, Gyros, and Brats (KGB for short), has been serving food at Taste of Omaha for at least a decade.
Serednytsky said this year, he's excited to be surrounded by nature instead of concrete.
"There's a huge difference when you walk on the grass versus hot concrete," he said. "Given this day, almost 100 degrees, concrete wouldn't help."
The truck, usually serving up in the Old Market, has stayed busy even as COVID-19 slowed things down over the past year.
It is exciting, Serednytsky said, to see people out and about.
---