Like many of us, Amy Mather was mournful when Omaha's venerable Flatiron Cafe closed earlier this year. She'd eaten there for the first time only a few weeks before and loved it.
She also was a little bit frantic.
Mather has been collecting local restaurant menus as part of her job at the Omaha Public Library, and she didn't have one for the 24-year-old restaurant. She tried to contact the owner but had no luck.
"I have this panicked feeling all the time now," she said. "When I see restaurants closing, I think, 'But we need your menu.' "
The menus are part of the library's push to curate the city's food history, an effort that accelerated with the beginning of the Read It and Eat culinary conference 10 years ago.
The final conference was Nov. 7, and featured virtual vignettes with previous participants. The yearly events ended so librarians could turn their attention to other pursuits that preserve Omaha's culinary history, Mather said.
One of their biggest projects, she said, will be digitizing menus. They have access to a few hundred in print, but only about 150 have been digitally preserved so far.
Some are from restaurants so ancient that no one living has eaten there.
"The oldest menu is from 1889 from the Barker Hotel," said Mather, who is the library's adult services and programming manager.
There also are menus from the Trans-Mississippi Exposition in the late 1890s; the 100-year-old Johnny's Cafe; Dixie Kitchen, a mainstay on Dodge Street from the 1960s to the 1980s; and newer restaurants such as M's Pub, still open in the Old Market, and the recently closed French Bulldog.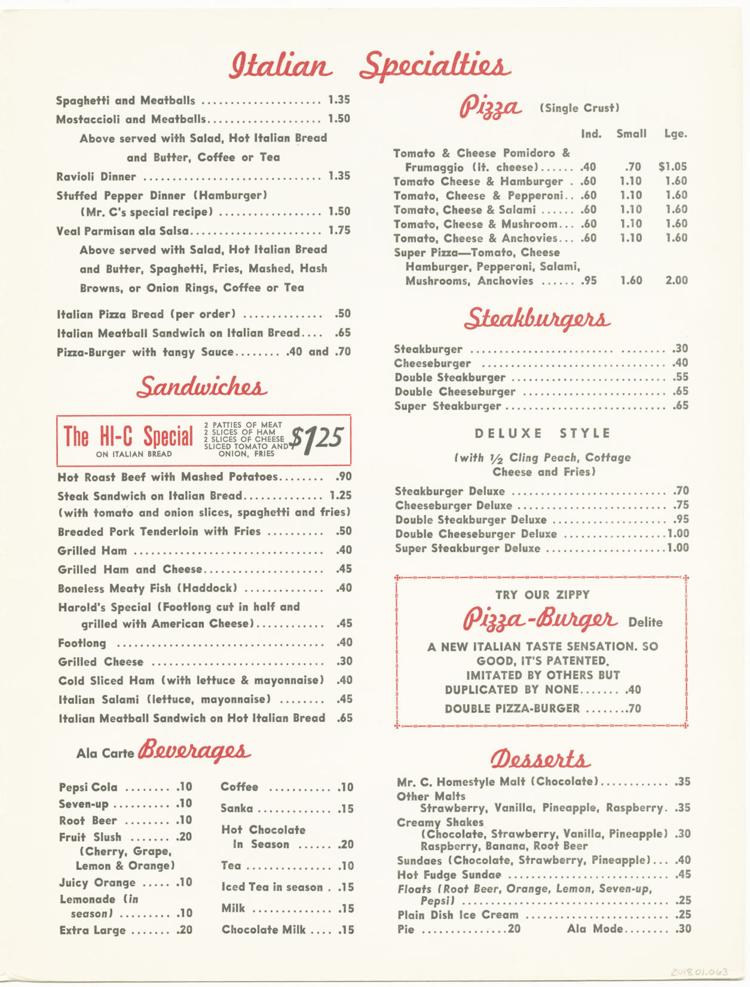 The menus, printed on cardstock in bold or frilly fonts, conjure up all kinds of memories: dining on prom night at the gaudy and twinkling Mister C's in North Omaha; climbing the steep stairs to the exotic dining room at downtown's King Fong Cafe; drinking a Shirley Temple on a birthday at the midtown Blackstone Hotel; savoring the amazing chocolate cream pie at the Brandeis department store tea room.
"What I love about (the menus) is they tell a story of the times," said Jim Trebbien, former director of the Institute for the Culinary Arts at Metropolitan Community College. "How people ate downtown because that was where the restaurants were. They'd have a hot beef sandwich, and it was 20 cents. A Coke was a nickel or a dime."
And, he said, they definitely tell the story of inflation.
"At those that are still around, like Johnny's, you can see that now a steak might be $25, and back then it was $4 or $3 or a dollar and a half," he said.
Trebbien, who retired in 2016, and Metro provided many of the menus for the library's digitization project. A big stack came from Jennie Warren, executive director of the Omaha Restaurant Association. Her predecessor got them from a printer who was closing his shop.
Many are framed and displayed at the culinary institute.
Both Mather and Trebbien said they think the collection has great value for scholars and writers.
"It's important that we have all these menus in one place at the library because we are a public institution. Anybody can come in and look and ask questions," said Mather, who has a master's degree in library science from Louisiana State University.
Mather isn't satisfied with a few hundred menus, however. Now that the conference is done, she said, her goal is to figure out "a more intentional" way to obtain them.
She searches for menus on eBay, but frequently, sellers want hundreds of dollars to part with them. She also goes to estate sales in the area.
Mark Volenec-Hamel, co-owner of Out of the Closet Estate Sales, calls her when he spots menus as he cleans out houses. He said he runs across them only a few times a year.
"Sometimes the client will let the library have the menu," he said, but if they go up for sale, "typically, for us, they would run — depending on the restaurant and the age — anywhere from $20 to $60."
Mather urges anyone who has menus to share them with the library. It doesn't have to be a gift; you can loan them long enough for them to be digitized.
She also is seeking volunteers to help with cataloging the digital work.
Though menus are the main focus right now, the library's culinary endeavors don't stop there.
It has a wide collection of community cookbooks, Mather said, and she's looking for more.
Volenec-Hamel said he sees far more cookbooks than menus. He recently uncovered a Union Pacific cookbook that caused a stir.
"It generated a lot of interest and sold the minute we opened the doors," he said.
He also sometimes sees old restaurant china, and is a collector himself. He has items from eateries inside the downtown Brandeis store and from the Paxton and Fontenelle Hotels.
In addition, Mather has made digital copies of recipe cards from her husband's family for the library collection.
Her mother-in-law worked as a home economist for the Metropolitan Utilities District and created the cards for consumers "in what basically was an attempt to sell stoves," the librarian said.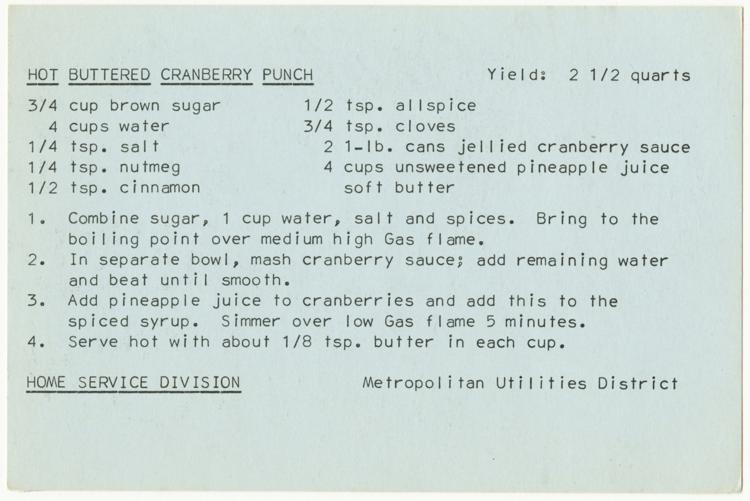 The Omaha Public Power District, meanwhile, pushed electric cooking with classes for adults and kids.
The collection of culinary ephemera also includes menu cards from Omaha-based United Airlines chefs back in the day when in-flight dining bordered on gourmet, Mather said.
All this contributes to her dream of starting a culinary support group for Omaha along the lines of the Southern Foodways Alliance, an organization that "documents, studies and celebrates the diverse food cultures of the changing American South," according to its website. It's based in Oxford, Mississippi, home of the University of Mississippi.
Mather participated in the group's virtual conference this year.
"It was so beautiful and so amazing. It was focused on the future of the South with video vignettes," she said. "That's what I want to do here."
After organizing the Omaha conference for 10 years and immersing herself in the library's culinary collection, Mather admits she has become somewhat obsessed.
She plans to dedicate 2021 to reading only books with some sort of culinary connection, whether they are fiction, children's books, cookbooks, biographies, whatever.
"There is so much great stuff out there," she said.
And though Read It and Eat is done, she promises that there will be many more library culinary events in the future, though she has no idea yet what they are. The library is, however, adding a Food Stories playlist to its YouTube channel.
She said the Midwest has lots of fodder for a comprehensive culinary study program, including food legends such as the origin of the Reuben sandwich at the Blackstone Hotel, Omaha's Italian steakhouses and chili and cinnamon rolls.
There was even a catering business and cooking school in North Omaha that was active for almost 50 years, beginning in 1905.
"There are all these nuggets of history," Mather said. "I am excited to collect them and get it all in one place."
Photos: Yesteryear menus, a slice of Omaha's culinary history
The Omaha Public Library offers a glimpse into its ever-growing collection of menus from Omaha restaurants of the past.
Omaha World-Herald: Omaha Dines
Sign up for the Omaha Dines weekly newsletter to stay up to date on the latest local restaurant and foods news and occasional offers.